After reaching its lowest point in 20 years in 2014, the rate of new entrepreneurs in the U.S. is rapidly increasing, thanks to both an economic recovery and the closing of gender and racial divides.
But in spite of the recent uptick, the country is nowhere close to new entrepreneurship levels achieved in previous generations, particularly in the '70s and '80s, according to the Kauffman Startup Activity Index.
The study, which draws on data from the U.S. Department of Labor Statistics, as well as a survey of 500,000 Americans, found that there were 330 new entrepreneurs per 100,000 American adults in 2016, up from 280 in 2014. That represents an increase of 15%.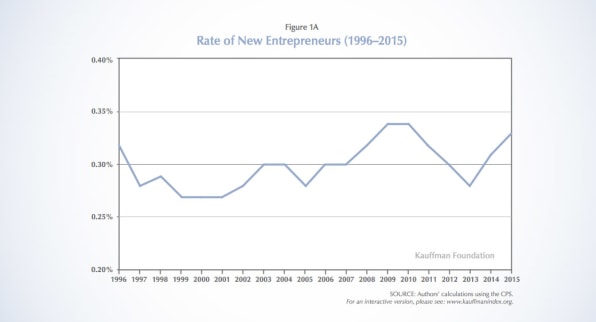 "We see this increase being driven in large part by a closing startup gender gap, by a very large increase on opportunity entrepreneurship, and–this is more of a change over time–growing racial diversity among U.S. new entrepreneurs," says Arnobio Morelix, one of the study's authors and the senior research analyst at the Kauffman Foundation.
Between 2014 and 2015, the rate of new female entrepreneurs grew from 220 in every 100,000 people surveyed to 260, according to the report. But in spite of the increase in new female entrepreneurs the rate remains below that of new male entrepreneurs, which reached 420 for every 100,000 surveyed in 2015.
The cohort of new entrepreneurs in 2016 is also more diverse than in previous years as a result of demographic shifts in the U.S. population, according to Morelix.
"We saw the rate of new entrepreneurs going up across every racial group, and this is not a year-over-year change, but slowly over time, in some ways revealing a new phase in American entrepreneurship," he says. "When you compare it to 1996, only 23% of new entrepreneurs were from minority racial backgrounds. Right now the number is 40%, and it's going up across every single racial group that we were able to track." The number of white entrepreneurs fell to 60.7% from 77.1% in 1996.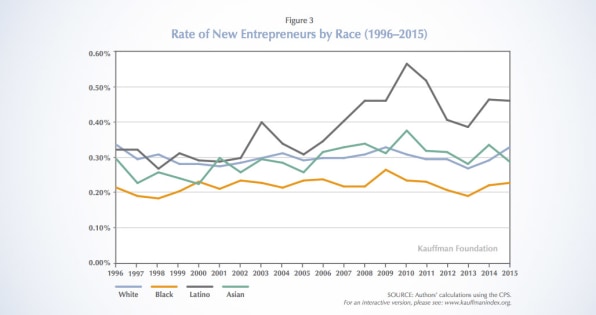 The most significant increase, according to the study, was among the Latino community, which more than doubled its rate of entrepreneurship over the past decade, from 10% of new entrepreneurs in 1996 to 21% in 2016.
"There are many reasons why; partially because you have a higher share of the population that comes from non-white racial backgrounds," says Morelix. "It could be because of better opportunity and inclusion, but there could be other reasons that we can't see here immediately."
A recent report from the Center for Global Policy Solutions reached a similar conclusion. Over the five-year period of the report (2007-2012), firms owned by Hispanic men experienced the biggest rise in revenues (7.2%) of any cohort of underrepresented minority business owner.
Another encouraging sign from the report is that more Americans are becoming entrepreneurs out of opportunity, rather than necessity. Today, 84% of new entrepreneurs started a business after leaving school or another job, as opposed to those who did so because they were previously unemployed.
"Starting in 2009, up until 2011–which is when the labor market was very tough for a lot of people–you saw the 'necessity entrepreneurship' going way up," says Morelix. "'Opportunity entrepreneurship' was way down to about 74%. This is really a huge improvement."
While the rate of new entrepreneurs is increasing, the growth in American startups with at least one employee is still significantly lower than it was in the '70s and '80s.
"Startup density, which is looking at just employer firms, when you compare it to the late '70s, has fallen by almost half," says Morelix. "From over 160 startups per every 100,000 employer firms [in the 1970s], to 80 startups for every 100,000 employer firms in the U.S. [today]."
That decline is a result of a wide variety of factors, explains Morelix, ranging from an increase in student debt that has made it harder for new entrepreneurs to fund a business or access lines of credit, to more stringent occupational licensing standards. Another factor could be the increase in noncompete clauses, which prevent many would-be entrepreneurs from starting a business in an industry where they were previously employed.
Automation, globalization, and an improvement in startup infrastructure in developing economies may also be reducing the number of businesses that are started in the U.S. today, compared with previous generations, says Morelix.
"The economy is also relying more on large, perhaps more efficient national chains. Some economists have called this the Walmart-ization of America," he says. "Before, local American businesses provided services and products that are now done by very large national chains."
While the growth in entrepreneurship over the past two years suggests a significant recovery from the fallout of the 2008 financial crisis, the current economic environment in the United States is still much less conducive for entrepreneurship than it has been in previous generations.