Six feet by nine feet: These are the dimensions of the solitary confinement cell in which the now-deceased Herman Wallace spent 41 consecutive years, for at least 23 hours a day. After being accused of murdering a guard in Louisiana's state penitentiary in 1972, he lived alone in a tiny cell until 2013, when his conviction for that crime was overturned. He died two days after release. Wallace–along with Albert Woodfox, released earlier this year after nearly 44 years in solitary, and Robert King–was part of the so-called Angola Three, a group of prisoners aligned with the Black Panther party that collectively spent over a century in solitary confinement for the guard's murder. All of the convictions were eventually overturned.
While mass incarceration has periodically surfaced as a major issue in this year's election–at around 2.3 million as of 2012, the United States has the largest prison population and the second highest incarceration rate in the world (behind the Seychelles)–the practice of long-term solitary confinement remains relatively unexamined. Now, New Orleans-based artist and activist Jackie Sumell is hoping to use public gardens in the shape of a solitary cell to start a conversation about solitary confinement and America's prison-industrial complex.

The use of solitary confinement in the United States dates back to 1829, when a failed experiment–based on a Quaker belief that prisoners left alone with a Bible would repent–ended with many inmates going insane or committing suicide. Accurate data on the number of prisoners kept in solitary today are elusive, but could be as high as 80,000 to 100,000 (including juveniles), according to estimates compiled by Solitary Watch, a news and research site devoted to the topic.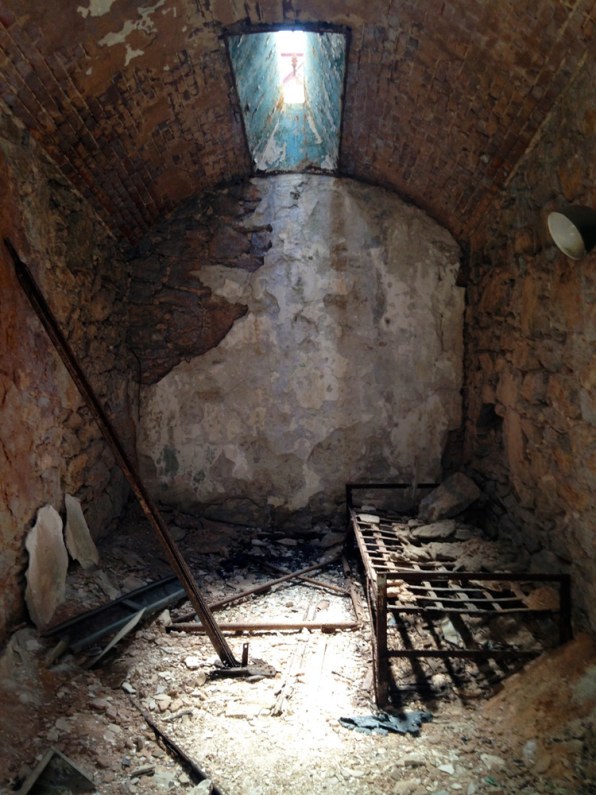 Rather than a tool of "last resort," researchers and activists explain that in today's prison system, solitary confinement is wielded as a common disciplinary tool, even for nonviolent infractions like possessing contraband or ignoring orders. The practice (sometimes also referred to as "restrictive housing" in the corrections industry) is also sometimes deployed as a means of "protection" from the general jail population. A 2015 report by the Department of Justice found that young inmates and those that lack a high school diploma or identify as LGBT were more likely to be placed in solitary. The same study found that nearly one-third of state and federal prisoners that had spent at least one day in solitary between 2011 and 2012 showed signs of serious psychological distress. In January President Obama issued guidelines, based on Department of Justice recommendations, on reducing the use of restrictive housing to federal and state correctional authorities.
Advocates of prison reform often liken the solitary confinement experience–in which prisoners are kept alone in a six-by-nine cell for 23 hours a day with nothing but a bed and toilet–to torture. Research on the physical and psychological effects of the practice is damning. A recent public health study found that inmates that spent time in solitary were 6.9 times more likely to commit self-harm, and much research has linked the practice to physical and psychological effects ranging from insomnia to anxiety, depression, paranoia, and suicide.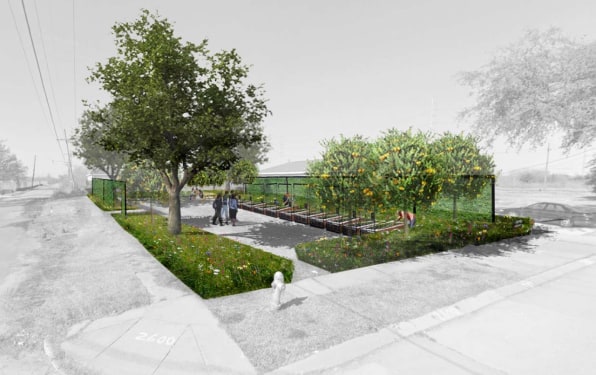 Sumell's project, called Solitary Gardens, links solitary confinement prisoners to the outside world through community gardens. Inmates working with the artist design the landscape of each plot–which, like the cells, measures six feet by nine feet–while participating school or youth groups maintain the grounds and get some lessons in permaculture in the process.
Each plant bed is stocked with cardboard in the areas where a cell bed or toilet would be, so that plants can only grow in the spaces where a person can move freely. In other areas, the soil is planted with a custom cardboard cutout impregnated with seeds chosen by the designing inmate.
For Sumell, Solitary Gardens is in some ways a continuation of her successful Herman's House project. That project–which eventually inspired a book, documentary, and an ongoing traveling exhibition–began in 2003 as an inquiry into what type of house a man living in a six-by-nine-foot cell would design in an ideal world. Sumell worked with Wallace over several years and many letters to design his perfect home, which also serves as an examination of the prison pipeline in America. She still hopes to build Herman's House to full scale on day, possibly on the same site where Solitary Gardens is being hosted in New Orleans.
"It's really pointing to the 'best of playlist' from Herman's House," said Sumell of her latest venture. Whereas Herman's House was a strict collaboration between artist and inmate, "Solitary Gardens allows people to participate in ways that they couldn't before."
Interested groups will be able to host a garden bed, use the project curriculum, or simply visit the garden. While Sumell initiates the correspondence with those in prison, she says she will leave it up to the inmate-collaborators and groups hosting a bed to decide if they want to communicate directly.
At a pilot launching this summer, the artist is working with the Lower Eastside Girls Club in New York City to plant and maintain a Solitary Gardens plot. The project's main site, in the Lower Ninth Ward of New Orleans, will open on October 1st, the three-year anniversary of Wallace's release, She also has future plans to roll out an integrated school curriculum on the history of punishment in America.
For now, the New Orleans garden will have one test bed featuring the design of Kenny Zulu Whitmore, who spent 36 years in solitary confinement–as punishment, he believes, for his allegiance to the Black Panther Party, like the Angola 3–and is now serving his life sentence in the general population of Louisiana's Angola prison. Sumell first came to know Whitmore through her work with Wallace, and is working on developing connections with other solitary prisoners. She says that Solitary Gardens is as much about creating a healing space for visitors as it is for the prisoners she works with.
"It has been my experience collaborating with folks serving long-term solitary confinement that it is really challenging. Not only because of the institutional and intentional roadblocks, but because of what solitary confinement does to your emotional and mental faculties, the ability to be sort of present and available," said Sumell. She added: "Part of the reason why I'm doing this is because it is incredibly healing to have human contact in a space that is designed to torture you by removing it."
While her overarching target is the criminal justice system itself, Sumell's choice to focus on solitary confinement is purposeful. She calls it "the most concentrated space for punishment," and said, "I'm trying to attack and address [the practice] in order to illustrate our collective complicity and complacency with collective punishment."
Sumell says she hopes that those that visit or participate in the Solitary Gardens project have the same "transformative experience" that she had working with Herman Wallace, and for them to think about different approaches to criminal justice.
"I just want people to feel moved," she said. "I want them to walk away realizing that there is a human being in that cell. It's not an animal, it's not a criminal, it's not a second class citizen, it's not a monster, it's a person."