This story has been updated with responses from Theranos.
Theranos once promised to revolutionize the blood testing industry. But its methodology remains secretive, despite calls for transparency from the scientific community. Now, it is facing federal investigations, private litigation, voided tests, and its CEO, Elizabeth Holmes, is banned from operating a lab for two years.
But all that was entirely glossed over today at the company's much-awaited first presentation to the scientific community at the American Association for Clinical Chemistry's conference in Philadelphia.
In an hour-long presentation (you can review the slides here), Holmes failed to discuss the fate of the company's proprietary blood-testing technology, Edison, or address any of the controversy. Instead, she skipped right to pitching a new product, dubbed the MiniLab.
In fairness to Theranos, this was a positive step as the company did provide some internal data to show that the company could perform a small number of tests. But despite that, many took to social media to protest its failure to address and acknowledge its shortcomings before moving on to a new product.
"Clearly, the scientific and medical community was hoping for a data-driven discussion today, and instead got a new product announcement," says John Torous, a psychiatrist and clinical informatics fellow at Harvard Medical School.
In an emailed response to Fast Company, a Theranos company spokesperson did not say whether components of Edison would be used in the miniLAB, but instead stressed that it's one early iteration of the technology. "The miniLab is the latest iteration of the company's testing platform and an evolution of Theranos' technology," they said.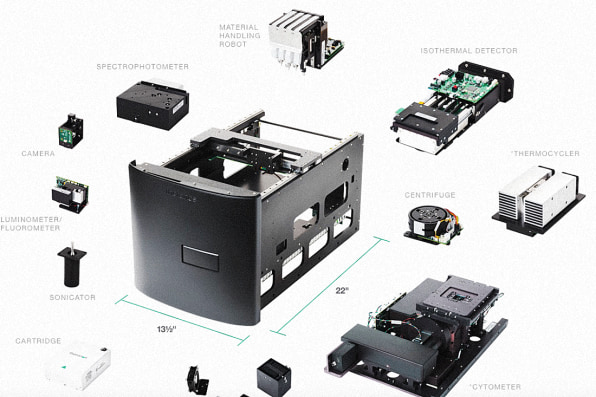 The new product, the MiniLab, essentially takes equipment used in a standard lab and puts it in a single box. Holmes refers to this technique as "decentralizing the lab," as in theory, clinicians could use this as an alternative to sending samples to a centralized facility and awaiting results. "Think of it as being a huge diagnostics lab that has been condensed down to the size of a microwave," the company's website explains.
Holmes also announced at the conference that Theranos is awaiting approval from the U.S. Food and Drug Administration for its Zika test, which uses blood and urine to test for the disease using this newly announced technology. Holmes also claimed that the MiniLab would be able to test a small quantity of blood for signs of both viral and bacterial infections, but not for every test. A spokesperson later clarified that it would depend on the number and types of tests required.
But scientists are questioning whether the MiniLab technology is a breakthrough. The current market is already fairly saturated: Abbott's iStat system, for instance, is a handheld device for clinicians to test patients for a plethora of common tests. Roche just received FDA clearance for its Cobas device, which can test for ailments like the flu and some strep infections in under 20 minutes. And Theranos competitors Quest and Labcorp already operate versions of this type of equipment in their own labs.
"I can't imagine why they're wasting their time," says MIT-trained material scientist and biotech entrepreneur Kaveh Milaninia by phone. "It's a tough market."
As Milaninia explains, the equipment that the company intends to use for its MiniLab is highly expensive. Just one of the optional components, the cytometer, sells for some $30,000. It remains to be seen whether Theranos has a plan to reduce the cost of its technology through scale, as it claims that results will be available for a "fraction of the price." The company clarified that it will target small doctors' practices, large hospitals' emergency rooms, and other settings.
Theranos says its MiniLab product is still in the research and development phase, and has not been approved by FDA. It declined to provide any information about how much the product would cost if and when it hits the market.
Another critique of this technology is that it's hard to justify to an insurance company that most tests would need to be performed at the point of care. Quest and Labcorp have spent decades driving down price by taking multiple samples at a centralized facility and running them in parallel. These tests have become cheaper because of economies of scale, which is precisely why so many hospitals still send out the bulk of their lab tests.
"It's going to be an expensive piece of equipment," Milaninia adds.