"You can look away," the narrator of the Mr. Robot VR Experience tells you, the viewer, just before things get awkward. And of course, you can look away. You can look anywhere you choose in the entire drab apartment, which should be familiar to viewers of the bracing hit USA show. Up until now, the main feature of virtual reality experiences has always been that you can look away, anywhere you want in 360 miraculously accounted for degrees. What's revolutionary about this experience, though, is that the story in front of you is so compelling, you don't want to look away.
Besides, there will be time later to do this again and see what you missed.
The Mr. Robot VR Experience is a 13-minute narrative immersion that debuted at Comic Con last month. Created in collaboration with the VR company Within and production house Here Be Dragons (formerly Vrse), the experience plunges viewers into the world of the show, right alongside mentally unstable computer genius Elliot Alderson and his frequent flashbacks. In fact, it's uncanny just how much the experience captures that world and its vibe, as many more viewers will be able to attest now that it's available through the Within app and Google Cardboard. Perhaps the reason the show's leap to VR is so seamless, though, is that Mr. Robot creator Sam Esmail wrote and directed it himself. Welcome to the future of VR storytelling.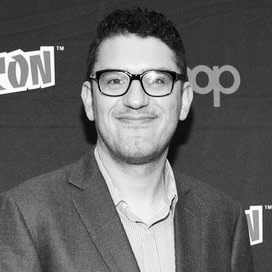 Here Be Dragons had been trying out different formats in the VR space for a while. They'd used the technology for New York Times-backed documentaries (The Displaced), musical showcases for bands like Muse ("Revolt"), and for more abstract experimentation (Evolution of Verse). The company had been hoping to move ahead with more of a narrative focus, though, and they were finally able to do so once Esmail approached them about helping bring his vision to life. Given the highly accurate depiction of tech Mr. Robot is famous for, the show's immense momentum heading into the second season, and both parties' willingness to try new things, it proved to be an ideal match.
"We've wanted to play with performance and evolving traditional dialogue-based scenes into VR for a while now, and this was the perfect collaboration to that end," says Here Be Dragons cofounder and president Patrick Milling-Smith. "Having such an iconic character who at times gives such an internalized performance being directed by the show's actual creator meant that everything felt like truth–every moment authentic with real reason."
The narration here sounds like Mr. Robot narration. The music, courtesy of the hazy, synth-heavy Chromatics, sounds plucked right from the show's soundtrack. The entrancingly flat affect of Elliot, played by Rami Malek, is intact, along with some of his accoutrements from the show–like that burned CD book we know to be filled with everybody's private information. It all feels so familiar yet surreal, the pull for following Elliot along on this flashback, his first date with Shayla the dealer, is as strong as on any episode.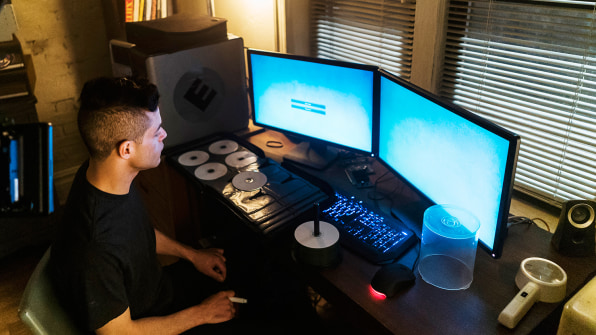 The team at Here Be Dragons encouraged Esmail to come up with an original story for this project that would take advantage of VR's spatial opportunities. Cofounder Chris Milk is an old friend of Esmail's, so they already shared a common vocabulary, which helped the collaboration run even smoother. Once Milk and the rest of the team articulated the possibilities of narrative VR to the writer and director, letting him know which new tools he had at his disposal, Esmail provided a steady stream of ideas to explore beyond the script.
"Our team really got down to the nuts and bolts of the philosophy of storytelling, user agency, and spherical narrative," Milling-Smith says. "It was a great exploration and one that pushed us all forward."
The big challenge was making a product that fans of the show would consider worthy of the source material. It had to be more than fan-fic, and it had to pass the smell test. Esmail made a lot of choices in the editing room to keep up continuity, like including the little glitches meant to show Elliot's mind unraveling. He also wrote in the scene that perhaps most utilizes the wonders of VR, in which Elliot blows a dense cloud bank of weed smoke in viewers' faces, and we, well, we literally get high. He also wrote in a memorable dance number, with many concurrent dancing Elliot silhouettes.
"What's interesting about the dance party sequence is how it was shot," Milling-Smith says. "It was on a green screen stage with the actors riffing and playing with different things. To bring improv techniques into a VR narrative is a pretty bold choice as a director, and we really think it worked to the film's benefit."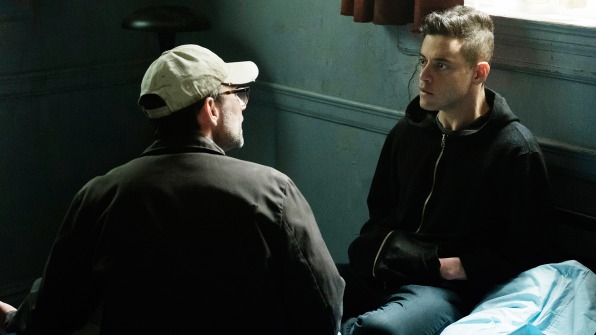 Working on scenes like these put Here Be Dragons in unchartered territory, but the whole project could serve as a test case for the future of the form. The Mr. Robot Experience tackles many of the problems with VR head on, combining familiar mise–en–scène from a beloved series with a sense of participation. Because Elliot addresses "you" in his narration both on the show and here, watching the action play out feels less voyeuristic than it has elsewhere. Part of that effect is thanks to the conceit of the show, but perhaps future experiences will create their own logic in which a linear narrative works.
"Every film and experience we do becomes its own form of R&D as we try to explore and write the language of storytelling in VR," Milling-Smith says. "The technological breakthroughs will come in a response to creative forces pushing the boundaries of what we think is possible today."
As for what is possible in this particular experience, this viewer is still not entirely sure. Because I did not look away when Elliot permitted me to, just before the uncomfortable beginning of his date, I did not explore the rest of the room to see whether anything else was going on. Come to think of it, I barely did so at any other point during the entire 13 minutes. When I ask Milling-Smith about Easter eggs, though, he answers coyly.
"You'll just have to watch it again."