Samsung released the Galaxy Note 5 last year, and this year brings the Galaxy Note 7. Wait. What happened to the Note 6? Samsung skipped from 5 to 7 for good reason. It wanted the new Note's name to sound like that of the Galaxy S7 and S7 Edge devices, which are selling very well this year.
The new Note borrows more than just a model number from the S7 line. Like the S7 Edge, the Note 7 has curved glass at both edges of the large 5.7-inch (QHD Super AMOLED) screen. Samsung believes these edges make the phone seem smaller while delivering the advantage of a larger viewing surface.
Importantly, the new Note gets a new chip set, the same powerful Qualcomm set used in the S7 and S7 Edge. The Note 7 also gets the very same camera used in the S7 line. (And that camera, for my money, is the best smartphone camera on the market today.)
Key specs: The Note 7 runs the Android 6.0.1 (Marshmallow) operating system, has 4GB of RAM, 64GB of storage space, a slot for a Micro USB card, and a large 3,500mAh battery, which can be quickly charged using the USB-C cable. It's IP68 dust proof and waterproof, and its screen is made of the new Gorilla Glass 5.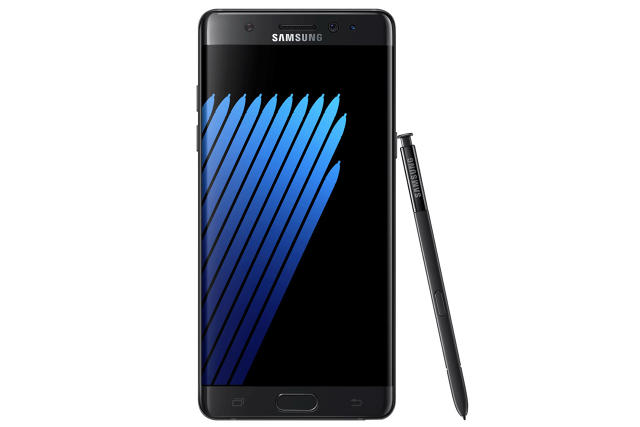 The thing that makes a Note a Note is the included pen stylus—designed for people who would rather point and handwrite than tap and type. Over the years the "S Pen" stylus has formed a more natural-feeling interplay with the Note's screen, making handwriting feel more natural. And handwriting on the Note 7 does seem like an improvement over handwriting on the Note 5. The tip of the Note 7's pen is smaller at 0.7 millimeter, Samsung says, and the pressure sensitivity of the stylus has been improved to create a "ballpoint pen-like experience."
On the software side, the Pen gets some new tricks in the Note 7. You can use it to draw a square on top of some web video content and instantly create a GIF from the screen grab. You can hover over text to magnify it, or hover over text you want to translate (the software reads 35 different languages and translates into 71 languages).
In the Note 7 S Pen-related functions for handwriting notes, drawing, or editing memos are gathered in a single app called Samsung Notes.
It's been rumored for a while now that Samsung would bring iris scanning authentication technology to the Galaxy S line, but it turns out it will land in the Note line first, with the Note 7. The feature uses a sensor at the top of the device that reads the unique patterns in your iris to verify your identity. Iris scanning, then, can be used as an alternative authentication method to the fingerprint reader we're use to.
The iris scanner can be used as a way to log into work-related assets kept inside Samsung's Knox security framework. Similarly, it can act as the gateway to a Secure Folder on the phone, in which you can keep content that's meant for your eyes only.
"Generally speaking, iris can be more secure than fingerprint," says Moor Insights & Strategy analyst Patrick Moorhead, "because there are more points to check than fingerprint and irises don't change after the first 18 months of life, but researchers will need to test this specific SN7 implementation to validate this."
Samsung says that the iris scanner will soon be used as an authentication option for Samsung Pay mobile payments, too.
The Note 7's display refresh rate and graphics are now robust enough to power Samsung's Gear VR headset. With the release of the Note 7, the company is releasing a "Gear VR for Note 7" headset that increases the field of view to 101 degrees, versus the 96 degree field of view in the original Gear VR. The new Note also integrates well with the Gear 360 virtual reality camera, Samsung says.
In the U.S., the Galaxy Note 7 will be available in Blue Coral, Silver Titanium, and Black Onyx colors, through AT&T, Sprint, T-Mobile, U.S. Cellular, and Verizon Wireless beginning August 19th. Big retailers like Best Buy and Amazon will also sell the phone. Samsung has not given pricing information, but as a guide, the Note 5 64GB version cost roughly $800 at its debut.
For a limited time, Samsung says, people who buy a Galaxy Note 7 or Galaxy S7 Edge will get a free Gear Fit 2 fitness tracker or a Samsung 256GB memory card. Both the Gear VR for Note 7 and the Gear 360 will go on sale in the U.S. August 19. The Gear VR for Note 7 costs $100. The Gear 360 camera costs $350.
OS
Android 6.0.1 (Marshmallow)
Network
LTE Cat.12 / LTE Cat.10 / LTE Cat.9 (may vary by mobile operator)
Dimensions
153.5 x 73.9 x 7.9mm, 169g
Processor
Quad Core (2.15GHz Dual + 1.6GHz Dual), 64 bit, 14 nm processor
Memory
4GB RAM (LPDDR4) , 64GB (UFS 2.0)
Display
5.7" Quad HD Dual edge Super AMOLED
2560 x 1440 (518ppi)
Camera
Rear: Dual-pixel 12 megapixel, OIS (F1.7); Front: 5 megapixel (F1.7)
Battery
3,500mAh, Fast Charging on wired and wireless
Wireless Charging compatible with WPC and PMA
Payment
NFC, MST
Connectivity
Wi-Fi 802.11 a/b/g/n/ac (2.4/5GHz), MU-MIMO(2x2) 620Mbps,
Bluetooth® v 4.2 LE, ANT+, USB Type-C, NFC,
Location
(GPS, Glonass, Beidou)
Sensors
Barometer, Fingerprint Sensor, Gyro Sensor, Geomagnetic Sensor, Hall Sensor, HR Sensor, Iris Sensor, Proximity Sensor, RGB Light Sensor
ARE YOU REGISTERED TO VOTE?
Register now to make sure you have a voice in the election.