"I've never been involved in anything that was led by so many women. I knew right away it was something special," says actress Anna Gunn, the star of the financial thriller Equity. The Breaking Bad alum plays an investment banker who isn't shy about her quest for power and respect, or her love of money, in the first-ever Wall Street film that places females who work in the world of finance front and center and deals with the challenges they face in a male-dominated industry.
Two of Gunn's costars–Sarah Megan Thomas and Alysia Reiner–produced Equity, and they gave other women major roles behind the scenes, hiring Amy Fox to write the film and Meera Menon to direct. It's sad to have to ask, but how did Thomas and Reiner get this female-centric film made when Hollywood clearly has zero interest in depicting women who hold powerful jobs on Wall Street? The answer: They did it with the help of dozens of Wall Street women, including Candy Straight, a former investment banker, and Barbara Byrne, vice chairman of investment banking at Barclays, who were among the film's funders and also shared the personal stories that shaped Equity's narrative.
The inspiration to make Equity started with a simple realization that Thomas had. Living in New York City, she has female friends who work on Wall Street, and a few years ago, it dawned on her that she had never seen a movie that featured the women who actually work in finance. "It's always that token woman in the background. We've never seen that world from the perspective of the people that I know," Thomas says.
Thomas, who produced and starred as a competitive rower in the 2012 film Backwards, was determined to break new ground in the Wall Street film genre. "As a filmmaker, I want to do things that feature strong women in front of and behind the camera but also tell stories you haven't seen before," she says. That said, she knew producing the kind of film she wanted to make was going to be a challenge, and she wanted a producing partner, so she approached her good friend Alysia Reiner, best known for playing prison administrator Natalie "Fig" Figueroa on Orange Is the New Black. Reiner, who had produced a dramatic short called Speed Grieving and been an associate producer on Backwards, was initially hesitant. "My first film was a movie about grief and loss, and I tend to only want to tell stories about deep things that touch my heart because I know how much effort it takes to produce something," Reiner says.
After she and Thomas talked to women who work in the financial sector about their experiences, Reiner was all in. "Hearing their stories about the inequities and the way women were talked to, the way they were treated, the glass ceiling–that broke my heart," Reiner says, "and I said, 'What if we can make this super entertaining thriller that also makes a difference and talks about these things?'"
And that's exactly what they did.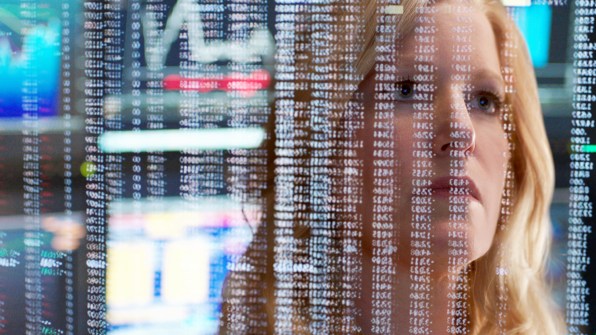 In Equity, Gunn's Naomi Bishop is a driven, talented investment banker who has passed on marriage and kids to focus on her career. She is amazingly good at what she does. Her specialty is Silicon Valley startups, and she has led a string of successful IPOs, but after her most recent IPO bombs, her boss (Lee Tergesen) denies her a promotion and chastises her for rubbing people the wrong way when she is just doing her job the way any male colleague would.
Despite smacking her head on the glass ceiling, Naomi is determined to shatter it by making her next IPO for a San Francisco-based social network known as Cachet a big success. She brings her protégé Erin Manning (played by Thomas), a vice president at the firm who jeopardizes her career by daring to get pregnant, into the dealmaking, which gets complicated when Naomi learns that Cachet's network isn't as secure as the company claims. Naomi also tangles with Reiner's Samantha Ryan, a former college friend who is now a federal prosecutor and suspects Naomi's firm of wrongdoing.
Gunn's father was a stock and commodities trader, so she had some knowledge of how the financial industry functions. But in preparation for the role, the actress, who is big on research, also talked to a lot of women who have made their careers in investment banking. "I learned that it's not just a numbers game. It's really so much about putting a deal together, and it's a very complicated process," says Gunn, who was fascinated by the psychological and emotional intuitiveness required to be successful in working with clients and other bankers.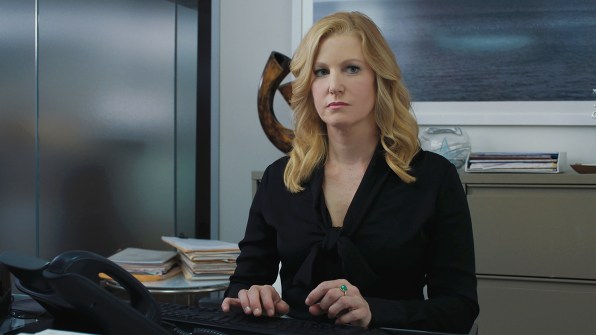 The pressure is intense in any IPO, and in Equity, the stakes are ultra-high for Gunn's alter ego as she tries to make the Cachet deal work. "She's got one loss, and now she feels that she's fighting for her life. That was something that some of the women told me. You lose–that's a common occurrence in the business. You can't win with every single IPO, but when a woman is at that level, when she loses, there's much more scrutiny placed upon her," Gunn says. "I related to that struggle in terms of seeing her really try to hold onto the rungs of the ladder–not only hold her position but try to get that win in order not to lose what she's built over 20 years."
While Gunn could relate to Naomi's struggle, the actress also used music to help her get into the right frame of mind to play the character, creating a playlist she listened to throughout the shoot–it included Coldplay's "Lost," "which I think was apropos for what she's experiencing practically throughout the movie," Gunn says. Joan Armatrading's "Down to Zero" was also on the playlist as well as Lucinda Williams' cover of AC/DC's "It's a Long Way to the Top (If You Wanna Rock 'n Roll)."
In one of the film's most powerful scenes, Gunn's Naomi is on a panel at a women's networking event, and she is refreshingly honest about her love of money. "What she says is, 'I'm glad it's now acceptable for us to talk openly about ambition, but don't let money be a dirty word. We can like that, too.' I think it has been a struggle for women to make that open declaration because it's not necessarily seen as a trait for women that is acceptable in society or our culture," Gunn says. "We all need it, and we all have to have it. Why shouldn't women be able to say that as well?"
On the subject of money: Thomas and Reiner spent eight months raising the cash to make Equity, and while investing in a movie is risky business, the investment paid off in this case. Thomas and Reiner, who formed a production company called Broad Street Pictures to make the film (as well as future projects that will employ women in front of and behind the camera), kept their expenditures in check, took advantage of the 25% tax credit they got for shooting in Philadelphia, and made deals with sponsors ranging from Bloomberg LP to Lyft. And after Sony Pictures Classic bought the film at the Sundance Film Festival last January for $3.5 million, "all of our investors made their money back–plus some," Reiner reports.
Equity is out now in New York and L.A., opening nationwide over the coming weeks.