The conservative two-piece suits most commonly associated with flight attendant uniforms don't exactly scream high design. But for every dowdy uniform you see on major airlines today, there's a rich history of stylish, sometimes outlandish, designer-made uniforms that stretches back to the golden age of airline travel. Every couture house you can think of has at one point counted an airline among its list of clients: Dior, Balenciaga, Yves Saint Laurent, Valentino, and, most recently, Vivienne Westwood have all designed flight attendant uniforms.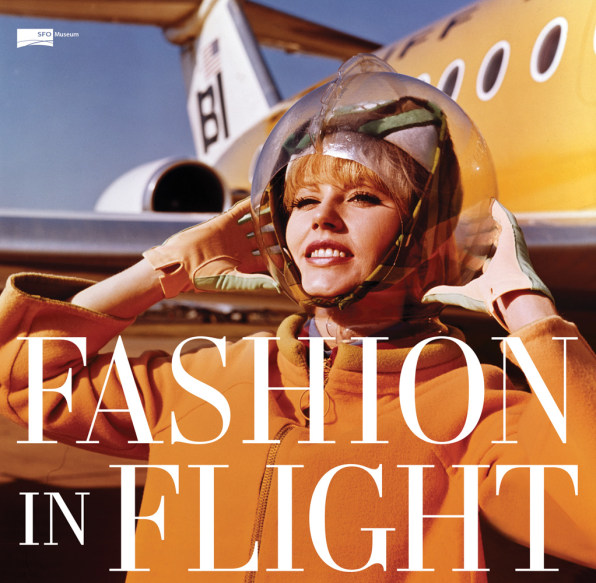 "It's a great paradox," says John Hill, assistant director of Aviation at the SFO Museum, a museum that is owned by and operated out of the San Francisco International Airport. "Can a uniform be couture?" Couture connotes special orders and customization, not uniformity–and certainly not utility. But in the 1950s and 1960s, when commercial flight was becoming a booming business, airlines wanted the prestige of a big-name designer attached to their brand. And for designers, airlines promised large-scale launch campaigns that were sure to get their designs a good amount of publicity.
The SFO Museum's Fashion in Flight: A History of Airline Uniform Design show, which you can find in the International Terminal of the SFO airport, traces the trajectory of the flight attendant uniform from its austere pre-WWII beginnings to its glamorous midcentury glory days and through decades of being given the haute couture treatment. It even makes the case that the familiar dark blue or black flight attendant suit has roots in high design: Christian Dior's "new look" revolution and his famous Bar suit paved the way. (House of Dior designed an elegant stewardess uniform of his own for Air France in 1963.)
After WWII, the airline industry exploded with the rise of the jumbo jet. Commercial airlines could hold more people, which meant prices became accessible for the average person. Suddenly, anyone on a middle class salary could travel from one coast to the next in a day–something that had never been available to them before. "The stewardess had this vicarious role associated with jet-setting and a cosmopolitan lifestyle," says Hill. "People projected onto them these feelings and cultural manifestations. At the same time, stewardesses projected out this prestige and mystique."
As airlines evolved so too did the stewardess uniforms. Before commercial airlines, flight attendants had to be registered nurses, so the first uniforms in the early '30s were basically nurse's attire, complete with the cape and cap. WWII saw the emergence of more feminine, less conservative uniforms, if only because there was a government cap on fabric used for nonmilitary purposes.
After WWII, as more and more airlines began to crop up and compete against each other, they felt the need to differentiate themselves. They hired big-name designers and dressed their flight attendants in flashy, colorful uniforms that alluded to the exotic lifestyle they represented. "For designers, it was a new movement that was exciting and ultra-modern," says Hill. "For airlines, the competitive nature was so they could be sustainable. Once you pull away the wrapping, they all used the same equipment" and offered more of less the same services.
Like travel posters and company branding, stewardess uniforms became part of an airline's identity–and each was always trying to one-up the others.
Below, a brief visual tour of flight attendant uniform design from decades prior.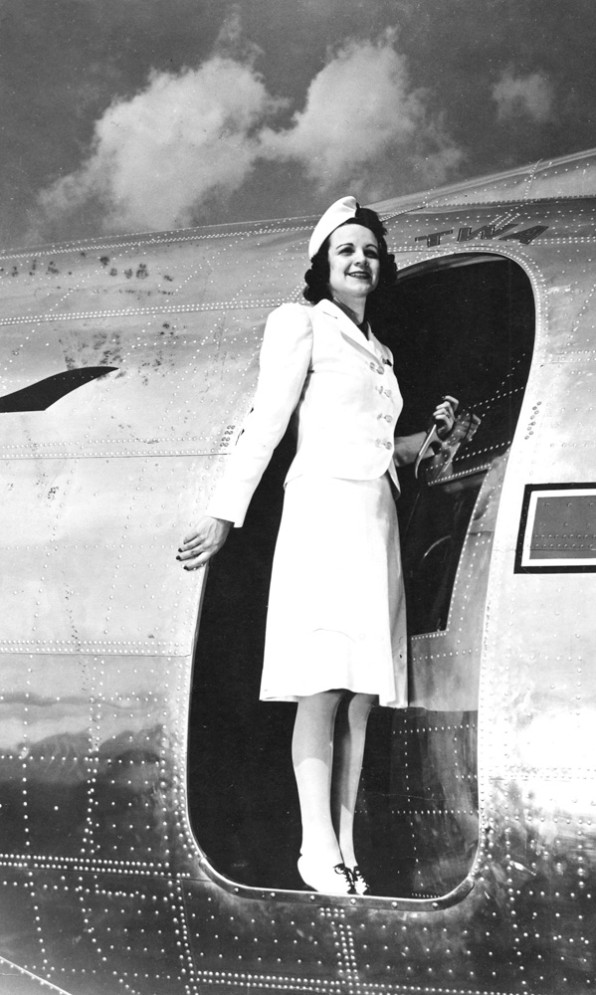 The 1930s and 1940s
During WWII, flight attendants uniforms changed from the nurse-inspired attire to a more militarized version. The new design gave stewardesses an air of authority and aligned them with the flight crew. It also fell in line with the "utility chic" movement of the time, Hill says, which was influenced by the government-enforced austerity program that restricted fabric that was not going toward the war effort. "Resources were dedicated to military, so there were government restrictions on what can be used," says Hill. The dress became simpler and shorter, the waistline more defined. "No lapels, no flaps over the pockets, but the streamlined silhouette became more popular."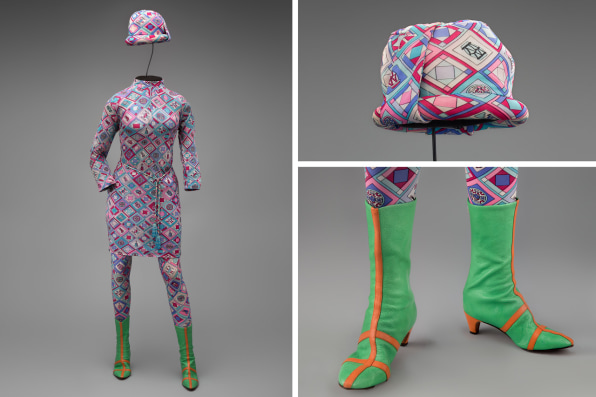 The 1960s
The mid-'60s saw the rise of air travel, as well as the Space Race. It was during this time of excitement and cultural upheaval that Braniff International Airways hired advertising executive Mary Wells Lawrence to mastermind their visual identity. Lawrence hired the designer Alexander Girard to help with the campaign, and together they brought on the fashion designer Emilio Pucci.
"He turned the industry on its head," says Hill. He called his psychedelic uniform the Supersonic Derby outfit. It included a printed nylon jersey, tights, and bowler hat. "It was all about space and intergalactic travel and very theatrical," says Hill. Pucci also designed an astronaut-inspired glass helmet called a "rain dome" to protect their hairdo from hotel to shuttle and the terminal to the jet. Those only lasted a couple of weeks: "They were impractical, they figured out there was no where to put them during the flight, and they would break easily," says Hill.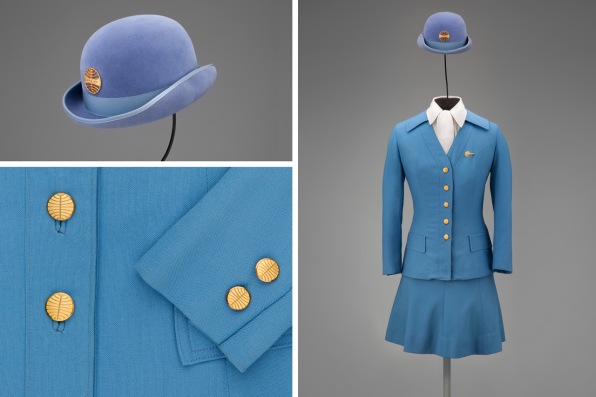 The 1970s
Thanks to the revolutionary fashion of Dior and the popularity of Chanel's two-piece suit, that became the prevailing design of the flight attendant uniform. Depending on the year and the prevailing fashion, hemlines on uniforms moved up and down over the years. Two-piece suits made way for jumpers, or dresses with jackets. But since uniforms were expected to last a few years at a time, they tended to skew conservative because they couldn't change with every fashion trend that came about. Here, a 1971 Pan American World Airways stewardess uniform ruffles out a bit in the skirt to stand out from the other airlines.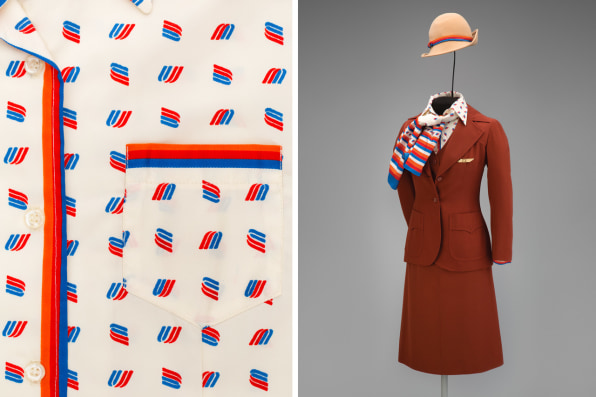 "Before labor laws and the repeal of some of the harsher restrictions [of air travel], these women had to be a certain height and a certain weight," says Hill, mainly because of the size of the cabin and the carry-weight restrictions based on fuel. The more sophisticated air transport of the '60s and '70s allowed for less restrictions on employees and their uniforms. The form-fitting jackets and pencil skirts became a bit more loose. Designers began designing for functionality and movement as women in the workforce became more common. Here, a three-piece uniform in rust-colored Dacron polyester, was worn over the cream blouse highlighted in orange and red piping with a logo pattern.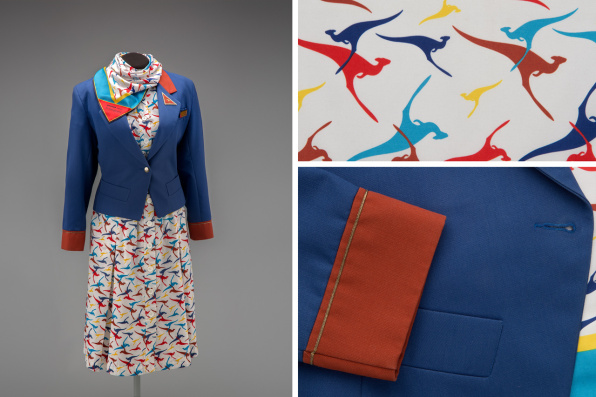 The 1980s
The 1980s brought the power suit to the skies. In 1986 Yves Saint Laurent designed this uniform for Qantas. It has the wide lapels, padded shoulders, and narrow waist that Saint Laurent became known for with the power-suit designs for his Rive Gauche label.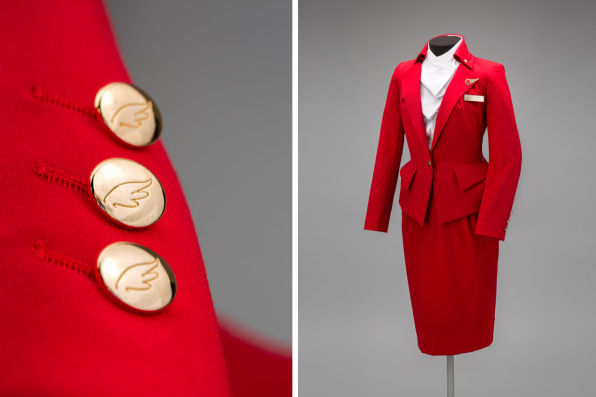 Present Day
In 2014, punk designer Vivianne Westwood created a uniform for Virgin airlines that harkened back to '40s-era designs.
Besides Westwood, the days of the big launch and flashy, glamorous designer uniforms seem to have gone the way of boozy flights and smoke-filled terminals. But Hill points to designers like Kate Spade, who designed the Delta uniform in 2003. There's also Italian designer Ettore Bilotta's uniforms for Abu Dhabi-based Etihad Airways. "It's there, you have to look a little bit," he says. "They're in this quasi-world between fashion industry and airlines. That's the kind of crossover we wanted to emphasize [with the exhibition]. It permeates so many different parts of culture."
See more flight attendant uniform designs throughout the decades in the slide show above. Fashion in Flight: A History of Airline Uniform Design will be on view in the international terminal of the San Francisco International Airport through January 8, 2017.
[All Photos (unless otherwise noted): SFO Museum