While some people in Silicon Valley rush to build the next photo-sharing app or a faster way to sell online ads, a group of 16 startups is focused on a more fundamental problem: Globally, 1 out of 10 people can't read this sentence. Project Literacy Lab, a new accelerator, brought the startups to the Bay Area this July to give them resources, mentorship, and ultimately help them scale up products that address illiteracy.
"Literacy is a global challenge often forgotten about by not just the general public, but also [by] entrepreneurs and technologists around the world," says Daniel Epstein, founder and CEO of the Unreasonable Group, which partnered with Pearson on the new accelerator.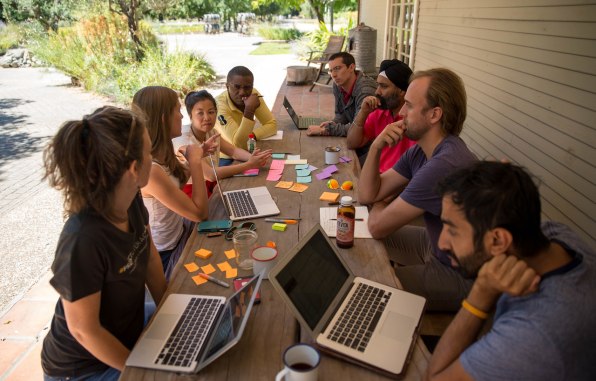 Each of the startups chosen is a for-profit company that already has some traction–the average company has already raised $5 million–and that has the potential to quickly grow to help more people learn to read. Unlike a typical accelerator, which focuses on trying to help entrepreneurs maximize profits, the focus here is on how the companies can help the most people, while still making enough money to keep growing.
"The ventures we teamed up with are solving problems we didn't think were solvable, in markets most don't yet consider to be markets, with technologies we didn't know existed– profitably," says Epstein. "Each of the selected entrepreneurs shares a common eagerness to experiment in what it means to measurably close the global literacy gap."
The founders spent two weeks together on an organic farm north of San Francisco, a setting chosen to help them form relationships quickly. Because each of the startups already has experience (again, unlike a typical accelerator), the program doesn't present the basics, but lets each company focus on its own biggest challenges.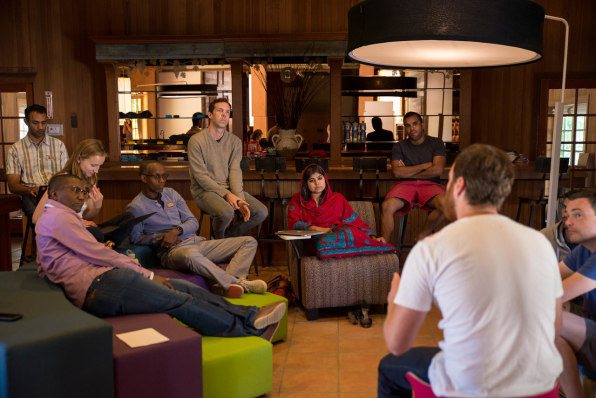 "The daily structure of the program is designed to help each of the participating entrepreneurs get to breakthrough realizations faster," says Epstein. The team worked with the founders of Stanford's d.school and took best practices from MIT's Media Lab to design a program that let entrepreneurs work on their biggest challenges and opportunities, with help from the other entrepreneurs, mentors, and investors.
The startups take a wide range of approaches to literacy. Some use technology to help personalize what children are reading, adjusting the reading level automatically so they learn faster. LightSail, which already works with hundreds of thousands of students, says that its platform can achieve three years of growth in reading in a single year. Thinkcerca and Guten do something similar.
Livox, designed for children with disabilities, adjusts for motor, cognitive, and visual impairments. Insane Logic, designed for children who need speech and language therapy, makes an app that supports words with symbols and signs. Robbie AI uses artificial intelligence to adapt content for different learning styles and emotions. Karadi Path, from India, teaches literacy experientially, rather than teaching words or grammar.
Eduze, designed for sub-Saharan Africa, lets schools download online content–even movies–without electricity or a DSL connection. Guru-G, from India, automatically gives teachers feedback to help them improve lessons (also without Internet). Ubongo, based in East Africa, gives "edutainment" lessons via mobile phone, radio, print, Internet, and TV.
Some of the startups aren't directly focused on literacy itself, but on removing the barriers to education. Angaza and Kingo let customers in Africa, Central America, and Asia prepay for solar power in tiny amounts, so children can more easily study at night.
Afripads sells affordable, washable sanitary pad kits, so schoolgirls don't skip class (or drop out) when they have their period. Edom, a company that makes healthy food for people living on $1 to $3 a day, has found that students eating their products are more likely to feel healthy enough to go to school, boosting attendance by 20%. Sunculture, which helps farmers in East Africa save water and fuel and boost yields, says that its technology can help more families afford to pay school fees.
Project Literacy Lab believes each of the startups can grow further and that the accelerator will help them get there. Over the coming months, Unreasonable Alchemy plans to set up similar programs to scale up solutions for other "seeming intractable challenges of the 21st century."
"Ultimately, through this partnership, we hope to change the conversation across communities like Silicon Valley," says Epstein. "Imagine if we took the brain trust that is the startup community here in the Bay Area and we harnessed it toward solving the grand challenge of our time. To us, closing the global literacy gap by 2030 would not just be a plausible reality, it will be the most likely."
Have something to say about this article? You can email us and let us know. If it's interesting and thoughtful, we may publish your response.