WHAT: A new Dove campaign with former U.S. Olympic gymnast and gold medalist Shawn Johnson to challenge how the media characterizes female athletes and their looks. It includes billboards in New York City, Los Angeles, and Toronto that will show actual comments the media has made–"huge nipples," "frizzy hair," "built like a fire hydrant." As those comments appear, the women in the billboard will disappear, to illustrate how these types of depictions trivialize their elite athletic ability.
WHO: Razorfish, Dove
WHY WE CARE: Here we have an Olympic extension of Dove's fantastic #MyBeautyMySay campaign, which is reason enough to pay attention based on the quality of its earlier efforts.
To launch, the brand published an open letter from Johnson, who detailed how media focus on her appearance made her feel as an athlete.
"It's time to focus on all athletes' performance, not their appearance. I know, because I was targeted with invasive comments about my body–starting when I was just 16 years old.
"Because of all those comments, I was constantly aware of aesthetics. I tried to figure out how to do my hair and makeup and make my leotard look better. I even remember going into the cafeteria and questioning what I should eat. I needed a lot of fuel, but all I kept thinking about was what I had been told about my weight, and I thought, "Maybe I shouldn't eat as much, so I can shed a few pounds to potentially win." With the commentators and the news reporters focused on a topic that had nothing to do with my sport and my hard work, I felt helpless."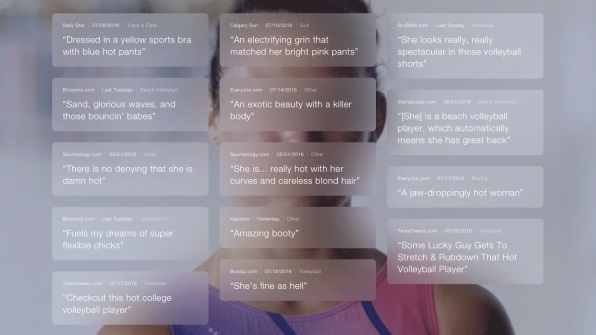 This isn't how we should be making our athletes, any of them, feel, and Dove has found a perfect way to tie its brand values in that message.