When Judi and David Cornis, who is a wheelchair user, enlisted the Seattle-based prefab company FabCab to build their residence in Port Townsend, Washington, they asked for a space that would permit free movement inside and out, allow them to age in place, and look like a stylish home–not a sterile institution.
"When clients think of universal design they think of hospital rooms," Don Argus, an architect at FabCab, says. "We strive to make beautiful interiors and exteriors that just, by the way, don't get in the way as your needs change."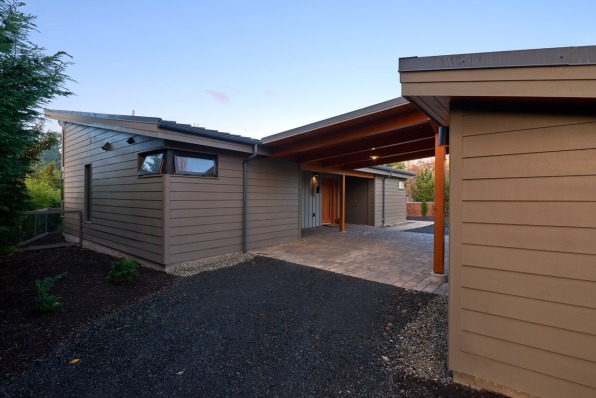 Universal Design is the umbrella term for a philosophy that products, spaces, and environments should work for an entire population, regardless of age or ability. Accessible products often get a bad reputation for having a geriatric sensibility, but that's only when universal design principles are applied without care. OXO's Good Grips line and these punchy yet minimalist bathroom products from Sabi exemplify universal design's rich potential. It is now even driving user-experience innovation at tech companies, like Microsoft, and automotive companies, like Ford.
Perhaps nowhere is universal design more relevant than in a house, where our needs shift dramatically as we age–but the design rarely follows suit.
At the Port Townsend Residence, details large and small, obvious and incognito, help the Cornises have a highly usable house now and in the future.
Circulation was at the heart of the challenge. "If you can't get around inside or in and out of the house, that's a deal breaker," Argus says. To that end, the architects ensured that there was ample space to accommodate David's power chair in spite of the house's fairly compact size, just 1,300 square feet.
The architects installed pocket doors inside and made them wider than usual. "We're thinking that certain ADA requirements are minimal," Argus says about going above the baseline for accessibility. "Because our clients really zip around in their wheelchairs, we like our doors to have a clear opening of 36 inches rather than 32 if we can do it." Additionally, the handles are easily accessible, even when the door is open (often, pocket doors slide completely flush with the frame and have handles that disappear).
Kitchens and bathrooms are often the most challenging spaces for accessibility. In both rooms, FabCab left space underneath the sinks for knee clearance. In the kitchen, the low cabinets are mostly drawers to make it easier to reach their contents. Using the same logic, Argus specified a drawer dishwasher and microwave. A pot filler over the stove helps to eliminate the difficulty of carrying heavy things from the sink and the countertop also allows wheelchair users to slide things back and forth.
In the bathroom, Argus specified large-format tile to reduce the risk of slipping. The entire floor is one level to make it easy to roll into the shower, and a linear drain ensures that the room doesn't flood. The shower, with its fold-down seat and grab bars, is one of the more "obvious" of the accessible spaces, but attractive chrome plumbing and teak details make it feel spa-like. Grab bars are around the toilet as well and are positioned specifically for the users as opposed to the measurements dictated by the ADA (they're still within range, just at the higher end).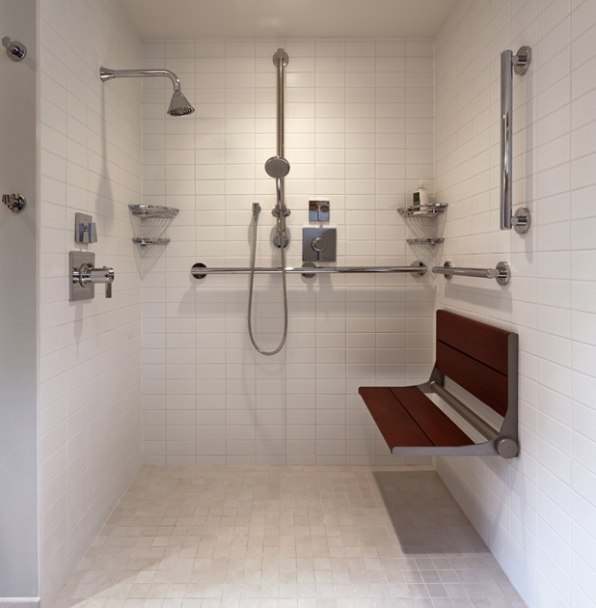 As we age, our vision and hearing deteriorate. Recognizing this, Argus installed plenty of can lights in the ceiling and even under cabinet lights in the kitchen to ensure that countertops are adequately bright for tasks like slicing and dicing. Moreover, there are big windows in the main living space to let daylight in. The angled shed roof creates asymmetry in the overall space, which helps those with extremely low vision orient themselves more. Muffling outside noise helps make it easier for those with hearing loss to follow conversations and the prefabricated structurally insulated panels that comprise the exterior shell help insulate the interior.
While the broad gestures make the house usable, the small elements make it feel personal. "Being well detailed and choosing appealing materials is part of what we do," Argus says. Warm finishes help achieve a homey character, like the bamboo flooring, wood cabinets, and Paperstone countertops.
The accessibility measures extend outside, too. The patio, which leads to an open space shared with the neighbors is lined with brick, which is easier for a wheelchair to travel across. Argus also designed a porte cochere to protect Judi and David as they get in and out of their van–a necessity in the rainy Pacific Northwest. "We need to be very concerned with site design so even if they have an accessible home they're not trapped in it," Argus says.
Thanks to considered design, the Cornises will have a home that they can live in for years to come. "Our company was established in major part to 'mainstream' universal design," Argus says. "We want to demonstrate that universal design does not mean clinical."
The house was recently celebrated by the U.S. Department of Housing and Urban Development and the American Institute of Architects. Read more here.
[All Photos: Dale Lang]