Going to the hospital can kill you: Hospital-acquired infections and medical errors are one of the leading causes of death in the U.S. But better hospital design can help. Redesigning the layout of a nurse station or adjusting the noise levels in a medication room can reduce errors; redesigning ventilation systems can reduce the spread of infections.
Seven new medical center designs, the winners of the American Institute of Architects (AIA) National Healthcare Design Awards, show some of the ways that architects are making tweaks in the physical environment so patients can stay safer and get healthy more quickly.
"There's much higher awareness now of how healthy environments help patients heal," says Joan Suchomel, the leader of the AIA's Academy of Architecture for Health. "That is, in turn, related to evidence-based design studies that actually prove that–so it's not just intuitive, it's actually been proven in many instances."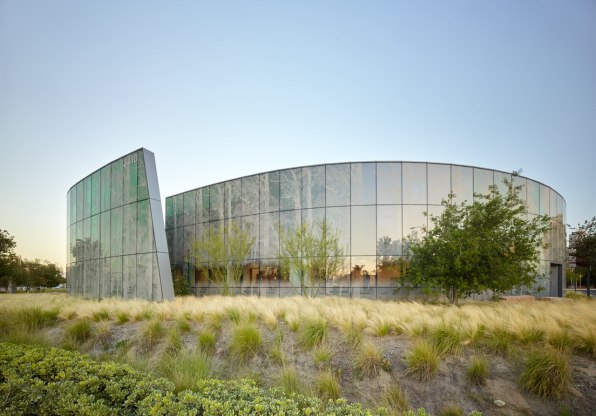 Kaiser Permanente, Kraemer Radiation Oncology Center; Anaheim, CA
Yazdani Studio of Cannon Design
Cancer patients undergo grueling radiation treatments–usually five days a week, for as long as eight weeks. This new center is designed to help make the process as relaxing as it can be under the circumstances. From inside treatment rooms, massive windows look out at a zen garden with plant-covered walls, inspired by evidence that views of nature can help patients heal faster.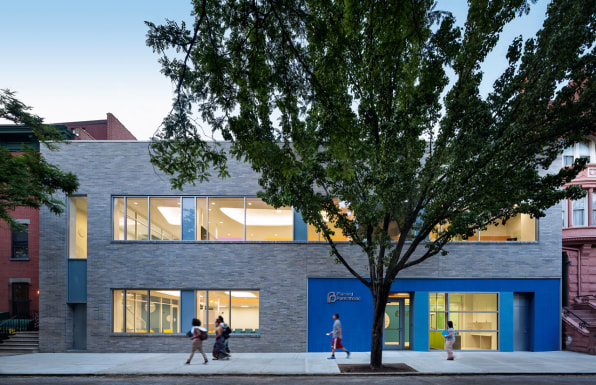 Planned Parenthood Queens: Diane L. Max Health Center; Queens, New York
Stephen Yablon Architecture
The bright, modern new Planned Parenthood in Queens stands out from the rest of the brownstone buildings on the block, and that's a good thing: The designers wanted it to be noticed as an important new part of the community. It's also intended to be different than visiting an old-school clinic. Inside, sleek, color-coded hallways make the space easier to navigate. While patients wait, they hold pagers that buzz when the nurse is ready; one online review calls it the Shake Shack of health care.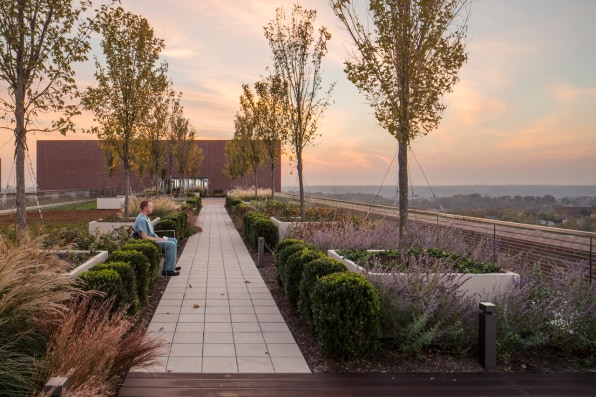 The Christ Hospital Joint and Spine Center; Cincinnati
Skidmore, Owings & Merrill LLP
At this hospital, patient rooms have views outside, and glass walls bring natural light into the hallways. At night, to help patients rest, the glass walls are covered in blackout curtains. Rooftop gardens provide a quiet place for patients and visitors to rest surrounded by plants. The building is also LEED-certified.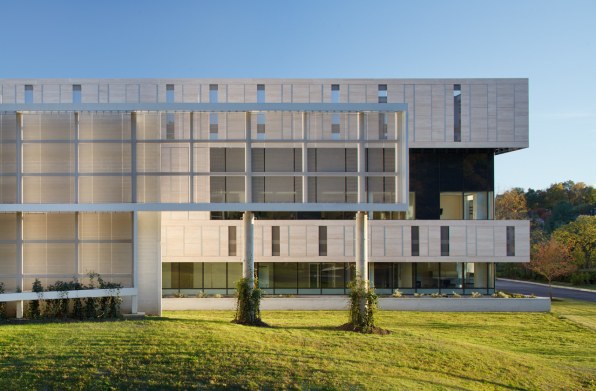 Memorial Sloan Kettering (MSK) Regional Ambulatory Cancer Center; West Harrison, New York
EwingCole
Architects transformed a 1950s office building into a light-filled, peaceful space for patients and staff. The interiors are designed to look as little as possible like a hospital; sound-absorbing materials keep the building quiet. Medical equipment is hidden from view. Wearables track the movements of both patients and staff to help the center operate efficiently. Rooms have outdoor views and clear lines of sight to nurses' stations.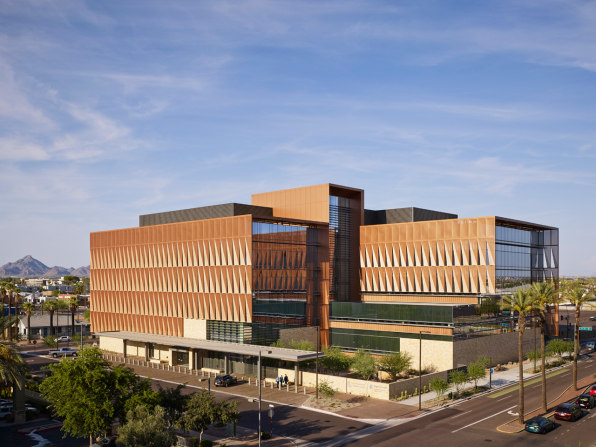 The University of Arizona Cancer Center (UACC) at Dignity Health St. Joseph's Hospital and Medical Center; Phoenix
ZGF Architects LLP
This huge cancer center in downtown Phoenix is surrounded by perforated copper panels, designed both to keep the building cool and give patients inside a sense of protection and privacy. The wood and stone interior, with a "healing garden" in the middle, is meant to feel more like a hotel or spa than a hospital. A careful layout of the building means patients and staff have to spend as little time as possible getting from place to place.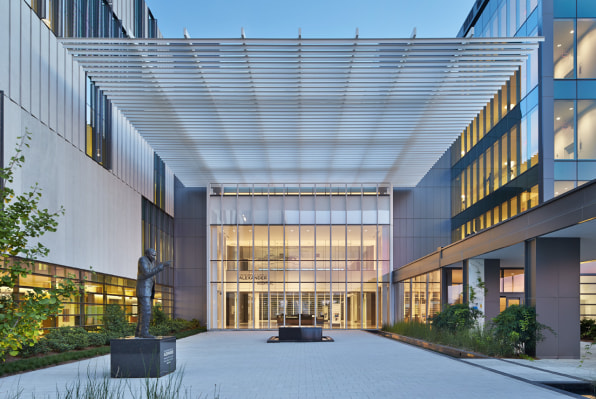 University Medical Center New Orleans; New Orleans
NBBJ
After Katrina, Memorial Medical Center in New Orleans was surrounded by floodwater, lost electricity–and some abandoned patients died. Nearby, Charity Hospital managed to evacuate patients, but the hospital itself was also destroyed. This new hospital, a replacement for Charity, was designed to survive natural disasters. Nothing critical happens at ground level, in case of flooding; the ambulance ramp can be accessed by boat. The design allows the hospital to run for up to a week after a major hurricane with virtually no outside supplies. Inside, the calm, peaceful space gives patients private rooms, natural light, and views outside.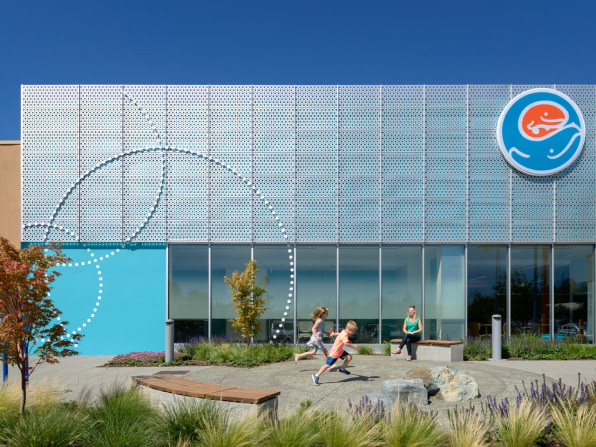 Seattle Children's Hospital, South Clinic; Seattle
ZGF Architects LLP
When Seattle Children's Hospital needed to add a new clinic, they realized that the best location happened to be an abandoned big-box store: It was easy for patients to access, and redesigning the existing building was more affordable than starting from scratch. The new building includes urgent care, outpatient care, physical therapy, and specialty clinics, all in a bright space. A new wall of glass brings in natural light; outside, the roof catches rainwater to water a rain garden. Inside, the design focuses on patient flow, so patients can be seen as quickly as possible.
Have something to say about this article? You can email us and let us know. If it's interesting and thoughtful, we may publish your response.