The women's wearables market is heating up, with plenty of fitness trackers and smart jewelry to choose from–but somehow it's still hard to find devices that are beautiful, functional, and also reasonably priced.
The Bellabeat Leaf Urban, which launches today, hits all three marks. It's a pebble-like device with a leaf pattern on it (think Elven elegance) and can be worn as a bracelet, a necklace, or a clip. It's designed to mask the technology inside, so it looks like a piece of jewelry you might wear to the office, dinner, or on the weekend.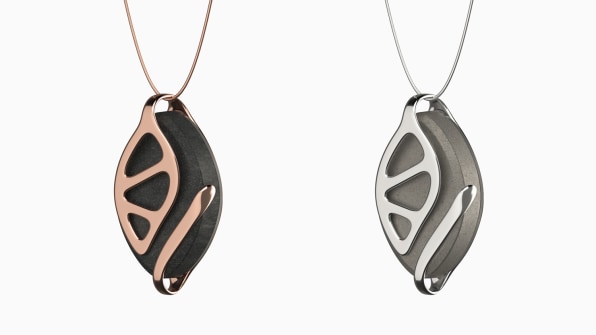 "We think that women have been overlooked as users of technology in both functionality and design," says Slovenian artist Urska Srsen, who founded Bellabeat with her Croatian business partner, Sandro Mur, in 2014. "Designers were often just making women's devices pink, which is, of course, not really designing for women. We wanted to tailor the device in shape, size, and in terms of how women actually wear accessories."
Srsen explains that every aspect of the device is designed to help women take action as early as possible when it comes to their health. And the company's definition of health is more expansive than other wearable devices on the market: It's not just about mental health, but also about mindfulness and emotional well-being.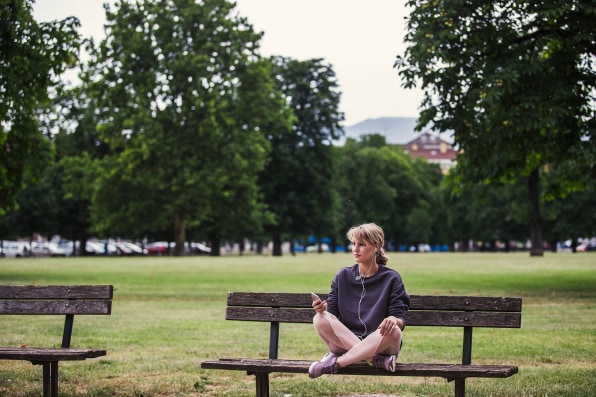 I tested the device and found that it was simple and elegant enough to wear almost everywhere. The wraparound leather bracelet is chic and trendy, while the necklace design can go with more formal office looks. When you go to the gym, you can wear the Leaf Urban as a clip, although at a weight of 18 grams (or 0.6 ounces), it will tug at very thin fabric. It is water resistant, which means it copes fine with sweat and the occasional splash while doing the dishes.
At $119 for the silver and $129 for the rose gold, it's cheaper than the MSRP of the comparable Fitbit Alta ($169.95), the Swarovski Activity Crystal ($169), or the Wisewear bracelet ($295).
The Leaf Urban serves as a fitness tracker. It tracks your steps, distance covered, and calories burned. (It counts "active time" as five minutes or more of continuous activity.) Worn at night, it tracks your sleep, including deep sleep. By letting it know when you're menstruating, it can also keep track of your fertility, let you know when you're about to start your period, or when you might have PMS. It also includes a mindfulness feature that allows you to follow several meditation programs on the app, while the Leaf Urban tracks your breathing patterns to see how well you're doing.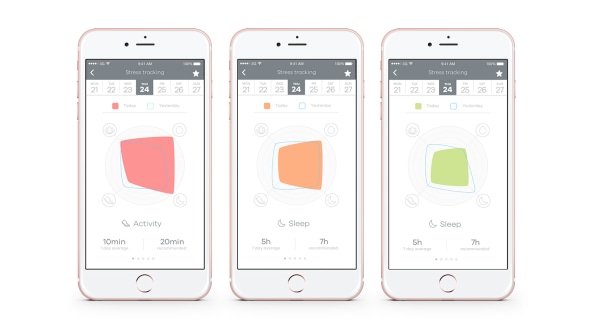 But what sets the Bellabeat apart is that it contains features designed to help women manage stress. It contains stress-tracking technology that uses the other data points–your sleep, activity, and point in your menstrual cycle–to predict how stressed you might be. It might then prompt you to take a walk or do some meditation. "We wanted to find a way to use this existing data to offer something new to your wellness," Srsen says.
Of course, the device cannot tell if there there are outside factors influencing your stress levels, such as an exam or a tough meeting at work. And there are things you can predict but can't change, like your menstrual cycle. "But we can predict how well prepared you are physically and mentally to take on these challenges through your behavior," she says. "And we want to show you that you can change your readiness to take on stress, and you can influence how you feel, or react to situations you can't avoid."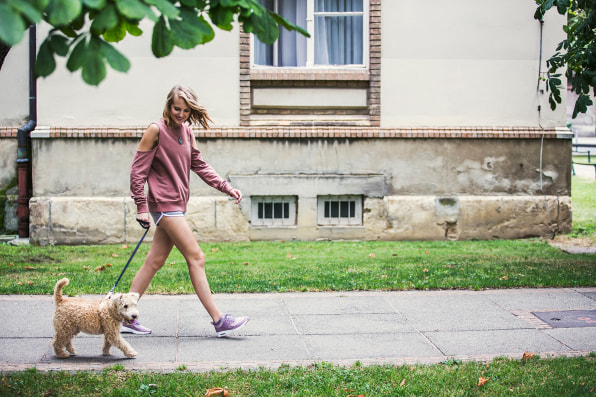 The first device the company produced, the Leaf Nature, had a more obvious leaf design on it, was made entirely of natural materials, and had basic bio-tracking mechanisms. It was a popular product, with more than 400,000 devices sold worldwide. Srsen explains that the company added the stress-tracking features to the Leaf Urban based on feedback from customers. It also tweaked the design to make the leaf pattern more stylized and modern, so it fits seamlessly into an urban wardrobe.
It's available for pre-order in early August on the Bellabeat webpage and will ship later that month.