I am in a car that is driving itself on the Brooklyn–Queens Expressway—one of the busiest highways in the country—and I am freaking the hell out.
"Hold the steering wheel, but still let it do its own thing," Michael, a product specialist for the electric-vehicle maker Tesla Motors, gently cautions me, trying to snap me out of the wide-eyed stupor brought on by watching the wheel of my Model S steer around a curve as if guided by invisible hands.
As we pass through Brooklyn's Carroll Gardens neighborhood and the waterfront complex of Industry City, my anxiety eases enough to start asking Michael about how the autopilot feature works (the car's sensors analyze traffic patterns and read lane markers), how frequently Tesla beams software upgrades to its vehicles (as often as once a month), and the car's top speed (155 mph, 0 to 60 in 2.8 seconds). "Just by taking a good look at you, I feel like you're already comfortable with driving a Model S," he remarks halfway through our 35-minute ride. Yes, that's what every car salesman is supposed to say, but he's right. If I could afford the black, all-electric Model S P90D—which drives like butter, but costs $108,000—I could see myself following Michael into the company's Red Hook, Brooklyn, showroom to buy it, even though until today I'd never been in an electric vehicle, much less one that could drive itself.
Tesla is betting that if it can get millions of other people like me comfortable with its cars, they'll want to buy one, too. In fact, Tesla is going to have to connect with people like me: Its current $33 billion valuation hinges on the ambitious assumption that the carmaker can not only make superior long-range electric vehicles, but also convince lots of newbies to buy them. This task has been complicated by lingering fears over the safety of autonomous vehicles as the National Highway Traffic Safety Administration investigates a fatal Tesla crash that took place in May. (That's not to mention the SEC investigation into how Tesla disclosed the accident.)
Much of Tesla's success depends on the 2017 launch of its $35,000 Model 3—the first of its futuristic, all-electric luxury vehicles created for the masses. And the Model 3's widespread adoption hinges, in turn, on Tesla's direct-to-consumer sales model. Tesla has chosen to eschew the traditional dealership method—in which automakers sell their cars to independent dealers, who are granted exclusive territories—in favor of company-owned showrooms staffed with product specialists like Michael, who can talk people through both the technology and their safety concerns. It's an approach that Ganesh Srivats, Tesla's vice president of North American sales, says is essential. "We knew we couldn't rely on dealerships to promote our mission, to operate the business the way we wanted to, to provide this great customer experience," he explains. "So we've really had to chart our own course."
For all the talk of Tesla's product innovations, it is leading another battle: this one centered on how vehicles are sold, as much as how they're made. The company has been embroiled in a series of brutal legislative skirmishes in more than a dozen states, including Connecticut, Texas, and Michigan—home to the Big Three automakers—where long-standing franchising laws handicap (or completely quash) Tesla's ability to engage customers without an intermediary. On the opposing side is an alignment of auto manufacturers and dealerships, along with the lawmakers who support them. Whatever the outcome, it could fundamentally change the way cars are sold in the U.S.
Car dealerships have been the backbone of the automotive industry since the 1950s, when the Big Three—General Motors, Ford, and Chrysler—were pumping out around three-quarters of the world's cars from their mammoth Michigan plants. While they focused on designing and mass-producing vehicles, their franchised sales operations reached customers across the country. At the same time, dealer associations pushed state legislatures to enact franchise laws designed to protect dealerships from coercive and arbitrary practices by manufacturers—with the added benefit that customers' interests would be served by increased competition among franchisees.
But, over time, automakers have become disconnected from the sales experience, hindering both dealerships and the brands they represent. Today, consumers increasingly want to research and even buy their cars online: A 2015 survey by Accenture revealed that 75% of respondents would consider conducting the entire car-buying transaction online if they could. "When you go to a dealership, there's all this sort of doubt about the process," says Srivats, who was senior VP at British fashion house Burberry before joining Tesla last summer. "The haggling, all the nastiness around it. Did I pay the same amount as the next customer? Did I get tricked?"
Tesla fashioned its retail model in response. Its 40,000-square-foot, redbrick store in Brooklyn's gentrifying Red Hook neighborhood features only two vehicles on the sales floor—a cherry red Model S and a white Model X with falcon-wing doors. Though Tesla's cars are currently luxury products, the industrial space doesn't exactly scream high-end. What it offers instead is a disarmingly transparent sales process. There's a Model S chassis illustrating the layout of the vehicle's unique, battery-powered engine. A large touch-screen display lets visitors view Tesla's expanding network of high-speed charging stations and enables them to customize their own cars—from basic features (60-kilowatt battery versus 90) to offerings like "Bioweapon Defense Mode," a cabin-air-filtration system. When you're ready to purchase, you can do it on-site or at home on Tesla's website. "We like the idea of owning the entire process," says Srivats. "It creates an information loop from our customers straight into manufacturing and vehicle design."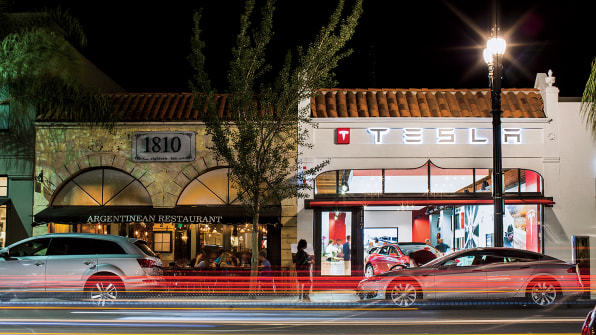 Not all of Tesla's stores look like the one in Red Hook. Tesla can't sell cars directly in Arizona or Texas, for example, so it opened "galleries"—showrooms minus any mention of price or sales. Cars ordered online in Texas arrive with California tags and must be reregistered. Some states allow Tesla to negotiate a set number of stores under a trial period; New York gave it five (including Red Hook). But that didn't stop the company from adding a pop-up shop—via a tricked-out shipping container—in Long Island's South Hampton. (Tesla later opened a permanent gallery in East Hampton.)
"They have gone on and said, 'No, the law doesn't apply for us,' " says Don Hall, president of the Virginia Dealership Association, which filed suit against Tesla in May when it applied for a DMV license to open a second showroom in the state. Hall and others in the dealership community accuse Tesla of flouting regulations put in place to protect car salespeople—and consumers: They claim that, without having to operate under franchise law, Tesla is free to obscure details about data regarding recalls and processing fees, for example. ("We operate within the law in every state we're in," says Srivats.)
It's not just dealers who are aligning against Tesla. Ford worked fervently to get Tesla showrooms banned in Texas. General Motors—which will release its first long-range electric car, the Chevy Bolt, this year—stands to benefit even more if laws crimp Tesla's growth. As GM CEO Mary Barra pointedly told attendees at this year's Consumer Electronics Show: "Unlike some EV customers, Bolt EV customers never have to worry about driving to another state to buy, service, or support their vehicles." What she didn't tell attendees about was GM's active role supporting anti-Tesla legislation in Indiana.
The fact is, in many regards, the U.S. automakers have been hamstrung by their own dealership model, which is unique in the global marketplace. The European Union abolished restrictive dealership models more than a decade ago, while Japanese manufacturers, lacking the space for car lots, grew the country's auto economy by sending salespeople door-to-door. Domestically, GM is starting to convert some of its Cadillac dealerships to virtual-reality showrooms with no inventory. Sound familiar? "[Tesla] is telling the consumer that the dealership is an unnecessary extra step, and we at the factory can take care of you just fine with our service centers," says John O'Dell, an auto-industry analyst and former senior editor at Edmunds.com (a car review and pricing hub) who served on the National Research Council's alternative-vehicle committee.
The clock is ticking for Tesla. Demand is already high for the Model 3, which CEO Elon Musk is saying will be delivered in late 2017; nearly 400,000 people have put down $1,000 to reserve a vehicle. If even half of those sales come through (and Tesla will have to crank on its production facilities to make it happen), the company will have sold more EVs than BMW, Ford, GM, Toyota, or Volkswagen have in the past five years. But to realize those sales, Tesla must find a way to boost its physical sales infrastructure. Musk made the electric-vehicle version of the sexy iPhone; now he needs more Apple Stores.
Some believe that Tesla will have to embrace the dealership model in some form. Musk has publicly flirted with the idea, presumably unable to ignore the reach of the roughly 17,000-strong U.S. dealership network. He may also seek partners outside the car industry: In June, Tesla opened a gallery in Nordstrom at the Grove multiplex in L.A. Or he may choose a more radical path. Srivats says that Tesla will soon drastically redesign its retail concept, but offers few details: "We're throwing preconceived notions of auto sales out the window and starting from the ground up." Whatever the plan, it's sure to leave automakers charged up.