No one knows the benefits and perils of turning your name into a brand better than Kate Spade. The designer's eponymous line of bright handbags and shoes dominated fashion in the late '90s and early aughts, and remains prominent today. But when your brand no longer belongs to you—Kate and her husband, Andy, sold their stake in 2006 for almost $60 million—how do you launch a new company? You begin by changing your name: Late last year, Kate visited a Manhattan courthouse and officially became Kate Valentine Spade. She's now doing business as Kate Valentine. Her new accessories company, launched in February, is Frances Valentine, named after her two grandfathers.
The quiet arrival of Frances Valentine, which sells shoes and handbags directly to consumers online and through a handful of retailers including Nordstrom, Bloomingdale's, and Shopbop, took some industry pros by surprise. Created by Kate and Andy, along with Kate Spade partner Elyce Arons and former shoe design director Paola Venturi, the company has an impeccable fashion pedigree. But instead of going big and bold, the founders wanted to bring their new brand forward slowly. "[We thought]: We're going to make mistakes," says Kate. "Let's make them on a smaller scale." Or, as Andy explains: "The expectations are higher now. So we have to make a great product, and then we'll build out the company."
The market that the Spades are reentering has changed dramatically in the past decade. Social media has personalized the way people discover and follow fashion, and the affordable-luxury industry is already crowded with brands like Coach, Michael Kors, and, of course, Kate Spade, along with new direct-to-consumer lines like M. Gemi. Then there's the economy: "America is not a growth engine for luxury," says Sucharita Mulpuru, an analyst at Forrester Research. "Americans aren't spending a ton, and we're not seeing more rich people [enter the market]." The Frances Valentine team is undeterred, banking on the strength of Kate's designs and her husband's marketing savvy.
The company's fall line, which includes patent-leather flats and suede ankle boots, haircalf totes and leather bucket bags, is reminiscent of Kate Spade: elegant yet quirky, with an air of preppy suburbia. But like the designer herself, it's a bit more grown-up, and Kate says she's brought a new architectural perspective to her work. The signature Frances Valentine heel is a textured knob, a nod to Buckminster Fuller's geodesic dome. "The shoes really have a very different and distinct point of view," says Anne Egan, VP and divisional merchandise manager for salon and designer shoes at Nordstrom.
But with the U.S. clothing and accessories market expected to grow by less than 2% this year, according to Mulpuru, Frances Valentine will also have to attract shoppers by creating a strong brand identity. That's where Andy comes in. After growing Kate Spade, he spearheaded the concept and launch of its rugged menswear line, Jack Spade, in 1999. Since then, through his creative studio, Partners & Spade, he's worked on marketing campaigns for companies including J.Crew, Whole Foods, and Target, and led the design of Warby Parker's successful retail outposts.
With Frances Valentine, Andy has tasked himself with creating a company narrative that resonates. He's looking to open a flagship in New York and plans to bolster their social media presence with insider content. And he's personalizing things: The brand's first photo shoot took place in the desert, an homage to Andy's childhood in Arizona, while the second campaign is set in the Spades' Manhattan apartment and focuses more on the couple's city life. "We're trying to figure out what our lives are now and how to talk about that—how to tell a more grown-up narrative of where we are today," says Andy.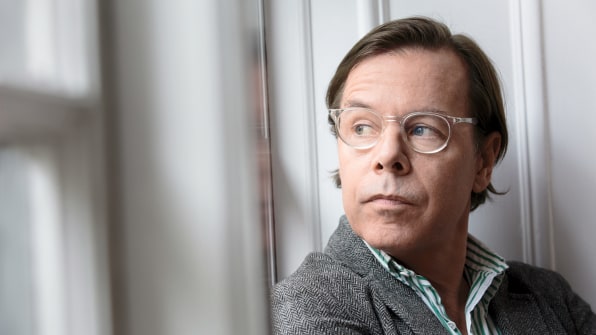 For the Spades, business will always be personal. "When we left the [industry], everyone said, 'Why would you ever go back to it? You don't have to do this,' " says Andy. "And we say, 'No, we love to do this.' It's important that we get back to doing what we love to do."