At dawn on June 28, one future vision of mobile broadband Internet connectivity for as many as 1.6 billion people took to the sky for the first time.
That morning, with the sun barely over the horizon and Facebook CEO Mark Zuckerberg looking on with a big smile, a giant unmanned aircraft named Aquila and sporting the wingspan of a Boeing 737 lifted off from an airfield in Yuma, Arizona. Meant to be a half-hour demo of the propeller-driven, boomerang-shaped aircraft, the flight worked so well, said the company, that its Connectivity Lab decided to let it fly for 96 minutes.
Named for an eagle that carried Zeus's thunderbolts in Greek mythology, Aquila is a major part of Facebook's plan to bring Internet connectivity to the many parts of the developing world where it is not currently available. It was designed to beam connectivity directly to people on the ground using laser communications and millimeter wave systems, a technology it is concurrently developing.
The drones, first announced a year ago, weigh about 880 pounds, or about a fifth of a Tesla Model S, and when deployed operationally, are meant to rely on solar power to fly at altitudes of between 60,000 to 90,000 feet for up to 90 days, and connect to each other using a laser system called free-space optics. If it works as designed, that would allow for coverage across broad areas, with each drone able to cover a diameter of about 60 miles, and cruise while consuming just 5,000 watts–roughly the same amount of power as three hair dryers or a high-end microwave.
Facebook is not alone in developing airborne mobile connectivity platforms. Google is also in the process of building out its so-called Project Loon, a system that would deliver Internet connectivity from groups of high-altitude balloons.
For months, Facebook has been flying one-fifth-size scale models of Aquila. On June 28, the Connectivity team put the first full-scale drone–using batteries but no solar power–into the air, testing out "autopilot, motors, batteries, radios, ground station, displays, basic aerodynamic handling, structural viability, and crew training," wrote Martin Gomez and Andy Cox in a blog post, at an altitude of 2,150 feet. The drone flew at just 25 miles an hour, consuming less than 2,000 watts of power.
Gomez and Cox added that Aquila's autopilot system was stable and accurate and "brought the aircraft to the commanded condition in the predicted amount of time [while] the automatic landing algorithm also performed well, tracking the glidepath and centerline with expected accuracy."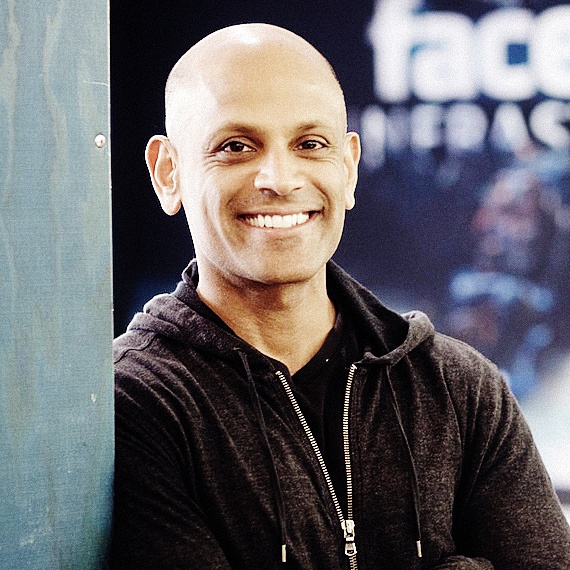 The flight "was our first 'functional check,' designed to verify our operational models and overall aircraft design," Facebook head of engineering and infrastructure Jay Parikh wrote in a blog post. "To prove out the full capacity of the design, we will push Aquila to the limits in a lengthy series of tests in the coming months and years. Failures are expected and sometimes even planned; we learn more when we push the plane to the brink."
Parikh acknowledged that there is much work ahead. In order to achieve the goal of keeping Aquila drones in the air for three months at a time, Facebook will have to break the current world record for unmanned solar-powered flight, which stands at two weeks.
"This will require significant advancements in science and engineering to achieve," he wrote. "It will also require us to work closely with operators, governments, and other partners to deploy these aircraft in the regions where they'll be most effective."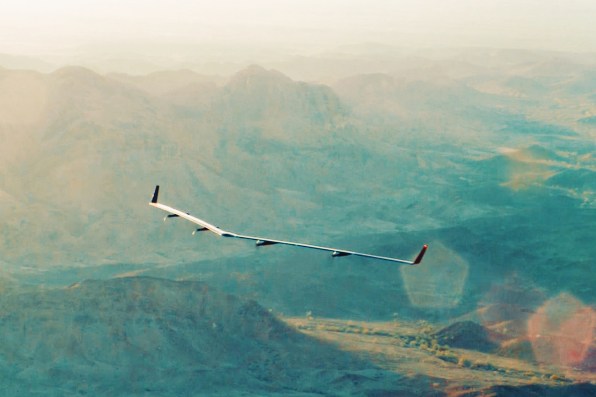 Among the challenges going forward, the Connectivity team must figure out how to ensure Aquila gets enough sun to charge the drones' batteries, especially during winter months, as well as develop batteries that can provide the necessary power during dark hours. At the same time, Facebook has to find ways to make the project an economically viable alternative to existing connectivity systems.
One technical challenge to overcome is how to best transmit Internet connectivity to remote and rural areas using lasers. This week, researchers on the Connectivity Lab team released a paper proposing one solution. The idea, they wrote, is to use an optical detector coated in shifting fluorescent dyes that are able to absorb light and re-transmit it at different wavelengths. The 126-square-centimeter detector makes it possible to broaden the area onto which a laser can send data, which can be transmitted at rates of up to 2.1 Gbps, all with no danger to anyone's vision, and without the need for accurate pointing or tracking.
Facebook will also need to ensure that its wireless technology and the aircraft itself comply with federal regulations. The FAA has begun to fine companies that fly commercial drones without special exemptions. About the company's compliance, a Facebook spokesperson said, "even though we're still a ways out from actually deploying Aquila, our team is already working with aviation and spectrum organizations to enable the operation of this new connectivity platform."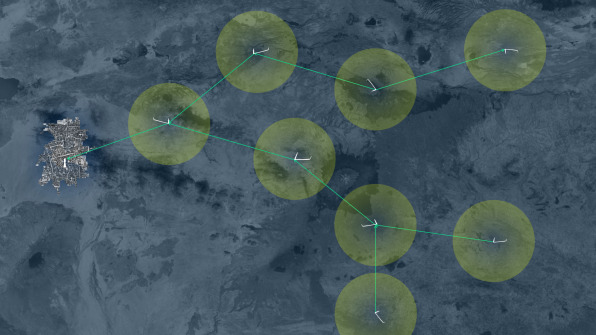 As part of its Internet access initiative, Facebook is also planning on incorporating a system of rugged access points capable of receiving cellular signals that can be mounted on poles or trees. The idea is to allow for connectivity in areas where difficult conditions make it impossible for telecommunications companies to deploy traditional access points. This is of a piece with Facebook's "OpenCellular" initiative, an open-source effort meant to allow small businesses to set up their own cellular carrier services.
In the coming months, the Connectivity Lab team will study data from the Aquila test flight, add more drones to the fleet, fly at higher altitudes, and push the aircraft to their speed-strength limits. They'll also test what they call the "low-speed loiter regime, where the aircraft will eventually provide connectivity to the ground."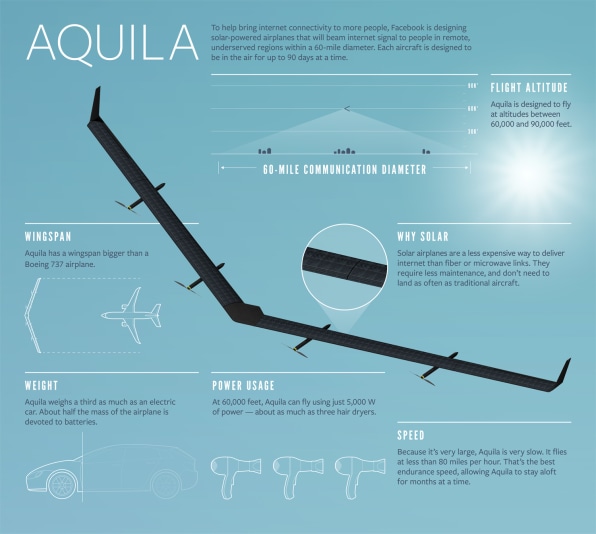 Finally, they will evaluate alternate form factors, sizes, and weights in order to maximize aerodynamic efficiency.
"We believe this work has never been more important," Parikh said in his post. "New technologies like Aquila have the potential to bring access, voice, and opportunity to billions of people around the world, and do so faster and more cost-effectively than has ever been possible before."
Update: The federal National Transportation Safety Board is reportedly investigating the crash of Aquila on June 28 and the extent of "structural damage" sustained in the accident.