Finding a good balance between work and the rest of your life is a constant challenge for the connected employee–even when they're in a dream job and have an empathetic supervisor.
That's due in part to fact that two to four extra hours have been added to the traditional workweek, and more of us work from home than ever before.
However, there are some companies taking measures to ensure their employees aren't working at the expense of their personal time. Online job platform Indeed complied a list of the top 25 companies offering their staffers the best work-life balance. Analyzing over 10 million company reviews posted on the platform, Indeed's researchers focused only on companies in the Fortune 500 that have at least 25 reviews.
In total, 379 companies across a variety of industries were included. They were rated by their employees on a 1 to 5 scale (5 = the highest) on how well they felt the company helped them achieve a good work-life balance over the past year.
Southwest Airlines topped the list scoring a 4.083, followed closely by Discovery Communications (media and entertainment), Altria (tobacco and cigarettes) CenterPoint Energy (electric and natural gas utility) and Viacom (film and cable television). Here's the complete ranking: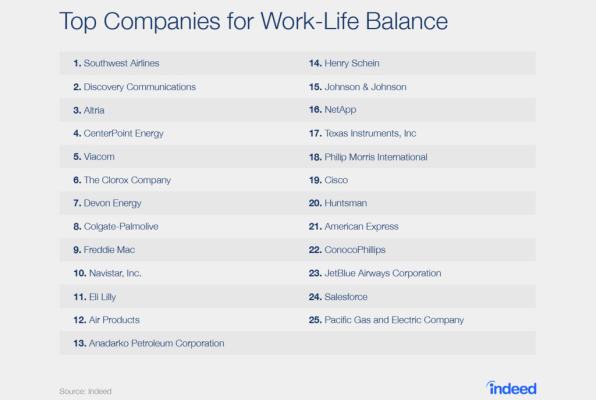 The diversity of industries, according to Paul Wolfe, senior vice president of human resources at Indeed, was the biggest surprise among the findings. "With transportation, energy, consumer products, tech, media, and more in the top, it shows that any company in any industry can can offer their employees some version of work-life balance," he says.
Beyond that, Wolfe says that because the top 10 companies are so diverse so it's hard to imagine one policy that works for them all. He points out that top-ranked Southwest Airlines has a lot of hourly and union employees with fixed schedules.
"Reviews showed that employees are impressed by Southwest's flexibility when it comes to setting their schedule," he says. Wolfe also notes that Southwest's employees are encouraged to have fun at work while they are there, and offers them perks like flights to enjoy with their families when they are off. "It's a great example of how a company with nontraditional hours and work environment can still be a great place to work for balance," he says.
Although the list spans a multitude of industry sectors, Wolfe says they all have a common thread. "Balanced companies are companies that treat employees "fairly" and empower managers to approve flexibility for their employees," he says.
While some jobs require employees to be there during set hours such as customer service, and others can offer flexible hours or working from home, Wolfe says companies can still offer work-life balance. "On-site amenities like a gym or dry cleaning," he says, make it "one less thing the employee needs to do in their personal time."
Wolfe explains that these sorts of perks give employees more of a sense of community, especially as the line between work and life is often blurred. "Companies who proactively work to provide the appropriate personal time for employees tend to stand out," he adds.
Some industries will require nights and weekends and there is no way around it, says Wolfe. Here, too, it's more about the way the companies are treating their employees when they are at work, and what flexibility they are giving them when they need to tend to a personal matter. "If your job requires nights and weekends, is it easy to move your schedule to attend your child's play?" he posits. The benefits of such flexibility and empathy, makes for a happier, more loyal staff according to Wolfe.
It's interesting to note that Indeed's findings didn't correspond to either Glassdoor's Employee's Choice for Best Places to Work or CareerBliss's 50 Happiest Companies rankings, even though all three were based on employee evaluations.
To be fair, Indeed stuck with the Fortune 500 and only evaluated based on work-life balance. However, while health care firms dominated the Happiest Companies and tech companies such as Airbnb, Google, and Facebook were among the top 10 Best Places to Work, none of those made Indeed's list.
Most of the jobs with the best work-life balance could correspond with Indeed's findings, making for a clearer connection to the workplace and the reason for the high ranking. For example, Discovery Communications probably employs a data scientist, SEO manager, talent acquisition specialist, and social media manager, the top four positions on Glassdoor's ranking.
"Work-life balance can be baked into a company's culture in a way that works for that company's industry," Wolfe observes, "whether you are a traditional 9-5 or one that operates around the clock."