"I never thought I'd be sitting here saying, 'Oh, I directed part of a Target back-to-school campaign,'" Claire Jantzen tells Co.Create.
It is rather remarkable given that she is 17 years old and starting her senior year of high school in just a few weeks.
The director is part of a group of nearly two-dozen young people ages 8 to 17 who created all of the major elements in Target's new back-to-school campaign, which launches today and includes broadcast TV and digital video, radio, social and in-store marketing. The kids performed the functions any adult would take on, including drafting storyboards and scripts, illustrating the creative and directing and styling the commercials. The tween girl band L2M performed the campaign's theme song.
Explaining why kids were given major creative roles in the campaign, Karen Costello, executive vice president and executive creative director at Target ad agency Deutsch, says, "For back-to-school, Target knows their guest views this time of year as so much more than just buying school supplies for their kids. It's about setting their kids up for success in the school year and for all the years to come. The To School & Beyond campaign is about recognizing this insight and celebrating and fueling the potential of all kids, and to bring this all to life in a way that felt like it truly honored Target's belief in kids, we asked ourselves, 'What if we didn't just say that we believed in the potential of kids and all the amazing things they're capable of, but we actually proved it?' "
"Working with kids on this campaign was not just an executional detail but rather Target's genuine belief in the potential of kids put into action in a really compelling way," she stresses. "Saying you believe in kids is wonderful. Truly showing that you do—that's powerful."
The back-to-school season is critically important for Target. It's the second largest sales driver after the holiday season. So there is a lot riding on this campaign. While Target has looked to kids for inspiration, tapping into their input for the new kids apparel and accessories line known as Cat & Jack and the Pillowfort home product line released earlier this year, never before has the retailer handed over control of a marketing campaign in this way. "We've seen a lot of campaigns that are kid-inspired, but never one that goes as far to let kids create every major aspect of the work. I'm going to be completely honest—the thought of giving up that much control scared me," says Target CMO Jeff Jones. "We debated which portions of the campaign would actually be kid-created vs. kid-influenced."
After seeing some test illustrations drawn by children, "It became immediately clear that we could hand over all aspects of this campaign to kids," Jones says, adding, "Later on, when we got on the phone to speak to the kids who would eventually direct our spots, the level of expertise and professionalism displayed by them was awe-inspiring. We never looked back."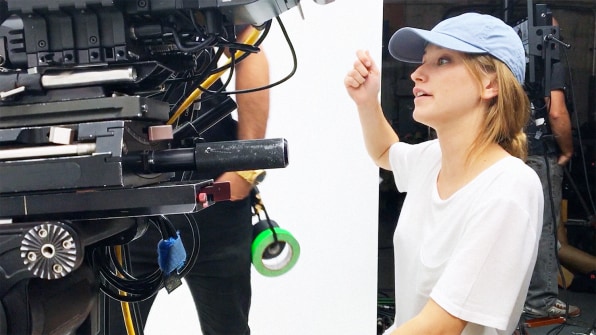 The young creatives who lent their talents to the To School & Beyond campaign were found through a variety of sources, including two Los Angeles-based chapters of 826LA, a nonprofit writing program for kids, and Adolescent Content, a production collective that represents young filmmakers, photographers and social influencers, and then Target and Deutsch went into creation mode, working with kids in Minneapolis as well as Los Angeles, where the commercials were shot.
Working with kids didn't slow the creative process, by the way. "At each stage of creation, we worked with the kids in roughly the same amount of time we would spend working with adults doing the same job," Costello says. "Overall, we were very thoughtful about creating environments that were supportive, motivating and non-patronizing. This whole endeavor was not about 'look at those cute kids doing cute things' but rather 'look at those amazing kids, creating amazing things.' Then, for each element of the campaign, we worked with specific teachers and mentors who had expertise in guiding kids of all ages through creation and execution."
Jantzen, who is represented by Adolescent Content and has directed videos and commercials for clients like Disney, American Girl, and Hasbro gives Target credit for being willing to legitimately work with kids and not simply use them as props. "This is what is so interesting about this entire campaign. I got to work next to these adult professionals, but really the kids got to be the professionals. We got to run this," says Jantzen, who directed five spots in the Target campaign. (The other two directors were 13 and 15.) "Of course, people are going to say, 'Did you really get to direct that?' Yeah, I did. It was all in my hands. I got to run meetings. I got to cast. I got to direct on set, make decisions from start to finish."
More companies should take advantage of the creativity young people possess to create content, according to Jantzen, who reasons, "Kids have such a unique way of approaching situations and looking at things, and if you don't use that, you're really missing out on such an incredible time of creativity and open-mindedness."