San Franciscans taking public transportation are greeted with an ad emblazoned with the words "We Fire People."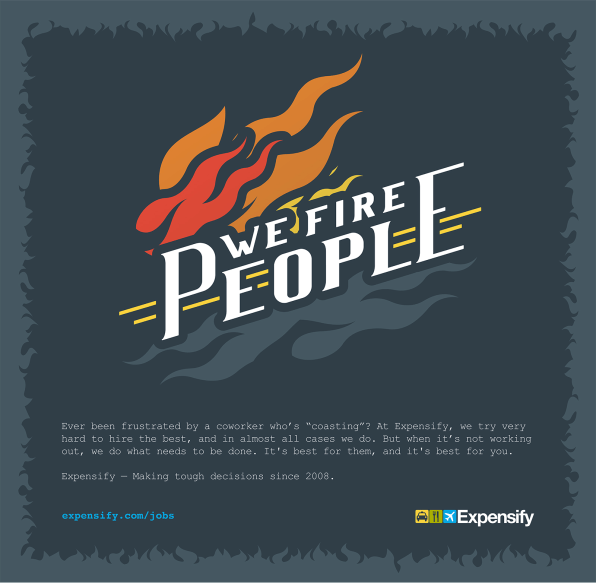 That ad is the brainchild of expenses management startup Expensify. It is intended to recruit people to work for the company.
After I shared a photo of the ad on Twitter, I connected with Expensify founder and CEO David Barrett to understand the reasoning behind an ad that attempts to lure talent by advertising that it fires its employees.
Barrett responded that the ad is intended for employees stuck at companies that "don't take these questions seriously," meaning when to let go of those who are dragging down the culture. It seems that the ad is trying to convey that Expensify is a place to work where they're not afraid to fire those that aren't working out, and that'll be better for you (if you're a "rock star" engineer).
But that's a hell of a lot of context to convey in an ad. I spotted it for the first time at the 24th Street BART stop in the Mission while on my way to work. Incidentally, the Mission is at the center of ongoing tensions between the tech community and its longer-term residents, heavily Latino and working class.
So I couldn't believe my eyes when I saw an ad that promoted firing people in a neighborhood with rampant displacement and inequality. Beyond that, who would want to be unceremoniously fired and lose their health insurance and income? Has Silicon Valley completely lost its sense of empathy?
As Barrett tells me, it's intended for quiet types like him: Those who are hardworking and feel they've been passed over by their more loud and brash peers. "This campaign is about trying to find introverts like me, who are quietly being ignored and overlooked in job after job, and letting them know that some places are attempting to do better," he explains.
As I later learned, the ad is part of an "adverecruiting" series that also features taglines like "no adult supervision," and "get
done," which seems to be targeted at those in-demand hot-shot engineers. Although, perhaps not the female engineers, who have told Fast Company that they prefer a projection of team spirit, rather than the cutthroat competition that the ad conveys.
Perhaps an explanatory blog post on the topic would have been sufficient. The ad raised a lot of confusion, beyond the initial shock of seeing a celebration of firing. Although it's worth pointing out that perhaps that was the point—it's memorable, to say the at least.
Others piped up on social media with a whole different set of concerns. Some folks pointed out that promoting a firing strategy makes little sense for recruitment purposes (we fire people, so jobs are open?). Some believed that Expensify would step in to make it easier for them to fire people (that's not the case). Others were merely concerned about the graphic design.
"The tech industry is under a lot of scrutiny for an entitled attitude and behavior," says Barbara Bates, founder of Silicon Valley-based public relations and branding firm Eastwick. "It could be a creative campaign in the right context, but this comes off as pompous."
"I'm shocked that anyone would want to go work at a place where the tagline is 'we fire people,' –there isn't a single reward in that statement" says Ellen Leanse, a long-term branding strategist who has worked for tech companies such as Apple and Google. "But then again, maybe things are different now."