In March, Hillary Clinton held a fundraiser at the home of SolarCity CEO Lyndon Rive. Widely attended by others in the solar industry, the mood was enthusiastic and appreciative.
The reasons are apparent. More than any other form of energy, Clinton has touted solar as the key to reforming America's energy economy and meeting national and international climate change targets. Her energy policy proposals would have the equivalent solar energy capacity of 500 million photovoltaic panels running by 2020, the end of a Clinton first term. This equates to 140 gigawatts or having a rooftop systems on 25 million homes, according to her campaign.
The U.S. solar industry, which has sometimes struggled despite the rapid growth of solar technology, sees a Clinton presidency as a way to turbocharge its growth.
When he first heard about Clinton's solar ambitions, Tom Werner, CEO of SunPower, one of the few larger U.S. solar manufacturers that has survived an influx of cheap foreign imports, thought: "huge deal, game changer." SolarCity's chief policy officer and former Obama administration energy regulator Jon Wellinghoff is a bit more measured about her goals: "aggressive but doable."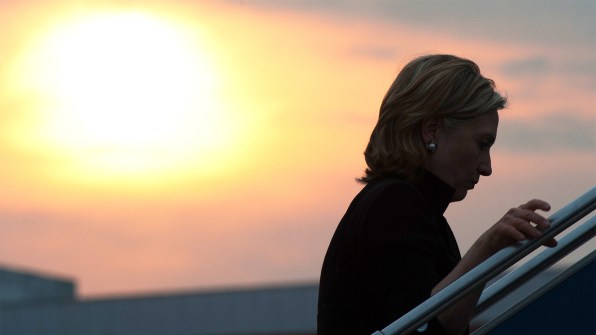 Solar is good politics for Clinton today, more so than wind energy, nuclear energy, or natural gas. In her 2008 presidential run, she put no particular emphasis on solar above wind and other forms of renewable energy, but today costs have dropped dramatically, and it is a far more proven technology. Even better, solar can be used in every state and directly benefits both individual households (i.e., individual voters) and large commercial power buyers. Gallup surveys show that 79% of people want to see the U.S. put increased emphasis on solar.
But how far would 140 GW really get us? If you view it from the perspective of a solar company: pretty far. Today's total installed solar capacity in the U.S. is only 30 gigawatts. Though the industry is supposed to add another 16 GW in 2016 alone, 140 GW is still well above current projections, most of which show solar growing somewhere from 100 GW (according to Greentech Media) to 110 GW (according to the Solar Energy Industries Association, or SEIA) by 2020. The difference between Clinton's policy and today's business as usual growth, then is, at minimum, 30 GW–the equivalent of all of today's solar growth to date.
U.S. companies believe it would be a boost to the domestic industry, specifically–maybe not in time to save a company like SunEdison, now in bankruptcy, but for many other companies, from manufacturers to installers to companies that provide ancillary solar-related services, including battery storage and electric grid control software. Her campaign pledges–which also include a $60 billion "clean energy challenge" that would reward grants, a Solar X-prize, and other incentives to speed up policy, infrastructure, and technology changes–could also surely help earlier-stage startups.
"This would certainly put the U.S. in one of the top two solar markets in the world," says Werner. "You grow where the markets are big, and proximity to the market is a big deal." (The U.S. was the third largest solar market, after China and Japan, in 2015).
What's not yet clear is how exactly Clinton plans to accomplish all of these goals, which also includes sourcing a third of the nation's electricity from renewable electricity by 2027–a slightly faster pace than Obama had pledged. She has avoided calling for any overarching legislation–like a carbon tax or cap, or a national renewable electricity standard–that would achieve this. Instead, she plans tax incentives and investments at the state and local level, as well as defending existing policies, like Obama's Clean Power Plan. But funding anything through Congress, especially a $60 billion renewable energy plan, will be tough, even if private investment dollars also come through.
But the solar industry thinks Clinton doesn't actually need to do too much. Werner says that the industry is at a new stage, where costs are low enough, especially with current tax breaks, that no new incentives are needed to expand dramatically. Instead, what is needed, he says, is "more about opening the free market" and what Tom Kimbis, interim president of the SEIA, says is about "cutting the red tape." San Jose, California, says Kimbis, is a city that's gotten its permitting process down to a day–he thinks the whole nation should be like that.
Another thing Clinton could do is establish a national policy for how utilities should handle solar customers, so as to spur more solar investment. Wellinghoff, at SolarCity, the national solar installer, recently started his role there with a focus on lobbying states to "realize the full benefits" of solar to the electricity grid, an allusion to a fight between solar advocates and electricity utilities in Nevada earlier this year. The state regulator had put in place a policy–one that other states like Arizona are looking at copying–that allowed the electric utility to charge solar users extra fees and not let them make money selling extra energy back to the grid. This is a disaster for solar installers like SolarCity, since it is basically removing much of the financial incentive to go solar in the first place.
The question is: If Clinton is merely planning to accelerate what's happening anyway, are her goals ambitious enough? California now has a renewable power standard that calls for 50% renewable electricity by 2030, and New York has a similar goal. Viewed from the perspective of a citizen concerned about climate change, 140 gigawatts of solar–or only about 15% of today's current electricity capacity–might not be that much at all. It's certainly not a game-changing amount. And while the Democratic Party recently adopted a platform that calls for a carbon tax, Clinton still has disavowed this strategy, despite it being the consensus choice for the best possible option to slow the Earth's increasing temperature.
Still, like so many issues in this presidential race, the alternatives must be considered. What about if President Donald Trump occupies the White House after November?
Kimbis, of the SEIA, is diplomatic, because it's important that solar is perceived as an "apolitical technology"–especially after the Solyndra bankruptcy became a Republican controversy du jour during President Obama's 2012 campaign.
He will go as far to say that Trump has made "ill-informed" comments about solar (most notably during his May energy speech in which Trump declared: "I know a lot about solar" and "I have gone solar on occasion" but claimed it was still very expensive, with a 30-year payback period. This is not true.) The SEIA reached out to Trump's campaign and provided better information, and their education efforts will continue if Trump is elected, Kimbis says.
"I actually think that solar fits right into the Trump platform," he says. "Talk about making America great again."
Have something to say about this article? You can email us and let us know. If it's interesting and thoughtful, we may publish your response.