Mizzen+Main, a four-year-old startup in Dallas, features high-tech men's apparel that combines the comfort and flexibility of athletic wear with the fit and elegance of custom suiting. It's a new category of fashion, a hybrid that 30-year-old founder and CEO Kevin Lavelle calls "luxury performance." The snappy, proprietary fabrics, which are wrinkle-resistant, machine-washable, and moisture-wicking, are proving a draw not just for professionals but also pro athletes (Mizzen+Main has dozens of organic endorsements).
Where did the idea for a "performance dress shirt" come from?
About a decade ago, when performance fabrics were becoming mainstream, I watched a guy in a dress shirt soaked in sweat run into an office building, and I wondered, "Why couldn't you make a dress shirt out of performance fabrics?" At the time, I knew nothing about design or textile manufacturing. I did my due diligence and then spent about a year in product development.
When did you realize you had something that could actually work?
The day I got the first prototype, I wore it home, and my wife didn't notice that I wasn't wearing a traditional dress shirt. If she couldn't tell, I realized I could probably make something happen on a larger scale.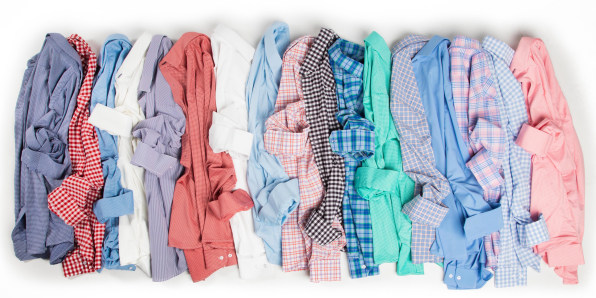 How do you incorporate technology into an apparel startup?
We're incorporating advancements into manufacturing and materials. We look at the fabric, at what fibers we use, and how inherently stretchy, moisture-wicking, and wrinkle-resistant we can make them. We've invested years to make our cuffs and collars better and our fabrics more breathable and more structured while still having more stretch.
How much consumer education is required since this is a new kind of shirt?
Early on, we put a fair bit of effort into explaining the basic concept. But when it comes to dressing up or wearing suits, guys don't really want to think about the technology in their fabrics. They want to know, "Do I look good? Do I feel good?" And Nike, Under Armour, Lululemon, Reebok, and Adidas have explained how performance fabrics work.
Speaking of apparel giants, how do you protect your niche?
I don't see a company like Under Armour or Nike or another sports brand moving effectively into traditional menswear because guys going into a business meeting or to a wedding probably aren't going to wear a sports logo on their dress shirt or on their chinos.
With Mizzen+Main, I'm saying performance-fabric dress shirts are leaps and bounds better than cotton, and that there's no reason to wear cotton dress shirts anymore. You can't say that if you're Brooks Brothers or Peter Millar, because you have a $100 million or billion-dollar business that is cotton.
We live between the world's biggest sports apparel companies and the world's great apparel companies. Both industries left this wide-open space between them. We created the category and have grown 400% to 500% every year.
---
This article was created and commissioned by Infiniti, and the views expressed are their own.