I'm eating a physics-defying cracker-crust pizza in Bloomington, Illinois, at a local favorite spot, Lucca Grill. I know the pizza well, but nothing else about the area. I'm only here as a quick pitstop on the way back to Chicago from a family reunion downstate.
And that's when my I get the itch. I need more Pokémon. So I load Pokémon Go to see if there's any monsters to catch in the area. (Okay, that's a lie. I've already had it loaded. It hasn't not been loaded in the past 48 hours.) As it happens, the bar is dry, but just down the street, there's a Pokéstop (a place where you can check in to get free power-ups). And for some reason, that Pokéstop is raining flower petals. It's special, and I don't know why.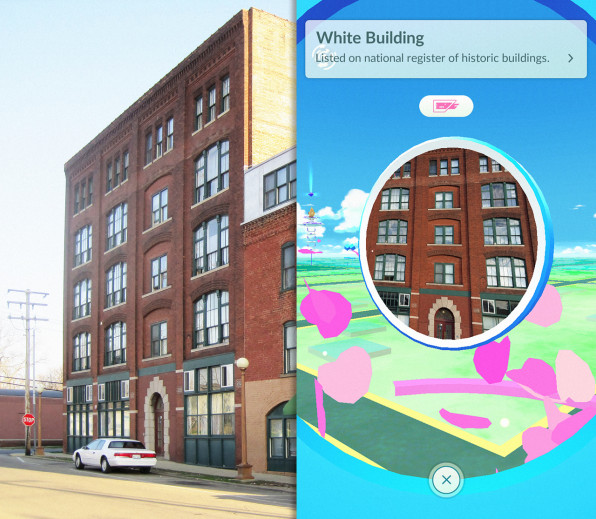 So I make my way down a quiet side street to explore on foot. And that's when I come across it: the White Building. It's an anomalously striking historic landmark, built in 1894, five stories of immaculately preserved commercial loft space, built by Samuel R. White, the same contractor who would construct many buildings for the Pullman Palace Car Company.
You won't find the White Building on Google Maps or Streetview, but it is in Pokémon Go. I collect three Pokéballs as I experience this little piece of Illinois history.
I wasn't alone. In our collective hunt for silly cartoon monsters, Pokémon Go players are discovering history and architecture left and right. Users described their discoveries over the weekend, from Korean pagodas, to a Donner Party memorial in California, to the urban landscape of Perth at night, all documented on Twitter:
This is very much by the game's design. Before Pokémon Go had any Pokémon in it, it was a location-based, turf-claiming game called Ingress. As John Hanke, VP of Niantic Labs, told the Guardian in 2014, he "wanted people to look around with fresh perspective on the places they passed by every day, looking for the unusual, the little hidden flourish or nugget of history."
That's why Pokémon Go is loaded with so many Pokéstops at impressive buildings, street murals, and historic landmarks. Many were sourced from Google Maps data, while the rest were submitted and peer-reviewed by Ingress players over a course of four years. You can read about the criteria for inclusion here, which includes an emphasis on locations with "a cool story, a place in history, or educational value" and "unique architecture."
To be sure, there are some silly Pokéstops (should a strip club be a stop at any game for all ages?), but trainers are also discovering the urban wonders all around them. One coworker learned that his neighboring building in San Francisco featured a fire escape slide. A massive impromptu Go meetup coalesced outside this historic library in Provo, Utah.
"I've lived in Provo for about two years. I've NEVER seen nightlife like this in this town at all," Kyle Gray tells me, after documenting the scene on Twitter. "Especially at a library on a Sunday night. But there's been a crowd every night since Go came out . . . I'd say there would be no one at the library pre-Go."
Of course, with the good comes the bad–or at least the questionable. One designer, who lives in an antique home that's become a Pokéstop unbeknownst to him, has been flooded with uninvited visitors at all hours of night. And some Pokéstops may bring you to places you probably don't want to go–dark alleys, parking spots next to white vans, or even this Hell's Angels club.
I can't help but question the fact that Pokémon Go is playable everywhere, though. It may turn the city into a wonderland of secrets, but the lack of off-zones or unplayable areas means that you may look to your left at a stoplight and see someone catching a monster rather than paying attention to the wheel. I myself was walking across a four-lane intersection when I received the buzz of a new Pokémon waiting to be caught. I did some quick math in my head, looking at the seconds I had left to cross versus the time I'd need for the catch, and decided that I preferred not to become any more familiar with asphalt and tires than I already am.
But these problems are all solvable. Meanwhile, Pokémon Go's potential for IRL exploration seems limitless. No wonder Niantic has already considered that possibility for deep monetization; the company installed its first game, Ingress, at Duane Reades across N.Y.C. as an experiment. "I think that, we hope to end up with a model where, potentially there could be a cost-per-visit type model where large brands, and small brands as well, could sponsor different elements of the game, with the end of interacting with players and really tapping into that enthusiasm of players," Brandon Badger, product manager, told Games Industry in 2014. Undoubtedly, the potential is only greater for Pokémon Go.
Yet as I walk away from the White Building, a one-block excursion I would have never made but in the pursuit of Pokémon, I find myself enjoying the pre-spoiled purity of the game. For now, it's the landmarks and history that draw us off the beaten path, rather than the commercialism of aggressively marketed fast food and drug store chains.
On my way back to the restaurant, I encounter two college kids staring at their phones, walking down the same deserted street that I did.
"You playing Pokémon?" I ask.
"Yeah!" one says. "You get anything good from this stop?"
"Just Pokéballs and Rattatas," I say with a shrug. "But it's kind of a neat building."
"Yeah, all I see are Rattatas," they respond, continuing their walk to the historic Pokéstop. I'm hopeful they'll look up when they get there.