Space is a luxury, and apartments aren't getting bigger any time soon (sigh). But a new company called Ori thinks that we don't necessarily need to think larger; we just need to think smarter about using what we've got. Its proposition? Robotic furniture that morphs into a bedroom, office, and living room all at the press of a button.
"We started to think about what you could do with technology to make 200 square feet feel luxurious," says Hasier Larrea, Ori's CEO. "Space should adapt to activities instead of the other way around. We saw robotics in other industries and saw that real estate was so far behind. It's still building things like the Romans."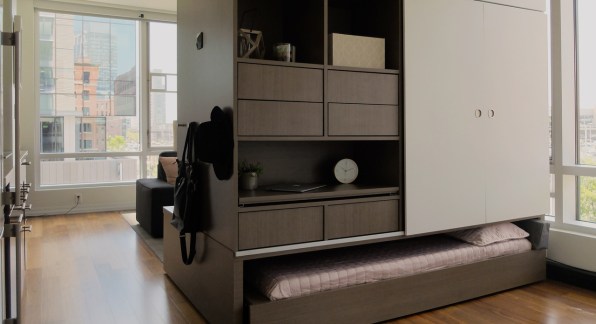 Ori–a riff on origami, the Japanese art of paper folding–got its start as a project at the MIT Media Lab. Recognizing the rise of micro apartments in cities like New York, Boston, San Francisco, and Seattle, Larrea and four fellow students in the Changing Places research group designed CityHome–essentially an entire apartment within the footprint of a twin bed. The prototype was a finalist in the 2014 Innovation by Design Awards and now it has made the leap into a consumer product that's hitting the market in early 2017.
The original CityHome concept was like a gesture-controlled, souped-up Murphy bed. Waving your arms like a conductor or pressing a button instructed the product to roll out a bed, push out a table, or even move over a few feet. It responded to three problems found in studio apartments, the target location for Ori: dividing space to allow people to do different activities (like someone sleeping and someone working), tackling the "hotel" feel of having a bed out in the open, and storage.
To finesse the prototype into a product, Larrea and his colleagues first deployed a few test units into apartments in Boston and rented them out on Airbnb. With the full consent of users–about 30 people in total were part of the study–they tracked how people actually used the piece, like how often they switched up the configuration and how long they used it in a particular state. They also interviewed users about what they liked and didn't like and enlisted fuseproject, Yves Béhar's San Francisco-based design consultancy, to incorporate that feedback into a marketable design.
"One of the things we learned initially when we were testing was that the unit looked like a futuristic robot," Larrea says. "When bringing new functionality to a home, it can't look robotic. That's why we partnered with fuseproject–they're great at creating things that people love."
Ori is now made from wood to match the finishes more commonly found in homes, but the core proposition remains the same. Within the unit–which is about the size of a large closet–there's a bed, closet, drawers, workstation, and ample storage. The underlying robotics are similar but Larrea and his team decided to forgo gesture and voice controls initially and make everything operable by push button to make it easier for the mass market to use; however the software can be upgraded to support gesture controls in the future. He uses an iPhone as a metaphor: while two people might have the same device, the apps each person uses gives the hardware different capabilities.
"It's not that we got rid of those functionalities," Larrea says. "But at the end of the day, the Media Lab project was about ambition. It was real, but it was a one off and not ready for mass market. We started thinking about constraints as a company. Reliability and safety are things that don't matter as much with a concept. We decided to go to the basics. With the touch-control system, if you press harder it will move faster; if you press softer, it moves slower. It makes you feel like you have a super power."
The units are designed in such a way that they can be manually operated if the power goes out or if a mechanism breaks. (To repair the product, you replace the mechanical module that moves the wall, which makes it easier for users, but is potentially wasteful.) There are sensors embedded throughout to make sure that the bed doesn't slide in when someone's sleeping or that it moves in the path of someone standing. "It's a similar safety mechanism to garage-door openers," Larrea says. "We said, let's not reinvent the wheel, but get inspiration from systems that have been here for decades and have improved to a point where they are reliable."
Larrea is targeting real estate developers as his customer base since they're the ones commissioning micro apartments and already has partnerships in the works with companies in Boston, Washington D.C., and Seattle. However, he sees a future for the product to be sold direct to consumers and also to the hotel industry.
"The idea is to create a new renaissance of robotics for interior design," Larrea says.
Correction: An earlier version incorrectly stated that if the unit breaks, the entire module is replaced when in fact only the mechanical element is swapped out.