On a trip to Tokyo–jet-lagged and awake at 3 a.m.–Preston Pesek looked through the windows of a dark restaurant and wished he could go inside, sit down, and connect to Wi-Fi. That's when he had an epiphany: Throughout much of the day, restaurants sit empty and unused, even in overcrowded cities that desperately need more space.
"The light kind of went off," he says. "During the day, in New York City where I live, there are these amazing restaurants that are closed until 5 or 6 p.m."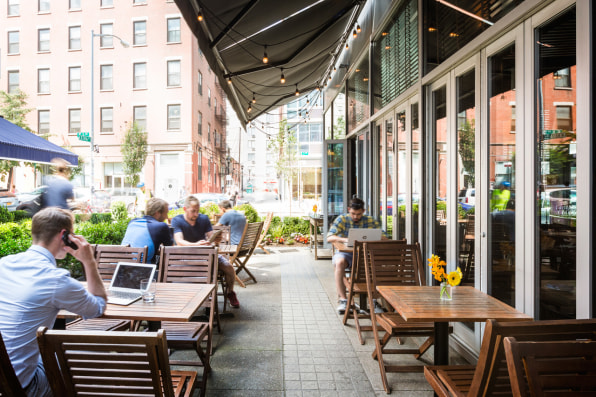 Spacious, a startup Pesek cofounded with software engineer Chris Smothers, is starting to make better use of that space. The company is turning beautiful restaurants in New York into coworking spaces during the day.
Because the spaces would otherwise be empty, it's possible to offer memberships at less than half the cost of some other coworking offices, despite the high-end settings. A monthly membership is $95. As the network expands, they may also be more conveniently located, since there are restaurants in every neighborhood.
The company has spent the last several months quietly testing the concept and figuring out how to work seamlessly with busy restaurants. "To work within their existing on-site business . . . and do so in a way that actually enhances their nighttime business, was something that we had to learn," Pesek says.
An hour before dinner service begins, users get a text about the last call for coffee. Then they can choose to stay at a table and get dinner, head over to the bar for happy hour, or take off.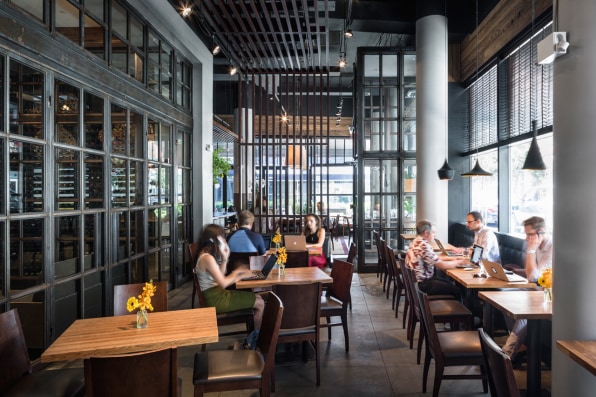 "We thought maybe we'd have to kick everyone out at dinnertime," he says. "But it's actually not the case. It's great for the restaurant, too, because when you open at 5 p.m., you're not packed, typically. It's nice to have a little activity and energy in the room. When somebody walks by on the street and they say, 'oh, this restaurant's open but nobody's in there,' that's not a good thing."
As the business expands, it plans to look at other types of underused space beyond restaurants. "Cities are actually not scarce for space," says Pesek, who used to research real estate assets for an alternative investment manager. "There's plenty of space. You just have to figure out how to activate the vacancy windows that exist in spaces and buildings throughout the city and figure out how to connect those spaces with the people who can use them right now."
Most buildings are active only about half of the time, despite the need for more space, and the fact that technology can now easily connect space with people who need it. By using existing space better, it's also a way to avoid the expense and impact of new construction.
"The most sustainable urban development is making better use of what we have, as opposed to building anything new," he says. "It's about not having to build more capacity, but realizing that the capacity is already there. You just need to reprogram the space to accommodate the way that people want to use it in the 21st century. If you can do that, you can get a lot more out of what you already have."
At restaurants, he says, it's typical for air conditioning and other resources to run all day because the prep kitchen is open. "All this energy is being wasted if you don't invite people in to activate these spaces," he says. "Not only is it an aesthetically beautiful environment that's going to inefficient use, but the energy that it takes to keep it open, and the amount of resources that it took designing the interior and building it out. If it's only open between 6 p.m. and midnight, that represents a huge waste. I think that we can make something out of that."
Spacious plans to soon expand to about a dozen new restaurants in New York, and to open new locations in San Francisco and Los Angeles.
Have something to say about this article? You can email us and let us know. If it's interesting and thoughtful, we may publish your response.