If you were given $10,000 to improve a community in another country using art, how would you do it?
For Andrew Quitmeyer, the answer was: BOAT.
An American post-doctoral researcher with a PhD from Georgia Tech, Quitmeyer created Building Open Art and Technology (aka BOAT), a floating art and tech lab for a village in the Philippines. Its purpose? Teach locals about ecological conservation.
Quitmeyer's PhD research focused on "Digital Naturalism," or studying animals in their natural habitats with computers and sensors. He channeled that into gadget tutorials for young folks and robotics projects in Central American jungles, which eventually led him to apply to be an arts ambassador for a new outreach program known as American Arts Incubator.
The program premiered last year as a partnership between the U.S. State Department and the Silicon Valley-based company ZERO1 with the mission of using art to connect to communities outside the U.S. Each ambassador leads a community in workshops and activities to explore a theme unique to their country. In his application, Quitmeyer proposed that as an arts ambassador to the Philippines, he would raise ecological awareness by combining monitoring of the local environment with performances illustrating the community's responsibility to clean up the area.
The program's challenge was to make a prolonged impact with a $10,000 budget in 29 days and little on-site direction from ZERO1 or the State Department. Quitmeyer pitched Waterspace, a floating hacker lab, which was audacious, considering that previous years' arts ambassadors had built murals or held basket-weaving projects.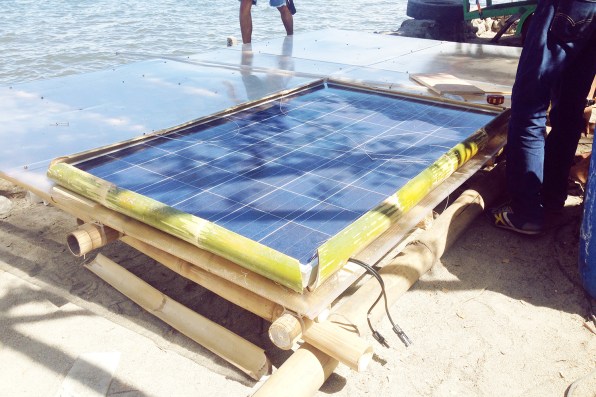 When Quitmeyer arrived in the neighborhood of Banilad, south of the port city of Dumaguete, this past April, locals were shy until he walked around and personally asked each villager to help him build his floating tech station. Thanks to their experience constructing fishing boats, Waterspace became a reality: a solar-powered raft-like lab made of bamboo and chock-full of safety gear and tools—not to mention a coffee machine and furniture for relaxing.
Quitmeyer based Waterspace on the European Hacketeria's modular mobile labs. He built it to be a useful educational space that would keep serving the community long after he left. (Its open-source design is downloadable here.) Building costs were estimated at about $2,000, but by reusing local debris, Quitmeyer drove the price tag down to $1,600, and used the saved funds to stock the lab with toys—among them, a 250w solar panel to power devices, tools for repurposing trash, Arduino microcomputers, and a drone submersible for monitoring the local marine area.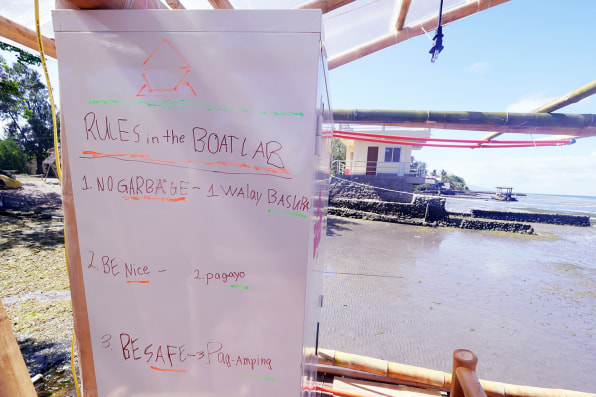 "One of the first subgoals while building this BOAT Lab was that we wanted to make a space for people so that this technology doesn't sit there useless," Quitmeyer says. "I wanted this thing to be big and crazy-looking, with lights going on all the time, and the kind of constant reminder that hey, there's cool stuff out there! I want them to ask, 'Oh hey, what are we gonna do in that BOAT lab today? Because it's right there looking at us.'"
While the lab was under construction, Quitmeyer led a week of workshops where he taught locals the technical and artistic skills required to operate the gadgets. He also brainstormed with residents on what was important to the local fishermen, for instance, or the theater kids or the marine biologists. Once the participants were chosen, he divided them into six groups, assigning each a project that ran the gamut from installing environmental sensors and tracking ocean ecology to creating light-up public art displays that incorporated their research.
When the grim reality of the village's severe poverty set in, Quitmeyer recruited local children who were too young to go to school to become the lab's Bantay Basura ("Garbage Guard"). Waste collectors don't travel that far south of Dumaguete, but the refuse does, floating down and blanketing the village beach. So Quitmeyer made a deal with the children: If they kept the beach free of trash all week, he'd pay for a Friday movie party.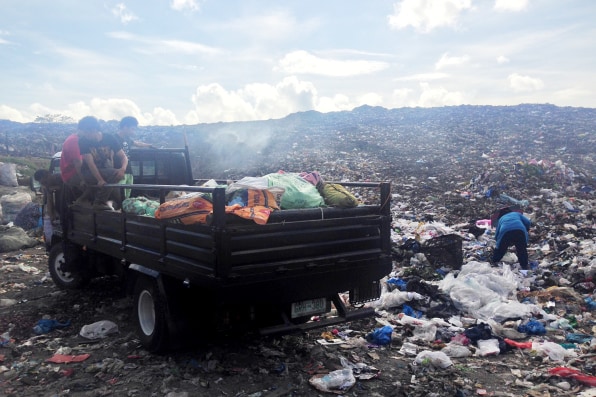 To extend the project's impact, Quitmeyer prudently set it aside a chunk of his funding. He left Banilad almost two months ago, but that reserve will keep paying out to each team of locals until August. (In September, the BOAT Lab will become the property of the Banilad Marine Guard.) "I made my own weird secret rules," he says. "I set apart a quarter of all of [my funding] just for sustainability, to help keep them working beyond the month, and they're still doing that. They had checkpoints: On June 30th, they had to blog articles and send them to me, and tell me what's going on."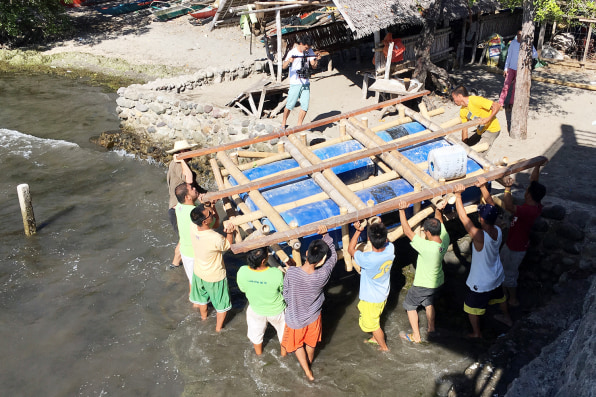 So far, the dispatches from the community members have been encouraging. And even though Quitmeyer knows it's not a given that the Banilad citizens will keep developing Waterspace and its teachings, he's not giving up hope. "I'm still in that state of 'prove pessimistic Andy wrong,'" he says, adding, "this past month, they've already proved pessimistic Andy wrong.'"