For 13 years now, the AIA has reserved a special recognition for projects that do a lot with a little, whether it's cash or space. This year, it's bestowed honors on a reading nook in a public library, a roving dental studio, and a remote cabin, among others. In an era of finite resources, these designs show how efficiency breeds clever design.
The AIA's definition of "small" varies and it gives a lot of leeway to the project type–it can be a structure, an object, or a work of environmental art–but it sets strict budgetary constraints. The first category includes projects that cost no more than $150,000. For example, the AIA lauded Substance Architecture's shade-providing parklet that was made from salvaged materials for $900. Another winner in the category? The crowdfunded floating wa_sauna by goCstudio, which Co.Design covered this spring. To keep costs down–the Kickstarter campaign raised $43,000 for the project–the designers worked in a donated studio and enlisted the help of volunteers to fabricate the design–a move that shows how architecture can be a vehicle to build community.
Though scrappy projects are in the mix in the second category too, it applies to projects with a budget of no more than $1.5 million–a relatively hefty sum, but one that that AIA calls "limited" in comparison to many projects with budgets running into the tens if not hundreds of millions of dollars. (Surely they're talking large-scale commercial or institutional buildings and not an obscene housing bubble, right?) In this category are a modern chapel and prayer garden in New Orleans by Eskew+Dumez+Ripple and Girl Scout cabins located just outside of Kansas City, Missouri, by El Dorado.
Scope the winners below and in the slide show above.
Carnegie Library of Pittsburgh Studio Hive; Pittsburgh, Pennsylvania
by GBBN Architects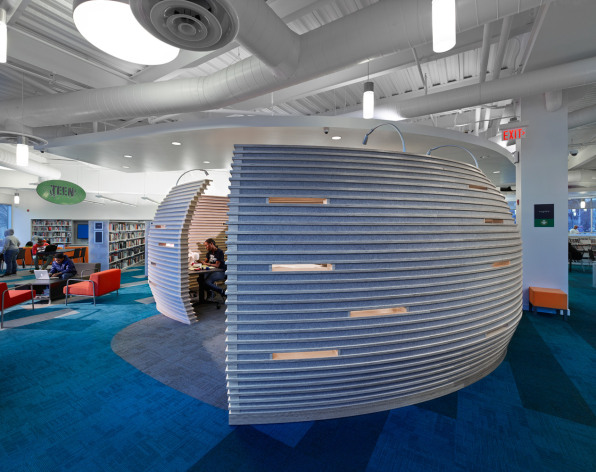 Designed for the "Teen Zone" in the East Liberty Branch of the Carnegie Library of Pittsburgh, the Studio Hive is meant to be a collaborative space for studying, designing, crafting, and reading. After the space's construction, the library saw a 350% increase in teen visitors.
Deployable Smocked Porch; Winterset, Iowa
by Substance Architecture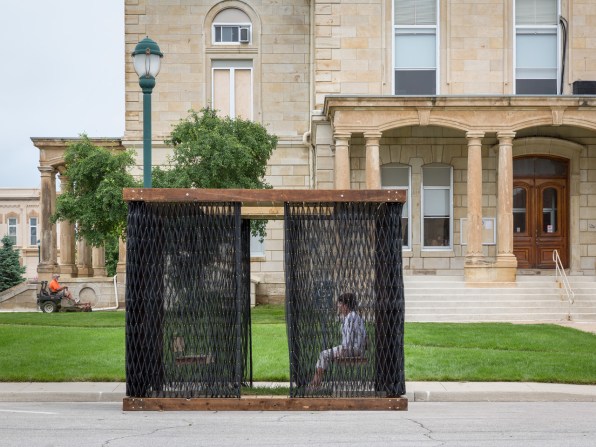 To provide Des Moines denizens with some relief from the blistering sun, Substance Architecture designed these inexpensive parklets to be deployed throughout the city. The total cost for one is just $900, making the structure highly replaceable.
Girl Scouts Camp Prairie Schooner; Kansas City, Missouri
by El Dorado inc.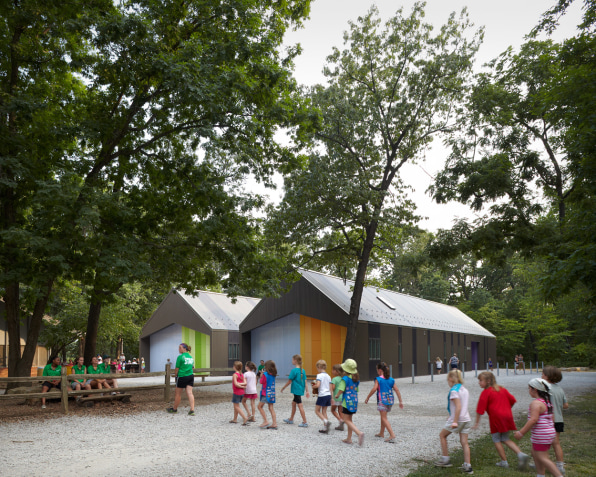 Clad in weather-resistant prismatic corrugated metal, these bunkhouses offer flex space, sleeping quarters, showers, and dining areas for Girl Scouts at a camp that focuses on STEM education and confidence building.
wa_sauna; Seattle, Washington
by goCstudio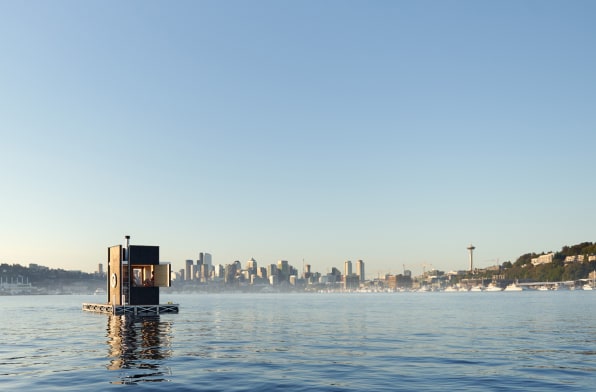 Visit a Seattle lake and you may spy this floating sauna built from a prefab frame system and clad in charred wood. Paid for with crowdfunding, the sauna can be docked like a houseboat and a motor makes it mobile.
Linear Cabin; Alma Lake, Wisconsin
by Johnsen Schmaling Architects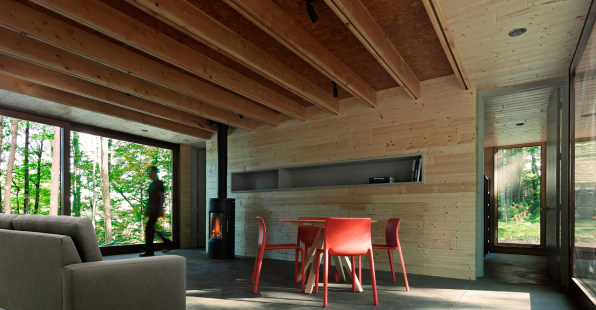 To make the most of this cabin's sylvan site, Johnsen Schmaling Architects split the building into three compact boxes that frame the surrounding landscape. Knotty pine clads the cozy interior.
St. Pius Chapel & Prayer Garden; New Orleans, Louisiana
by Eskew+Dumez+Ripple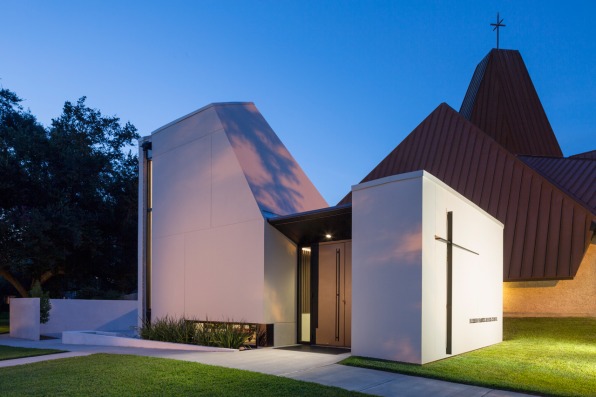 An addition to a 1960s church, this chapel sports a Spartan look to keep the focus squarely on contemplation.

Studio Dental; San Francisco, California
by Montalba Architects, Inc.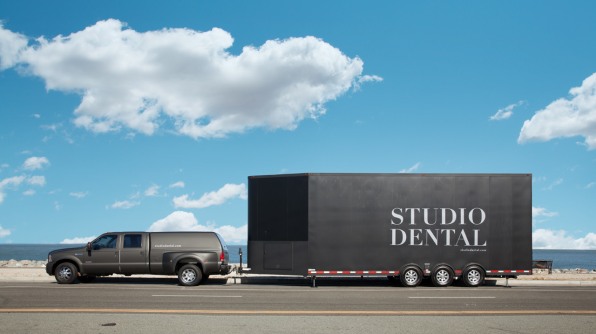 Most people hate going to the dentist, but what if the dentist came to you? This 230-square-foot trailer is a fully equipped dental clinic made possible by clever storage elements.
Village Health Works Staff Housing; Bujumbura, Burundi
by Louise Braverman, Architect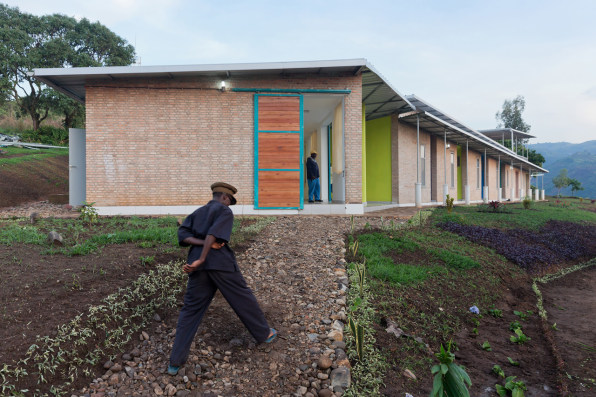 Built in Burundi–a country in East Africa near Rwanda–this 6,000-square-foot dormitory for medical staff is off the grid. Ample use of porches offer outdoor social space and help to passively cool the rooms.
Weihnacht Huts; Bethlehem, Pennsylvania
by NAD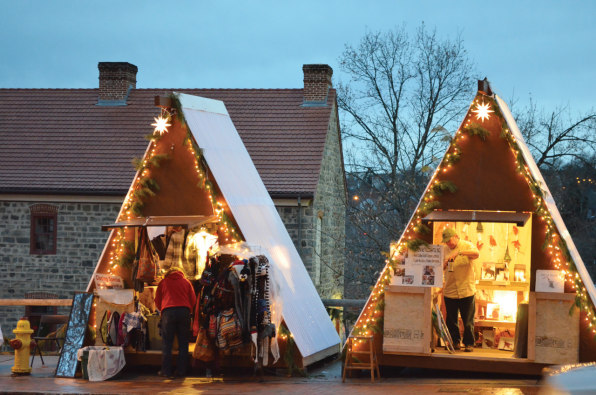 Designed for pop-up Christmas markets, these stalls require under $300 worth of materials each. Polycarbonate shells protect the interior from the elements while allowing daylight to shine through.
related video: microapartments are coming to the US. Are you ready?