Journalist Maziar Bahari remembers being shown re-runs of Roots as a child growing up in Iran. For decades, Iran's leaders have used the African American experience of slavery and racism as propaganda against the United States. Iran's repressive government holds up New York City's Harlem as a prime example of America's tyrannies, asking how a country that treats its citizens that way can dictate to the rest of the world on human rights.
Bahari, who was famously imprisoned by the Iran government in 2009 and depicted in Jon Stewart's 2014 film Rosewater, is now taking aim at this pretense with a project that raises awareness in Harlem about Iran's most oppressed minority.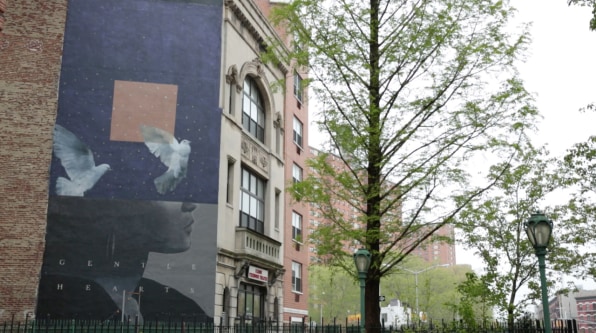 "We thought it would be interesting to take this narrative of the Iranian government and turn it on its head and highlight its hypocrisy," he says.
This summer, he is leading a project in Harlem to paint about a dozen murals on schools and other buildings that focus on the story of the Bahá'í, a persecuted religious minority of 300,000 people in Iran. The first, painted in April on Harlem's Faison Firehouse Theater, depicts a new artwork by South African artist Ricky Lee Gordon.
The Bahá'í have been a target of persecution since the unique religion developed in Iran in the 19th century. But Bahá'ís, who believe in universal secular education and gender equality and deny the authority of Iran's religious clerics, have been even more targeted since the 1979 Islamic revolution, with hundreds jailed, killed, or beaten. Today, the government still does not officially recognize the religion nor does it allow Bahá'ís to attend university. Instead, Bahá'í professors who were fired from their jobs have run an "underground" university since the 1980s, conferring thousands of unofficial diplomas that have been since recognized by universities worldwide.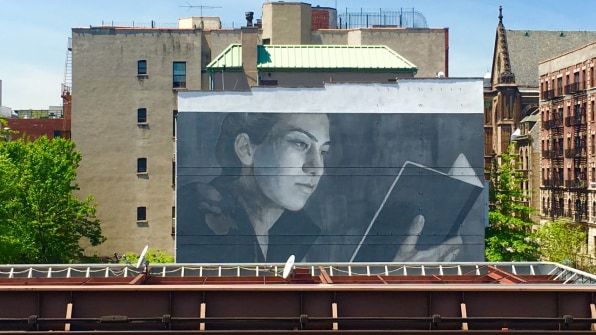 Bahari's documentary about the Bahá'í–and their educational form of resistance–came out in February 2015, when it screened in 200 cities. But he was frustrated that his efforts ended there and decided to launch a campaign, "Education Is Not A Crime," to continue to raise awareness about their plight.
"I was amazed by this story. This is an educational miracle, and it's just amazing that they are resisting this government that has not stopped brutalizing them for the past 37 years," Bahari told Co.Exist in an interview at the New York Bahá'í Center. "They have not only survived, they have also thrived–through education."
This is the second year he is leading an activism street art project. Last year's took place all around New York City, where world leaders meet for the UN General Assembly every September, and included murals raising awareness about Iran's treatment of both journalists and Bahá'í. This year, he wanted to focus specifically on Harlem–where the project received the most positive initial response and because of the historical parallels.
Each mural is by a different artist, organized with the help of the New York startup Street Art Anarchy. Seven have been painted so far, and several more are planned. "Our challenge is to create a narrative," Bahari says. "We live in a digital world, so we thought lets do something more analog."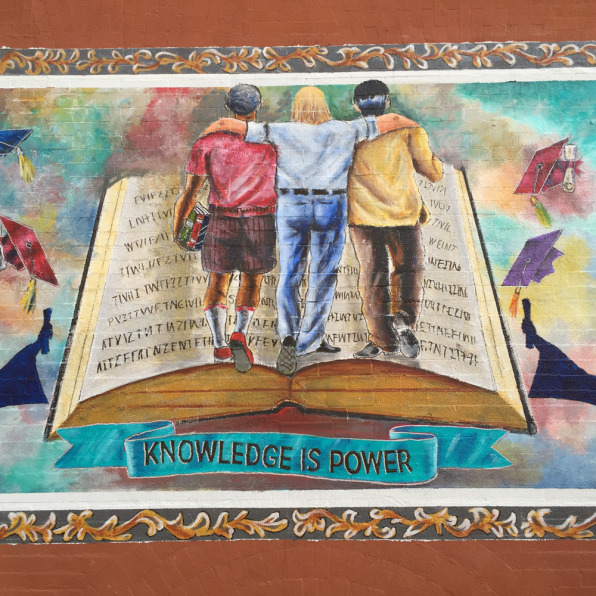 The murals come at an interesting time, as the nuclear deal with Iran starts taking effect. Boeing reportedly just struck the biggest deal so far, with a contract to sell 100 airplanes that must still be approved by the U.S. government. Some politicians who are against normalizing relations say America shouldn't deal with Iran, because of its human rights record. But Bahari–who supports the nuclear treaty–says that keeping Iran isolated isn't productive. More dialogue will lead to human rights improvements, not less.
Still, he says that activism and public pressure is needed in the United States and other countries to make sure human rights in Iran are not forgotten, by governments and companies now doing business there.
"We have to make sure there are no stipulations in the contracts with Boeing that infringes on human rights issues in Iran. For example, there shouldn't be any kind of stipulation . . . that denies Bahá'ís of being involved in these contracts," he says.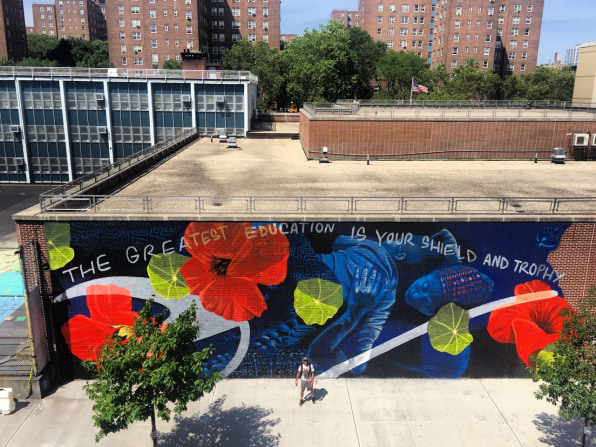 Overall, for someone who was tortured in prison and cannot return to his native country, he has a remarkably rosy outlook.
"I am very optimistic of the future of Iran because people are becoming more aware of their rights as citizens of the country, and they will become more aware because of the advent of the internet and because of the campaigns like ours," he says. (Among his many other projects includes IranWire, a platform for citizen journalists).
He notes that Iran President Rouhani's reform minded administration is pragmatic about human rights. They know it's good for the country's economy to stop the torture and imprisonment–to stop denying the Holocaust he says.
"What is happening to the Bahá'ís and journalists in Iran is a barometer for what is going on in Iran in general," he says. "If the Bahai's are treated well in Iran . . . then even if the Iranian government had a nuclear bomb, I wouldn't be worried by it. Because that shows a more logical, more pragmatic side of the Iranian government."
Visit Bahari's website to learn more.
Have something to say about this article? You can email us and let us know. If it's interesting and thoughtful, we may publish your response.