Applying sunscreen can be a tedious chore that often seems to require superhuman flexibility and the need for at least an extra set of hands.
But it doesn't have to be. The company SnappyScreen wants to revolutionize the way we slather on SPF with its automated sunscreen-application invention that is already gaining traction with vacationers.
Imagine this: You step into a booth, select your preferred SPF (15, 30, or 40) and enter your height. Then a fine mist covers you from head to toe, a rotating base ensuring even distribution. The whole thing takes all of 10 seconds. If taking precautions against skin cancer were always this easy, no one would ever skip on sunscreen again. And that's exactly what SnappyScreen founder Kristen McClellan is hoping.
"My [older] sister was the most horrible sunscreen applier," says McClellan, 25. "I would wait for an hour every time we went on vacation and she would still end up with the streaky hand marks." After her sister remarked, "There's gotta be an easier way," McClellan had a thought. "I said, 'People are spray tanning; maybe one day there will be sunscreen in there.'"
And so a business idea was born, one that she honed for an elevator-pitch event at Cornell University when she was a freshman there. McClellan said she was "always an entrepreneurial kid" (she founded a day camp when she was 12, earning $1,000 a week), and with guidance from her university's business incubator, she designed a prototype that filled a major gap in sun safety.
According to a recent survey by Consumer Reports, 53% of Americans never even apply sunscreen, and most likely don't even do it correctly. A good portion admit they find the practice too inconvenient or unpleasant. (Still, plenty of Americans appear to be buying the products: The sun care market is projected to reach $11.1 billion by 2020.)
"That leaves a lot of open space . . . because everyone just thinks it's a pain," McClellan says. "It's not just about making sunscreen more accessible, its about doing a better job putting it on."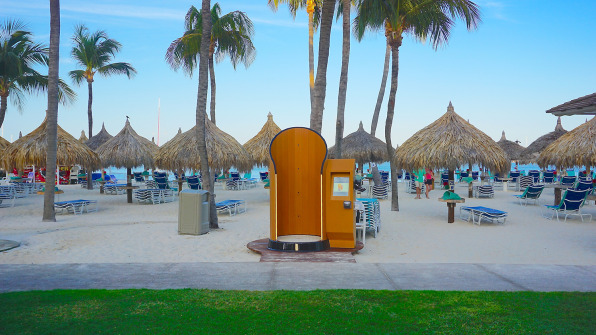 The SnappyScreen system envelopes the entire body—including hard-to-reach areas like underarms and the back of the neck—making the process much less of a hassle. "One thing I hear all the time is, 'Sunscreen used to be such a pain; this is so great, I'm never going back,'" McClellan says.
In fact, one of the biggest issues in sun safety—and one that McClellan discussed with dermatologists during the development process—was the false sense of protection of single applications. Vacationers might think it's one and done, but they need to reapply to avoid harmful sun damage.
"Sunscreen reapplication is critical," says Ronald L. Moy, MD, senior vice president of The Skin Cancer Foundation. "Sunscreen should be applied 30 minutes before going outside, and reapplied at least every two hours and immediately after swimming or sweating."
SnappyScreen hopes to make the process so easy that families will gladly return for additional coatings. Ground zero for testing this theory is at four- and five-star hotels and resorts in the U.S. and Caribbean, which currently make up the majority of the company's customers. Luxe brands such as the Four Seasons have began installing the booths on their properties to provide a convenient service to their guests. And so far, so good. "What we've found," McClellan says, "is that the No. 1 question guests ask after using it for the first time is: What time do I come back?"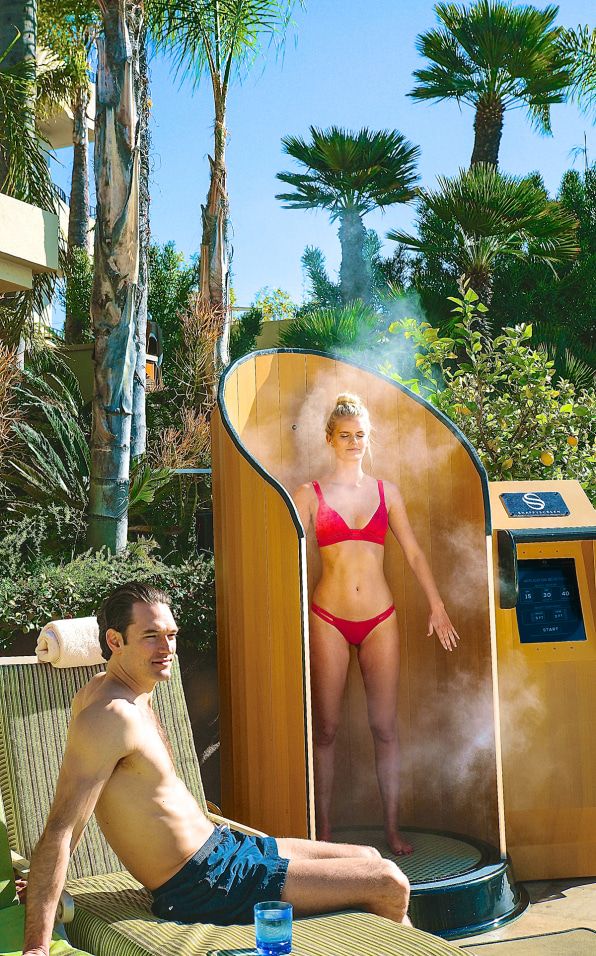 "It's a creative addition to our pool amenities, and our guests love the product," confirms Michael Newcombe, general manager of the Four Seasons Hotel Los Angeles in Beverly Hills. "The SnappyScreen provides even application of sunscreen in an exclusive way."
According to McClellan, guests "love that hotels are looking out for their sun safety," and they appreciate that the booths provide extra entertainment for kids. The experience comes complete with touchscreens, an interactive video, and a cooling mist. One of her favorite moments was witnessing excited children waiting in line at a resort for their turn to use the system. "That is truly a dermatologist's dream," she says, laughing.
SnappyScreen sells directly to properties, which independently decide pricing: It can be a free service or one where customers pay by credit cards, preloadable cards, or by charging fees to hotel rooms. The company supplies its own sunscreen formula, a continuous spray that is oxybenzone- and alcohol-free—and it won't damage swimsuits. This all reinforces McClellan's philosophy of making everything swift and painless.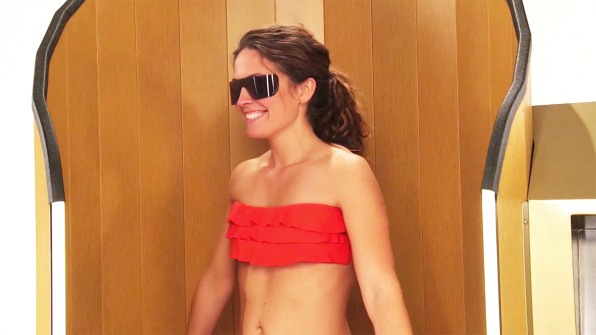 The company has now started to receive interest from water parks, country clubs, public pools, beaches, and private homes. "I've even been asked if I could put one in someone's backyard," McClellan said.
So far, 10 booths have been deployed in the U.S. and Caribbean, with 50 more in the queue for the next year. And SnappyScreen isn't slowing down: It completed its seed round of $1.3 million and will be raising series A in the fall.
"It really is about making some kind of impact on sun safety . . . and getting people to reapply more frequently," says McClellan, whose long-term vision includes cruise lines and public beaches. "People know they should put on sunscreen more, and if we can make it a little bit more fun and get people to protect themselves, that would be a huge win."