After months of speculation and intrigue, the bidding war for Yahoo came to an end today with the announcement that Verizon has agreed to acquire the former search giant's digital assets for $4.83 billion in cash. Under the terms of the deal, Yahoo's remaining assets, including its non-core patents and stakes in Alibaba and Yahoo Japan, will become part of a publicly traded investment company and rebranded under a new name.
Rumors of the impending news boosted Verizon shares by 1.3% and Yahoo shares by 1.4% on Friday, a modest Wall Street reception. The deal is expected to close in late 2016 or early 2017.
For Verizon, the deal paves the way to assembling a new media empire capable of delivering potentially billions in advertising revenue and offsetting slowing growth in its wireless and wireline business units. Verizon acquired AOL for its media and advertising business in 2015, to the tune of $4.4 billion, as a first major step toward that goal–and in the months since then has signed deals with startup video platforms including AwesomenessTV and Complex Media. It also launched its own mobile video app, Go90, last year, through which it offers sports and short-form originals designed for the YouTube generation. With assets like Yahoo Mail and Yahoo Finance, Verizon gains 600 million monthly mobile users—essential for any growing media company these days—and a shortcut to playing alongside Facebook, Google, and Twitter in the digital advertising big leagues.
"If I look at the AOL business, the adtech capabilities are best in class. But they simply don't have enough scale" in terms of audience, Verizon executive vice president Marni Walden, who leads product innovation and new business, tells Fast Company. She has been tasked by CEO Lowell McAdam with turning Verizon's media efforts into a $5 billion-plus business. Building audience organically, she says, takes too long when competing with giants like Facebook, which benefits from a strong global presence. "We knew when we bought AOL that that wasn't the end of the story, there was more that we would want to do," Walden says. "We're building something that we want to turn into a very large business. Getting audience and getting scale is critical."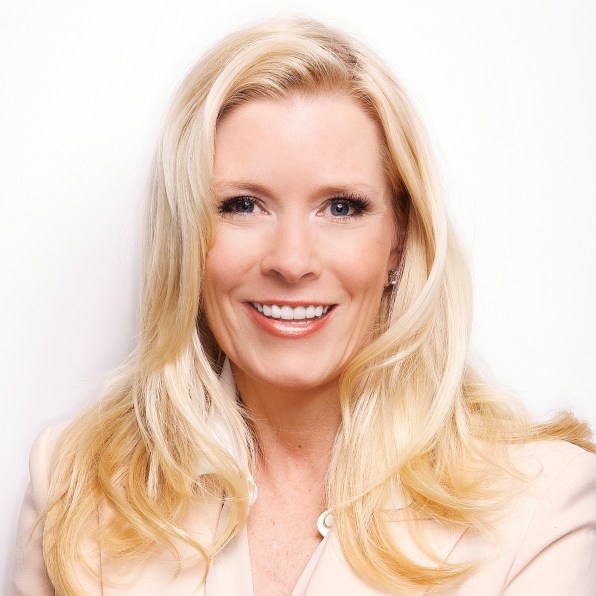 Walden has witnessed firsthand just how big that audience needs to be. "When I used to run the marketing business at [Verizon] Wireless, I used to love to spend money at AOL. The dollar I'd spend, I'd get a better return because their adtech was so great," she recalls. "The challenge was that if I wanted to spend $10 million with them—or whatever the relevant dollar amount it—they didn't have enough inventory. That's where I have to scale them to be able to get there. Companies like Complex and [Awesomeness TV] help, but there's got to be more than that," she says.
"If you think about wireless in 2000, it was this patient process of investing, scaling, integrating. I think this is a very similar thing. But doing it over a 10 year time frame—we don't have that luxury." Walden says. "We have to do it faster." Acquiring Yahoo provides some of the inorganic growth Verizon needs in order to compete.
For Yahoo, the deal represents a repudiation of CEO Marissa Mayer's ability to execute on her promises to turn around the company. In her four years at the helm of the troubled Silicon Valley institution, she renewed emphasis on design, assembled a portfolio of acquired startups, and hired big-name talent like Katie Couric in the hopes of lending the Yahoo brand an air of media prestige. But Mayer failed to weave those pieces together into a story that audiences could understand, and failed as well to build an advertising solution capable of competing with the finely tuned machines at her competitors.
"This transaction also sets up a great opportunity for Yahoo to build further distribution and accelerate our work in mobile, video, native advertising and social," Mayer said in a statement. She added that she "couldn't be prouder of our achievements to date," and alluded to her interest in staying at an integrated AOL-Yahoo: "I'm excited to extend our momentum through this transaction."
Mayer's contract stipulates that she receive $55 million in severance pay if the deal closes and she loses her job. In contrast, AOL CEO Tim Armstrong, whom Verizon executives describe as a strong cultural fit, will earn a bonus worth $59 million if he stays at the helm of AOL for at least four years. Armstrong has also been tasked with leading the AOL-Yahoo integration. "We're friends," he said a few months ago of his relationship with Mayer, with whom he has stayed in touch since leaving Google. "We worked together for almost 10 years there."
Walden, who lived through years of acquisitions at Verizon as the telecom industry consolidated into national wireless carriers, says she plans to maintain the media brands under Yahoo while merging its operations and advertising technology with that of AOL.
"The house of brands continues to live, and then it's the best-in-class operating structure and platform that you integrate," she says. "It's almost a shopping mall, if you would. You've got the back office, which is the structure of the mall. But the individual shops all carry their own name, and that's what drags people in. It's no different at AOL or Yahoo," she adds. "You've still got loyal followers of AOL mail, Yahoo Mail, Yahoo Finance.
Armstrong, who has had a voice in Verizon's evolving content strategy, takes that approach with his existing brands, allowing leaders like Arianna Huffington of The Huffington Post plenty of creative independence while holding them accountable for delivering visitors.
Moving forward, Walden intends to continue pursuing deals similar to Verizon's investments in AwesomenessTV and Complex, companies that have a finger on the pulse of younger viewers' interests and behaviors. "These guys are really good at building audience, and not with big marketing budgets," she says. "It's not like they put on a 40 million TV campaign for a month. They do it through social and have really great analytics."
Other incumbents and competitors are pursuing many of the same targets. Vice, which provides content to the Go90 app, is backed by Walt Disney and 21st Century Fox. BuzzFeed, king of Facebook videos, counts NBCUniversal among its investors. With so much audience attention focused on digital video, it's becoming increasingly challenging for Verizon to identify promising production studios before they get expensive. Walden says that as she looks for potential content creation partners, she relies on Verizon's partner Hearst, the media conglomerate, and its expert eye for talent. At the end of the day, the goal is to create content that will keep users in the app for long periods of time, and keep them coming back, so Verizon can rack up advertising dollars. "Those are the things that have been more important to me than pure downloads or registrations," Walden says.
With new media startups getting pricey–and low odds that another company with a Yahoo-sized user base will put itself up for sale–the pressure is on Verizon to foster audience growth through its acquisitions and get creative about new deals. In the future, that may include placing its content on third-party platforms, like Snapchat, and splitting the revenue with the other distributor, Walden says.
Verizon plans to provide additional details on the Yahoo deal when it reports second quarter earnings tomorrow morning.