Each year, Dropbox spends thousands of hours just watching people work. The hope is to get a glimpse into their workflows, what's working for them and what isn't, and what Dropbox can do to make their experience using the service a little easier.
On Wednesday, the company announced a number of updates to Dropbox for Business based on that user research. The new features and services are designed to help teams be more collaborative and, consequently, more productive.
"People have more ways than ever to create and capture information," says Cristen Torrey, head of design research at Dropbox. "We've seen the hoops that people jump through just to do something as simple as turn a piece of paper, like a receipt or owner's manual, into something that they can archive and share."
Among other users, 52% of Fortune 500 companies use Dropbox for Business, with needs that range from everything to designing a building to building a new piece of software. They also have different needs when it comes to sharing the content they create, sometimes wanting input from a group, while other times simply want to share a finished product.
"For us, clicking the share button isn't our metric for success," she says. "We're tracking things like whether people understood their options, and whether people are confident that they did the right thing. By giving people the right choices, we think we can give the foundation for more stable and more secure collaboration. People don't really just want to be more productive. They want their tools to get out of their way, so they can do more amazing, thoughtful, and creative work."
With that in mind, the company announced a number of updates to its Dropbox For Business platform that will make sharing and collaboration much easier, from any device, and from anywhere in the world.
The first thing you'll likely notice in the update is the addition of a giant plus sign within the Dropbox app. That new plus button can be used to create new Office documents such as Excel or PowerPoint on your phone, or to scan a document such as a blueprint, receipt, or a whiteboard from the meeting you're sitting in, just as if you were toting around a flatbed scanner.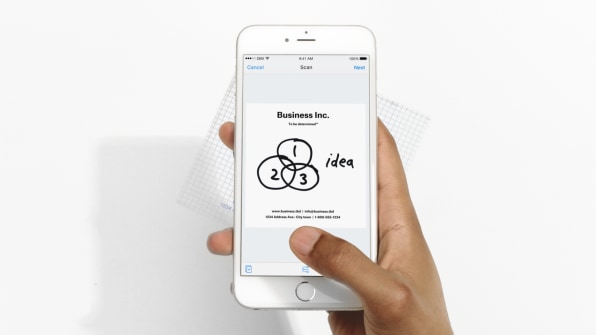 When you snap a photo of a receipt or document, the image is converted into a high-resolution PDF. Thanks to optical character recognition (OCR), those scans are also now searchable. So your handwritten notes from a big meetings will be just as searchable as a Word document.
Manual photo uploading is also getting an upgrade. Now Android and iOS users will be able to set the destination folder for those uploads during the upload flow, as well as select all videos and photos by date to upload at once.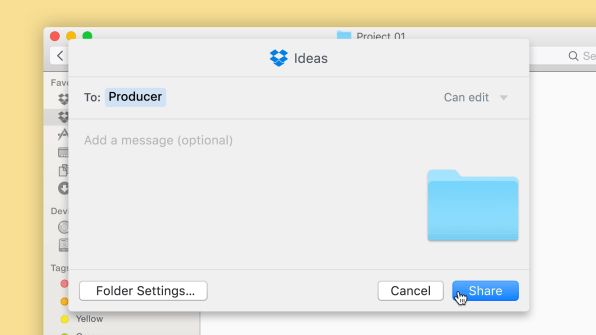 For teams, the big update involves collaboration. Now when you want to share a file with someone in your team, Mac users can do so right from the desktop, just as if the sharing feature is baked into your Mac's operating system.
When a file is shared with you, you can comment on it, similar to how you might comment on a Google Drive document. All of the comments on a particular piece of content are displayed on the side of the content, and notes can be left pointing to specific parts of a PDF, image, or document, so you can clearly identify the subject of your comment.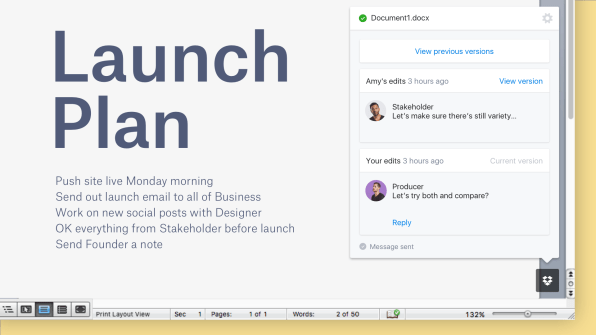 Todd Jackson, VP of product and design at Dropbox, says that "3.3 billion sharing connections exist in the system. So everything we can do to make sharing more seamless for users is a really, really big win."
In the future, Dropbox plans to add the ability to comment directly from the Dropbox badge (so users can comment while they're working). A Presence feature will display who is currently looking at a file as well as who has viewed it in the past and how many times.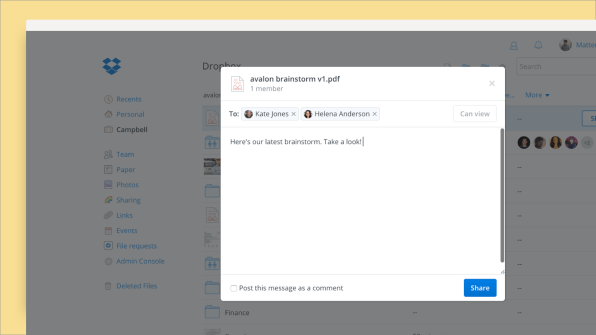 For large businesses, Wednesday's updates are all about security. Now users can share a file with a specific person, who will then have to log into Dropbox to see it. That means you can better control who can see a particular file (rather than create a share link anyone can forward around). Dropbox Basic users will also be able to set view-only access for shared folders, something previously only available for Dropbox Pro, Business, and Enterprise customers.
And perhaps the best update is a new version of the history feature, which works as a time machine of sorts. It allows you to restore previous versions of files if you happen to delete something you shouldn't have or want to go back to an old idea. Within that feature, users can preview the old version of the file before hitting restore, ensuring that they're picking the right one.
Jackson says that all this is just the start of what Dropbox has in the world for businesses. "You'll see more coming soon," he says.