Back in 2010, Unilever launched its Sustainable Living Plan with a goal of doubling the size of the business while cutting its environmental footprint in half by 2020. On stage at Cannes Lions, chief marketing officer Keith Weed talked to the audience of marketers and advertisers about his vision for the future of brands, and a huge part of that was social progress and environmental sustainability. Just not for the most obvious reason.
"It's easy to say we should have campaigning in brands because it's the right thing to do," said Weed, who runs marketing for the world's second biggest advertiser. "I think you should do campaigning brand because it makes good economic sense."
What that means is, promoting more sustainable products, created more sustainably and promoting a more environmentally conscious lifestyle among consumers through its advertising, as well as significantly challenging stereotypes, and improving the portrayal of women in advertising. Across many of its brands these initiatives have been growing.
At the New York City Climate March, Weed said the largest contingent from one company was Unilever employees, and brands like Ben & Jerry's not only inspire consumers, but the company itself.
The company studied 1,000 ads from all over the world, from different brands, agencies and companies. It found that 50% had stereotypical portrayals of women. Just 1% portrayed women as funny, 3% as leaders, and 2% as intelligent.
"These are the images that we as an industry are sending out across the world, and 80% of women do not identify with these stereotypes that we as an industry are putting out," said Weed.
Then they looked at just Unilever ads, categorizing them as either normative or progressive. "The overall impact of our progressive ads was 12% more than those of our normal ads," said Weed. "So this is not a moral issue, it's an economic issue. We can create better advertising, if we create advertising which is more progressive and we start challenging those stereotypes."
In terms of challenging stereotypical portrayal of women in ads, Weed said it's a company-wide direction. This includes the role of women in Unilever ads, to the definition of beauty.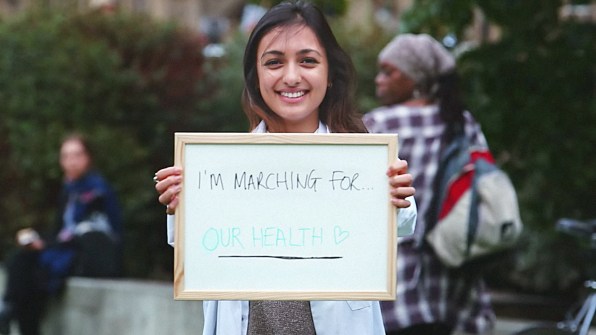 "We want to challenge the personalities, moving from those that are often vacuous or blank, agreeable and thin, and find more authentic, three-dimensional women in our advertising," said Weed. "We want to go from the 'advertising' view of representation of women, to a more enjoyable, non-critical, and introspective reflection of women in how they are in everyday life."
The one point Weed kept emphasizing is how much good business and economic sense these changes and directions actually make. The number of people around the world willing to try and buy a more socially and environmentally sustainable product is steadily increasing, as long as brands maintain quality and price. And Weed says right now, that trend is just hitting its stride.
"We did a piece of research in countries across the world to look at is there really now a tipping point happening–I don't know if it's social media, or more people just talking about all these weather changes we see around the world–but there is a real shift," he said. "We found that 54% of people would buy a product if it was socially and environmentally sustainable."
And they are. Across Unilever's massive portfolio of brands, Weed said the growth pace and levels of the company's sustainable living brands in 2015–including Knorr, Dove, Ben & Jerry's, Lipton, Hellman's–moved faster than the previous year. "More than that, they delivered nearly half our growth," said Weed. "This is now having meaningful impact on Unilever. And even more interesting than that, they grew 30% faster than the rest of our portfolio."
Weed was quick to address the skeptics on the business side.
"For those of you out there saying, 'Ah yes, sustainability is about future-proofing the business and maybe we'll get some eco-efficiency out of it as well.' I say no, our top five brands are now sustainable living brands, and people are engaging with them at scale," said Weed. I" think it's growing evidence that this is the kind of impact that consumers want to feel."