Nike is one of the most admired and prolific marketers of the past generation, revered for its big idea (Just Do It), its endorsement roster of the best stars and teams, and pioneering execution, from coordinated shoe colors in the Olympics to innovations like Nike+, Nike ID, and Flyknit, all which led to it being one of Fast Company's Most Innovative Companies. In fiscal year 2015, Nike spent more than $3.2 billion in "demand creation expenses" (advertising, endorsements, events, etc.); tens of billions of dollars have gone to building its brand. In traditional brand valuation reports, which try to discern the financial value created by the brand (Fortune, Interbrand, etc.), this pays off, with top 20 rankings.
And yet, in nationally representative research my company Enso has recently conducted (the Brand World Value Index), Toms Shoes ranks higher than Nike for the all-important millennial demographic. At one level, this is shocking, given Toms is a fraction of Nike's size. Toms does not publish its annual marketing expenses, but last year's partial sale valued the entire company at $625 million, under 20% of Nike's annual marketing budget, and under 1% of Nike's market capitalization.
The research we conducted looked at the extent to which people perceive a brand to have a purpose bigger than making money, the degree to which that purpose aligns with their own values, and the extent to which they would be willing to actively support the brand's purpose.
In other words: Do these brands represent a future I believe in, and will I help them create it?
By looking at these measures, we are looking to define the extent to which people perceive a brand as creating world value, not just shareholder value.
This measure of a brand's standing is forward-looking, because everyday people are now more powerful than ever (having access to tools previously reserved for newsrooms and presidents), and the extent to which they are motivated to direct that power toward a brand's success will significantly determine its future.
In the Brand World Value index, for those under 35 years old, Toms ranks 22nd, while Nike ranks 26th.
Blake Mycoskie started Toms with a clear goal: to give shoes to the millions of people around the world who do not have them by matching each sale to a donation, "one for one." Since then, the company has extended into providing eyesight and water linked to sales of its sunglasses and coffee. Nike has a mission, too, "to bring inspiration and innovation to every athlete in the world," and from our research, people are more aware of Nike's purpose. But awareness of purpose does not necessarily translate into motivation to support that purpose: People are less motivated to actively support Nike's purpose than Toms's. And people say Toms's purpose is more likely to drive purchase than Nike's.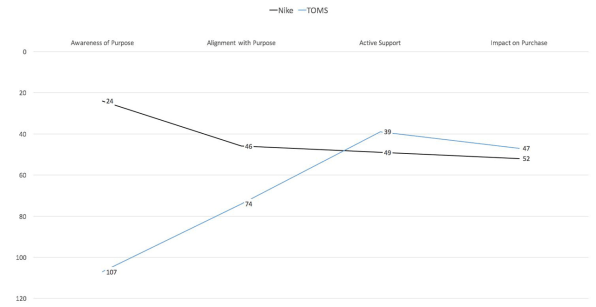 For some segments, the gap is even wider: those who are young and active on social media, those engaged in nonprofits, or those who are concerned about the environment.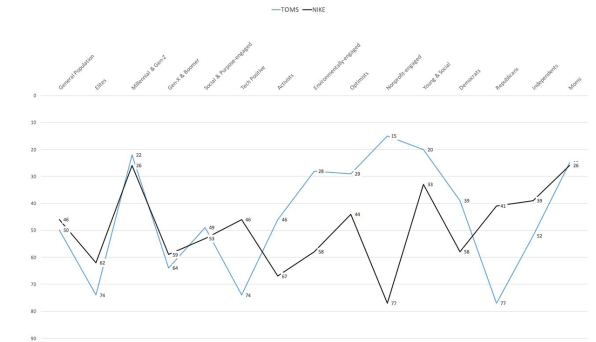 That Nike's purpose is less motivating than Toms's may have a lot to do with how visible it is, relative to Toms, which incorporates its giving mission in almost every piece of communication and enables participation in its mission through Campus Clubs and One Day Without Shoes. Mainstream perception of Nike is likely more tied to elite athletes and individual performance; this focus on individual success may be less relevant to millennial and gen Z sensibilities than the collective success championed by Toms.
Our contention is that brands have a distinct opportunity: work alongside people to achieve a vision of shared success. By focusing on the value a brand can create for the world, rather than just create for shareholders, it is possible to build a powerful, motivating brand much more quickly, and efficiently, than traditional marketing approaches.
There's a stark contrast between Nike's recent sponsorship deals and Toms's giving. Nike has recently signed two deals, together worth approximately $2 billion: to sponsor NBA shirts, rumored to be worth about $1 billion, and for LeBron James, also rumored to be worth about $1 billion. In contrast, Toms recently announced that in its first 10 years it has given 60 million pairs of shoes, helped restore sight to more than 400,000 people, provided 335,000 weeks of safe water, and helped support safe birth services for 25,000 mothers. All this is from what is likely significantly less than $2 billion of revenue, let alone $2 billion of marketing spend.
So the question becomes, over the long term, which approach creates more value for the world? Which approach will people reward with their long-term support–both in evangelism and purchase? And could Nike be even more successful if it invested equally in youth sports in every community as in LeBron James?
Have something to say about this article? You can email us and let us know. If it's interesting and thoughtful, we may publish your response.
Sebastian Buck is a cofounder of Enso, a mission-driven creative agency. Enso works with organizations such as Google, Khan Academy, Medium, and Omidyar Network. He can be reached here.