Bernie Sanders inspired millions of people during his presidential run. But even some of his supporters wondered how he'd have any shot of enacting his progressive agenda through Congress if he won. Sanders's answer was that a grassroots people's movement–the same that would get him elected–would need to continue.
This week, Sanders told his supporters that the top priority of the next few months will be to defeat Trump, even though he has lost the nomination. But he also called on his supporters to continue what he started by fighting in other local, state, and federal races. A number of candidates for lower offices have even self-identified as "Berniecrats."
Even though Sanders won't be president, some of his former staffers and campaign volunteers are organizing to continue his agenda by turning their focus to Congress.
Brand New Congress is an ambitious campaign that seeks to use the same grassroots organizing tactics to back a "slate" of 535 candidates for the House of Representatives and Senate in the 2018 midterm elections.
"What the Bernie campaign showed us was that you could out-raise a well-funded opponent with grassroots donations, and you could out-voter-contact them, too," says Saikat Chakrabarti, Sanders's former director of organizing technology. "But it only works if you can concentrate all of these dispersed people onto one goal and focus it."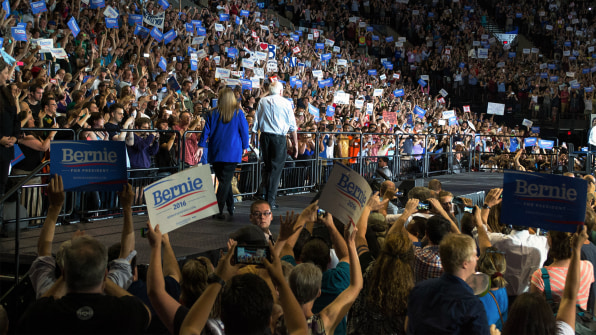 So far Brand New Congress is run by about a dozen all-volunteer teams, with about 100 people doing work every day, says Chakrabarti. Many people supporting it include regional and local volunteer organizers for the Sanders campaign, such as Moumita Ahmed, a lead organizer for Millennials for Bernie, as well as some of his campaign staff, such as senior adviser Zack Exley.
"The power of Bernie Sanders was not only in his email list," says Chakrabarti. "The centers of power were local groups that formed on Facebook and Reddit."
It hopes to provide a "campaign in a box" to candidates with no experience, giving them all the infrastructure they need to run, including a grassroots network of volunteers ready to go. In the same way that the Sanders campaign rallied supporters in, say, New York to call Arizona voters on primary day, Brand New Congress hopes that it can leverage people around the country to help make phone calls and otherwise organize in local races that are far away from their state. Their common cause would be to reform Congress as a whole, treating the midterm elections more like a presidential campaign with one massive organization than dozens of unrelated local races.
Brand New Congress plans to work with candidates from both parties that sign on to its general principles and agree to only raise money from small donors. In Democrat majority districts, it will back Democrats, and, in Republican districts, it is looking for relatively progressive Republicans. It is just beginning the recruiting process, but ideally they are looking for respected people in their communities who aren't necessarily "career politicians."
"We're probably going to drag them kicking and screaming to actually want to run," says Chakrabarti. As an initial step, Brand New Congress has planned dozens of events around the country to kick off local brainstorming and leadership.
One supporter listed on the Brand New Congress site, Katie Crowley, told a local newspaper that she planned to seek the Democratic nomination for the House in District 30 in Tennessee, dubbing herself a "Berniecrat."
In addition to Brand New Congress, other Sanders organizers and ally organizations are now brainstorming how else his supporters can continue to press his agenda. They convened at the People's Summit in Chicago on June 17 to talk about how to continue momentum on the issues Sanders brought to the public discourse.
"Maybe we're on the cusp of some really interesting political changes," Charles Lenchner, who cofounded the group People for Bernie, told MSNBC.
Have something to say about this article? You can email us and let us know. If it's interesting and thoughtful, we may publish your response.