I want to tell you about a magical place. A place where U2 albums download to every phone, and with a button press, you can turn any text message into a laser-filled Kiss concert. A place where there's no pain and no suffering, because there is an "emoji button" that will translate a message into kid-speak for you.
This place is Apple in 2016. That's right, Apple's longtime obsession with Bono and Chris Martin was only a taste of things to come. Cupertino's user interface has gone full dadcore.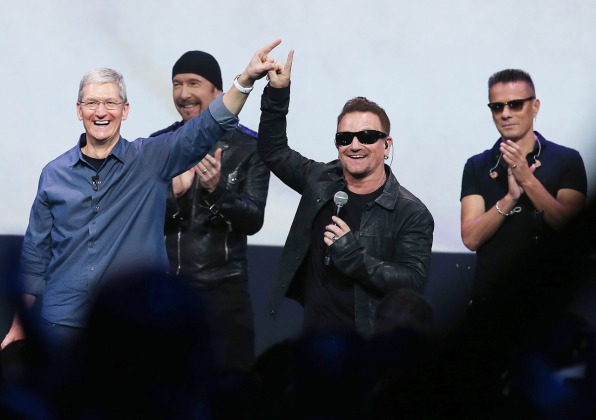 If you don't just know what I mean by dadcore, allow these examples to illustrate: You could define dadcore through Siri's groan-inducing brand of canned jokes, which rely heavily on puns. Or iOS's Find My iPhone feature, which unearths a phone that's fallen inside one's couch during Monday Night Football.
Yesterday, at its Worldwide Developer's Conference (WWDC), Apple introduced a slew of these features, which iron out the confusion around iOS multimedia like a hot dryer can smooth a pair of wrinkled blue jeans with a wallet line.
Take a new feature in Apple's WatchOS called Scribble. It will let you draw a message on your wrist under the table during dinner, like you're some kind of spy whose disguise is a blazer that somehow works for any occasion. That message will be sent from your Apple Watch, which to be honest, is pretty much the second most dadcore gadget ever invented already (second only to Apple TV).
Meanwhile, Apple's updated Photos app will now automatically cut together your photos and videos into an instant family movie, complete with a rich, algorithm-determined soundtrack straight out of a Jerry Bruckheimer film. You can almost see Apple's top UX designers sitting at their iMacs, prototyping the next iOS, tearing up a bit when they remember what happened to Goose. Dadcore AF.
MacOS is getting a feature that, I kid you not, is called Picture in Picture, named after the pre-DVR television technology that allowed grown men with children to watch a World War II documentary on the big screen, while watching a World War I documentary on a tiny one in the corner. So many tanks!
But the most dadcore of Apple's new dadcore features is focused on the new Messages app, which saw a long list of updates on Monday. Messages suddenly has stickers (seriously, dads LOVE stickers). It has the option to add a "SLAM" animation to your message, either in an ironic mic drop or out of legitimate anger that your teen is out past curfew.
Then, crucially, there's Messages' new emojify button. All you have to do is type your message into the app as always, and the button will instantly transform your words into vague, cartoonish emoji. It's the UX equivalent of being a 45-year-old man who spends $500 at Urban Outfitters on new shirts.
At its core, dadcore UX is about enabling some enticing new experience, all while facilitating the potential for a useless punchline. It's Apple sticking a decoder ring into Messages for the groans of it–as it did today with a new feature called Invisible Ink, which conceals a message's content until you tap.
So your phone buzzes, and you get a message that just reads "————————" You tap it to decipher. And all that's waiting is "WHOA I WROTE THIS I-MESSAGE IN INVISIBLE INK. WHAT DID YOU THINK IT SAID, HONEY? ALSO I THOUGHT ABOUT IT AND BATMAN VS SUPERMAN WASN'T REALLY SO BAD, LET'S MAYBE GET THE BLU-RAY BECAUSE I BET IT WON'T BE ON AMAZON PRIME, THOUGH I KNOW I WAS WRONG ABOUT INCEPTION. I'M STILL GLAD WE HAVE THAT BLU-RAY BECAUSE YOU CAN REALLY SEE THE DIFFERENCE IN BITRATE."
Or you get some random bit of baseball trivia instead.
Before you think I'm being too cruel here, I'm a dad myself. It takes one to know one, okay? I have two tickets to a Bruce Springsteen concert in a few weeks, and I couldn't be more excited about it. I'm highly roastable on Twitter. And as much as I hate to admit it, clinging to the fact that I am basically the oldest possible interpretation of millennial, the future of social media multimedia confounds me. I love Instagram, sure, but I had to learn to use Snapchat. Hell, I had to google it, okay?
With Messages, Apple has spotted a unique opportunity that dadcore can unlock. Snapchat, a strange new multimedia hybrid that makes MTV look like the tired '80s kid it is, is cool in a way that Apple will never be again–because Apple, the once-rebellious alternative to the PC, has grown up into the most valuable company in the world. Apple is the middle-aged face of mainstream technology, and as that face, it can't really do the whole rainbow-vomit-filter thing. But maybe, just maybe, Apple can bring a few fundamental elements of that new media dialect of contemporary tweenspeak to the masses via liberal doses of cornball UX.
Apple isn't alone in its quest to out-dadcore Snapchat. Facebook's interface is one sign-of-the-horns reaction away from full dadcore (until then, it's just normcore). And as for Google, it may be the only company immune to the pressures of a graying multimedia dialect. Because Google has mercifully opted to just let the robots talk for us instead.