Welcome to Libya, where life goes on amid political and economic turmoil.
"You might be standing on your balcony enjoying the view and—bam!—hear this explosion, but it's not always like that," says entrepreneur Amal Delawi, a cancer survivor and working mom who lives in Tripoli. Following the 2011 revolution, which toppled longtime leader Muammar Gaddafi, and her cancer treatment, which required travel to Egypt, she was broke and unemployed.
"I had to go back to becoming an independent again," she says. Her solution was a confectionary business dubbed Tamara that puts a modern twist on traditional Libyan candies. In a city beset by conflict, constant blackouts, and currency fluctuations, customers have found comfort and delight in Delawi's artfully rendered treats. Her signature: dates stuffed with Nutella and covered with dark chocolate.
"Generally I'm a very optimistic person, but to be honest, being optimistic right now is a waste of time," Delawi says. "I have big dreams, but I just go day by day."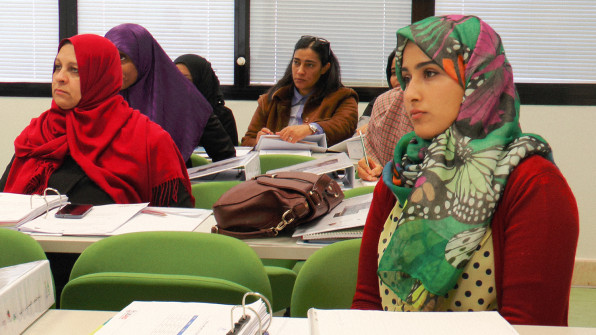 Delawi is part of a community of women entrepreneurs that a Canadian nonprofit organization called MEDA has been equipping with business know-how through workshops and networking events over the last four years. Early on, MEDA's programs took place in person and in major cities, drawing women with both early ideas and operational businesses. One ran a private elementary school; another aspired to launch a recycling facility. But given the ongoing security concerns associated with travel between regions, MEDA is now piloting an online program in collaboration with education technology company D2L that's designed to reach to women in rural areas.
"There's definitely a need for this," says Adam Bramm, who oversees MEDA's operations in North Africa and the Middle East. "Due to some of the violence and conflict that has been going on, a lot of the men have left. The women are starting to set up and fill in the gaps."
Between now and September, MEDA hopes to have 300 women complete modules in the beta version of the online course, which includes lessons on accounting, marketing, and other business topics. If MEDA is able to secure additional funding, Bramm plans to expand and scale the program in Libya and beyond.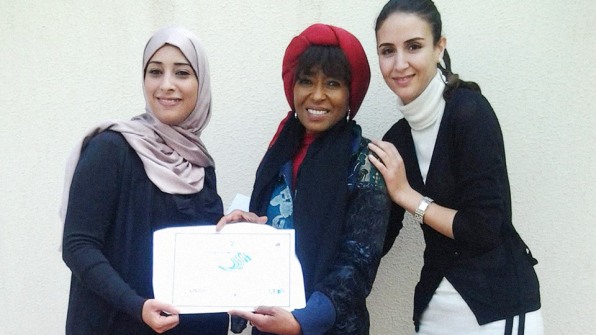 Ontario-based technology partner D2L is best known for its online platform Brightspace, an adaptive learning solution and curriculum repository. (Brightspace's data-driven techniques earned it a spot on Fast Company's list of the most innovative companies in data science this year.)
"Being able to move sessions online and provide a high-quality experience I hope will help thousands of women," says D2L CEO John Baker. His instructional designers and developers have been working with MEDA to adapt lessons for mobile and to think creatively about ways for participants to build meaningful relationships. "The community was really a big part of what was happening in Libya before," he adds.
The project presented D2L with a number of design challenges. Some were specific to the cultural environment, such as the need to display content in Arabic, which reads from right to left. Others, such as providing users with ways to engage with content during network outages, spoke to current infrastructure limitations.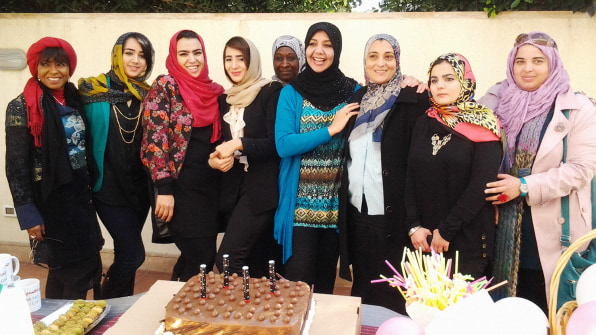 Intissar Rajabany, MEDA's project manager for Libya, has been helping her instructors and entrepreneurs navigate the country's unreliable communications networks and roads. To run a leadership training workshop in Gadamis— a city near where Algeria, Libya, and Tunisia meet—she needed to find an instructor willing to make the arduous journey from Tripoli by car with her father as her chaperone. What would have once been a short flight is now a daylong drive with dozens of security checkpoints and long stretches of desert without cell phone reception. Twenty women attended, most of whom were in their thirties and forties.
"For many women in Libya it's a late start; they don't have the same opportunities that we do in other countries for getting skills up to speed," Rajabany says. "They want to do something and better their lives, and they don't want to be dependent on a man or a government salary that may not come through."
Former public-sector employee Entisar Attya attended a MEDA intensive program in Tripoli last January. She had experience managing distribution for a pharmaceutical company, and she saw an opportunity to work for herself distributing Argan oil to pharmacies and beauty stores. The product was a hit, but now she's stuck: Because of inflation, her wholesale partner has stopped sending shipments to Libya.
"I'm trying to find an alternative product," Attya says through a translator. "I'm looking forward to all this being resolved so we can have a brighter future."
In the meantime, Rajabany says, "Life goes on." Battles are sometimes under way, but there are still birthdays, weddings, and funerals to attend. Indeed, another MEDA participant has found success launching an event planning company called Velvet that provides brides and expectant parents with stylish invitations and decor—a reminder that Libya has historically had the highest GDP per capita in Africa, thanks to its oil wealth, and consumer tastes to match.
The changes, Rajabany observes, are in the details. "Before 2011, I would go to a wedding party, and coming home at 3 a.m. on my own would be normal—from another city, not just inside Tripoli," she says. "Now I come home before dark."
During a civil war, business as usual can happen by day, but after sundown there are no guarantees.