Even before Apple carted Drake out on stage to help announce its new music streaming service last June, the company's move was already seen as a big deal. And of course it was: Not only does Apple have a tendency to help reshape the markets it barges into, but this is music: The very industry Apple famously helped salvage from the smoldering ruins of Napster's heyday by launching iTunes and the iPod.
With Apple Music—an all-you-can-stream service rebuilt from the guts of its $3.2 billion Beats Music acquisition—Apple would help mark another symbolic milestone for the music industry: With iTunes-style music download sales on the decline (never having fully filled in the crater left by a once-booming market for CDs), streaming was clearly going to be the future of how people listen to music and—as the colorful charts in music industry reports increasingly illustrate—how recorded music will make money (how much and for whom, of course, remain open, contentious questions).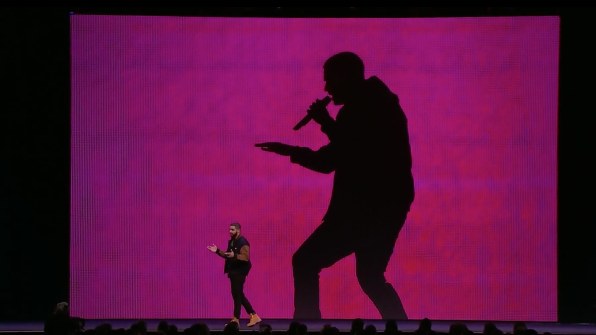 Music had already been heading in this direction for years—academics predicted today's music-as-a-monthly-utility model in 2005, three years before Spotify arrived in Sweden (and two years before the iPhone was released). And even though these subscription-based services have since proliferated like crazy—Rhapsody, Rdio, Deezer, Google Play Music, and Tidal, to name a few—Apple's admittedly very late arrival to the party seemed to mean that this whole streaming thing was now for real. Streaming music may not be an Apple innovation, but the company's shift in focus removed any remaining doubt about how most people will access music in the future.
So, how's it going for Apple Music? So far, just fine—Even if Apple still has plenty of work to do. Despite a few imperfections, Apple Music has successfully lodged itself into the streaming music market, quickly established itself as a legitimate player and, it seems, sent some of its competitors into meeting rooms to plan preemptive strikes.
In April, Apple Music topped 13 million paying subscribers. It's a fraction of Spotify's 40 million paid listeners, but still an impressive tally for such a short time frame. And while Apple has a certain built-in, automatic advantage in terms of reach and marketing muscle, 13 million people wouldn't pay for something if it wasn't pretty decent, especially when there are so many other music services offering different flavors of the same exact concept. Indeed, that was one of the risks of launching Apple Music in the first place: Whatever design polish and bonus features you might add, you're still introducing a product whose core functionality—on-demand, online access to tens of millions of songs—has been widely available for years.
To set itself apart, Apple has primarily relied on two key factors: First, its natural reach on many millions of devices all over the planet. Second, as a product, it takes an approach to music curation and discovery that no other service has. Instead of teaching machines how to be DJs, Apple went old-school, employing a small army of smart, experienced human beings to hand-build playlists that cater to both casual listeners and music-obsessed snobs: The fact that Apple is paying people to build thousands of playlists with titles as specific as "Songs About Kurt Cobain" and "Reggae Songs By R&B Singers" is kind of insane. Some playlists offer a high-level (but still thoughtfully crafted) introduction to an artist, while other burrow into the weeds of their lesser-known deep cuts. If there's a meaningful, hyper-specific way to group songs together, Apple's curators have likely tried it. And they apparently know exactly what they're doing.
The other pillar of Apple's music curation is Beats One, a globally available radio station featuring deejays like former BBC host Zane Lowe, celebrities like Elton John, and a roster of hip media partners like Vice and Pitchfork. As with their playlists, Apple's approach to radio forgoes algorithms in favor of actual people with voices, subjective tastes, and personalities. It's a decidedly 1950s approach for a Silicon Valley behemoth to take in 2016. You might argue that this throwback format is the result of Apple being behind in things like data science and artificial intelligence (they make their billions mostly from hardware, after all), but the approach also happens to work very well. The exact listenership numbers aren't known, but tacking so many recognizable names alongside the Beats One brand—and partnering with outlets to which the cool kids already flock—has helped inject Apple into the cultural conversation around new music very quickly.
Apple will likely share an updated subscriber count onstage at its upcoming World Wide Developers Conference (and if not, that will be pretty telling in its own right). If its numbers keep climbing, the pressure on other companies in the streaming music space will continue to rise accordingly.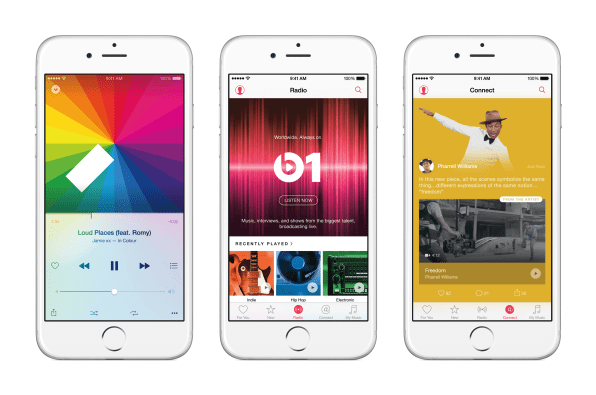 It might be hard to tell—especially this early—just how much of an impact Apple is having on the streaming music market, because the space was already going through some pretty dramatic changes when Apple Music showed up. Grooveshark shut down. Tidal is here (despite its challenges). YouTube now has a subscription tier. So does SoundCloud. Rdio went bankrupt. Pandora is reinventing itself (to compete more directly with Apple and Spotify, incidentally). Now Amazon is expected to launch its own music subscription service too. And that's just the consumption product side of music. Everything from its creation to its economics to its presence in people's lives continues to fluidly evolve like never before.
Some of Apple's impact is already obvious. Its focus, via Jimmy Iovine, on high-profile artist relationships and securing exclusive music has helped accelerate the competitive tension between streaming companies over who gets access to what music and when they get it. This strategy (and the deep music industry connections it requires) is most closely mimicked by Jay Z's Tidal. Together, Apple and Tidal have sparked an all-out war over where some of the hottest new releases can be heard. Tidal got Kanye West's Life of Pablo. Apple Music had Drake's newest album a week early. Both services got Radiohead's first album in half a decade, much to Spotify's chagrin (Spotify will finally get A Moon Shaped Pool this Friday). Rhianna. Taylor Swift. Prince. If you want to listen to these artists, your ability to do so increasingly depends which service you're using. Eager to deepen its own ties within the music industry, Spotify recently hired artist manager Troy Carter, presumably to help woo artists into deals that could yield special perks for Spotify listeners. Evidently, the star-powered exclusivity war among streaming services is just getting started.
If Apple's remarkably good music curation does turn out to be a selling point for subscribers, Spotify is doing its best to avoid being caught off guard. It wisely acquired music data powerhouse The Echo Nest in 2014 and has since been busy building machine-enhanced discovery features into Spotify. Most notably, its Discover Weekly personalized playlist has been a huge hit: Over 40 million people have streamed a total of more than 5 billion tracks since Discover Weekly launched last July. Spotify has also been hiring more people, often with backgrounds in radio and music television, to supplement its algorithmic muscle with more of the human touch that pretty much every music-focused technology company realizes is still so badly needed while the machines are still learning. Spotify was already employing human curators before Apple showed up, but it's likely an even bigger priority now.
Naturally, the arrival of Apple Music hasn't been without hiccups or complaints. For some users, the implementation of a subscription service alongside the world's most well-known music download store has created confusion and user experience issues, especially early on. Even today, the fuzzy line between Apple Music and iTunes (and the coexistence of music from both sources in one interface) continues to be a source of frustration for some users. There are other challenges as well. What happens when a new album isn't included in your monthly $10 subscription, but you can buy it at full price on iTunes? What's the deal with the "Connect" tab on Apple Music? Why are some people losing files from their music collections?
Along with some inevitable internal tensions, Apple is reportedly working on smoothing out some of the product's imperfections. On Monday, Apple is expected to unveil a significant redesign of Apple Music that could sport a new user interface, more personalization and the possible elimination of the "Connect" tab that was intended to let people follow updates from specific artists and outlets. WWDC is also expected to include substantial news about Siri, which could become more useful for music listening. Given the surprise success of the Amazon Echo speaker–and its built in voice assistant Alexa–Siri's growth in music-related capabilities seems inevitable, whether now or in the near future.
Of course, rarely is the annual pre-WWDC rumor frenzy is totally accurate or complete, but it's reasonable to except some notable changes to Apple Music now that we're a year out from its release. In the long run, Apple will need to do more to harmonize iTunes and Apple Music, perhaps making good on the rumor that it plans to eliminate its download business all together. For now, music downloads still reportedly generate $3.5 billion in revenue per year, so Apple isn't likely to drop an ax like that abruptly.
To stay competitive, Apple Music just needs to be a well-designed, accessible and effortless-to-use service that presents just the right music to people in precisely the right way. What it lacks in Spotify's longevity and singular focus on streaming, it could make up for with star power, more exclusives and by continuing to nail music curation. But more than anything else, a more polished version of Apple Music could thrive in the long run simply by virtue of it coming preinstalled on so many millions of devices. Then again, the streaming music subscription space could—once again—look completely different a year from now. And the formula for success may shape shift accordingly—Undoubtedly with at least some influence from what's going on in Cupertino.
Read more: