German designer Sebastian Herkner started his own studio in 2006, right after graduating from Offenbach University of Art and Design. In 2011, he was showing at the Salone Satellite in Milan when Patrizia Moroso spotted his Bask collection–a series of baskets woven from paper yarn–and asked to produce them.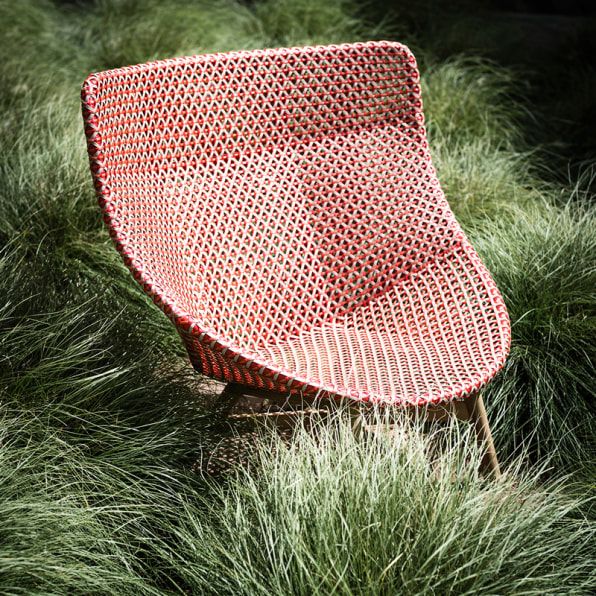 The next year, Herkner launched his iconic Bell Table with Classicon. His career was taking off. "It was step-by-step," says Herkner. "I started getting royalties [from the Bell Table] and then I moved my studio out of my flat and into a proper studio downstairs." He now has four employees and works with manufacturers like Pulpo, Vitra, and Very Wood, in addition to mainstays Moroso and Classicon.
In the world of furniture design, where the process from conception to production may take years, it's crucial to take time to get to know your manufacturing partner, Herkner says. His designs, which typically mix two different materials, are often informed by whom and what he choses to work with.
We sat down with Herkner while he was in New York for New York City Design Week last month to talk about his design process, how he approaches collaborations, and how the best pieces can come from cultivating great relationships with the right manufacturer.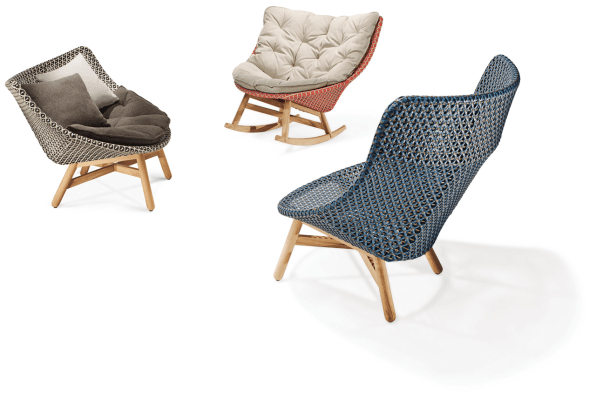 Visit–In Person
At New York City Design Week, Herkner was showing his MBrace collection, a set of mesh woven and teak wood chairs for Dedon, the German purveyor of outdoor furniture also known for its industrial textile fiber.
Like all of his initial projects with manufacturers, Herkner started out his relationship with Dedon three years ago with a visit to its headquarters in Lüneburg, Germany, just south of Hamburg. "It's important for me to visit the company, to meet the art director, see what's happening in their building, what is in their archives, what their showroom is like," before even embarking on a design, he says.
At Dedon, he was immediately struck by the fiber production and weaving processes. The fibers are produced in Lüneburg and sent to Bacoor, in the Philippines, to be woven. After watching the fibers being produced in different colors and woven into various structures, Herkner landed on the idea of paying homage to the backbone of the company with mesh-like triaxial weave–rendered at a large scale. The final chairs that made their way into the collection, three years later, are broad and enveloping, the woven fibers creating a kind of cocoon.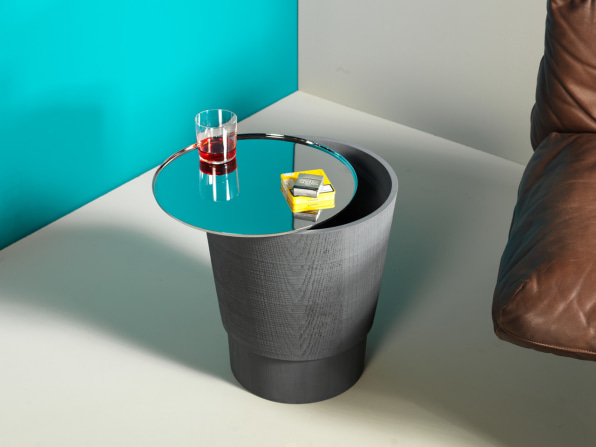 Work Across Disciplines
While still studying product design at Offenbach University, Herkner landed an internship at Stella McCartney after she spotted some painted jackets he had designed for friends on the streets in London.
At the time, the fashion house was in its third year and only had six or seven employees. "It was interesting for me to work on another scale with another material," he says about his experience there. "It was basic for my understanding for materials, colors–mixing materials and going into smaller details." He credits working in fashion for his love of material and color in his work today. "For me its always interesting to think interdisciplinary when you are designing, to not just to think about design but to think about fashion, music, and art," says the designer.
Pursuing outside interests also means keeping yourself open to inspiration. For Herkner, the idea for a piece can come anywhere–from a visit to an art gallery to a deep dive into a manufacturer's archives.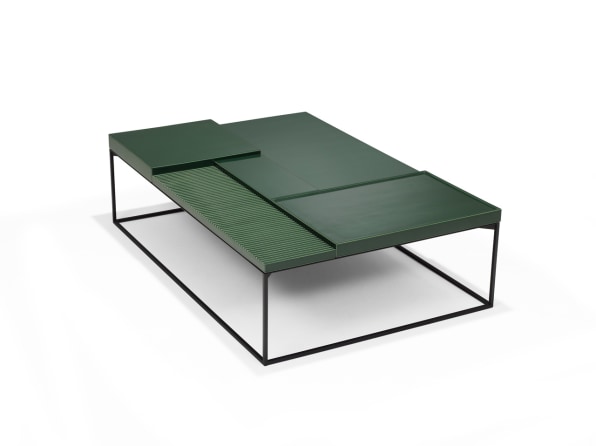 Find The Right People For The Right Materials
Herkner is known for his deft use of materials in his design. He works with steel, glass, wood, textiles, quartz, preferring to work with traditional craftspeople and companies. When he finds them, he keeps them: For the Danish company Lintello, he created the Terrace Table out of ceramic tiles made by hand by a company he discovered in Bavaria. He later used the same company for the B² stove for the German company Bullerjan.
For his Bell Table, Herkner discovered the right glass manufacturer from an article in a magazine. The company typically works on an architectural scale, so it could blow the large pieces of glass he needed for the piece. He's stayed with them, as well. "It was hard to find a glass manufacturer who could do it," says Herkner. "There aren't that many around anymore because a lot of glass is produced in China or India. I found one in Bavaria and I still produce with them. With Classicon, they produce around 3,000 pieces every year, so they have some stability."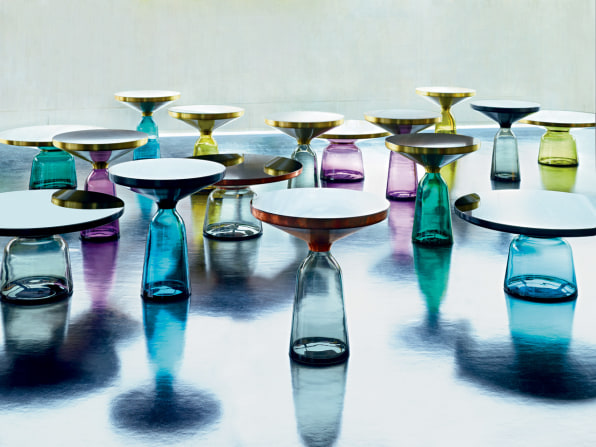 Relationships Need Upkeep
These days, manufacturers typically approach Herkner about collaborating, and he goes through the same routine of visiting their headquarters and talks to them about what they're looking for before agreeing. "If it's not a good relationship or we're not on the same level, it doesn't work because then we'll end up working together for years," he says. "So it's a long relationship. You need to trust each other and have a good understanding of each other."
Of course, when he was just starting out, Herkner needed to approach manufacturers himself, apply to design fairs, and maintain the relationships he had. Even working for five years as an assistant at his university, he still made time to travel and show his work. "If you want to have your own studio, your own business, you have to show your products," he says. "You have to go there and present every year and be in contact with companies."
All Photos: courtesy studio Sebastian Herkner