"There are four or five restaurants that do more than $20 million a year in this town," says Chicago restaurateur Kevin Boehm, conspiratorily. Their secret? They're all steakhouses. "If you hit it, and hit it right, steakhouses draw everyone. The foodie. The tourist. It has the widest net, the steakhouse."
So late last year, when Boehm's restaurant group Boka came across 10,000 square feet of open space in Chicago's old meatpacking district, he and his partner Rob Katz jumped at the chance to open a steakhouse of their own. That restaurant would become Swift & Sons, a sprawling palace of charred meat that would go toe-to-toe with the beefy Chicago mainstays Morton's and Gibsons, along with established newcomers like Mastro's and Chicago Cut.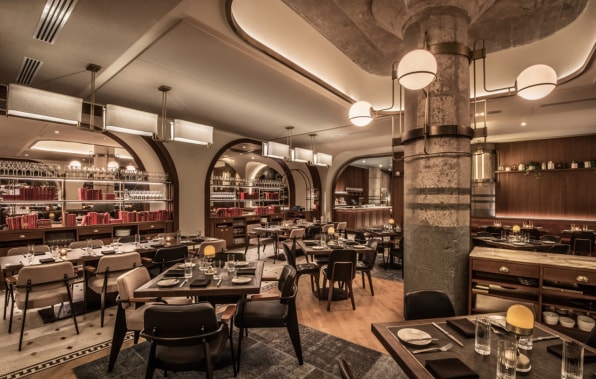 The problem with their plan? Steakhouses offer an inherently dull, monotonous experience–but they are defined largely by very specific consumer expectations. "I want to eat my steak inside a cigar box that plays nothing but Sinatra, serves a five-pound slice of cheesecake, and hangs black and white photos of boxers on the wall," kind of expectations.
"When you decide to do a steakhouse, it's not an innovative idea. It's something that's been redone a million times," Boehm says. "We said, what are the core competencies of a steakhouse? What do we have to do. And what can we bend?"
The design, they decided, was bendable. So Boka tapped AvroKO, the New York design firm behind restaurants like Quality Meats, Beauty and Essex, and projects for The Four Seasons, to create the space and experience "from dirt to spoon," as AvroKO partner Adam Farmerie puts it.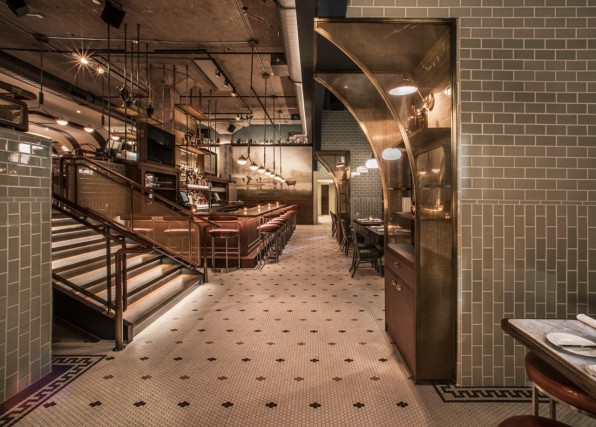 Not Quite Futurism, Not Quite Vintage
As AvroKO does with many of its projects, it turned to local history for inspiration. The space was concrete that had been buried in a hundred years of ice, storing meats and seafood. They considered the Chicago cattle yards where all that meat came from–Chicago was the leading meatpacking city from the Civil War to the 1920s–and the big shouldered businessmen who'd built that industry, like Gustavus Franklin Swift, who'd gone so far as to develop the first refrigerated train car to transport beef, and his competitors at Armour.
"We just got really inspired by these two specific companies. They were kind of rivals at the time, and in order to channel the spirit of these multinational, slightly old boy companies, we thought it'd be fun to imagine that they'd conglomerated into one," Farmerie says. "And we were imagining a space that was almost their corporate headquarters or members club."
The result of all that strange, revisionist history thinking created what Farmerie calls a "retro future" aesthetic. In other words, it's not based in any single time. You see midcentury modern in the chairs and wall paneling, art deco in the love for weighty brass fixtures, and even hints of the late Victorian era in some wall art. The effect is both familiar and new at the same time.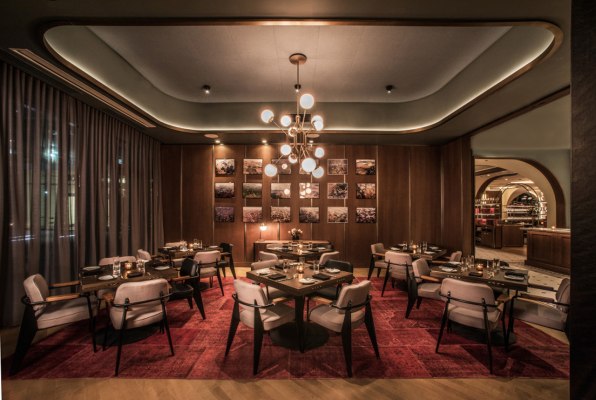 Balancing Touch And Taste
Like the heft of a decent steak knife, the sheer weight of many of these objects gives them a perceived value. Bent metal. Italian marble. Endless oak in varying stains and textures. The bank-vault doors on the bathroom stalls weigh, literally, 100 pounds apiece. "You feel punches through the space, that it's grounded in ways," Farmerie says. "A lot of times these days, things don't feel like they should feel. [Our] chair has the weight that a craftsman made it rather than, today, people are banging out molded plastic and shit."
But too many heavy furnishings and finishes will just feel every bit as stuffy as the conventional steakhouse. That's why the key on this project was balance.
"All the furniture and furnishings have the [hefty] feel and sensibility, but they're placed in this voluminous place that's definitely light and airy," Farmerie says. Curvilinear forms–most prominent in the arched entrances of each room–were key to reaching this balance. The almost nautical angles also served to soften the sharp concrete pillars and ceilings from the space's past meatpacking life.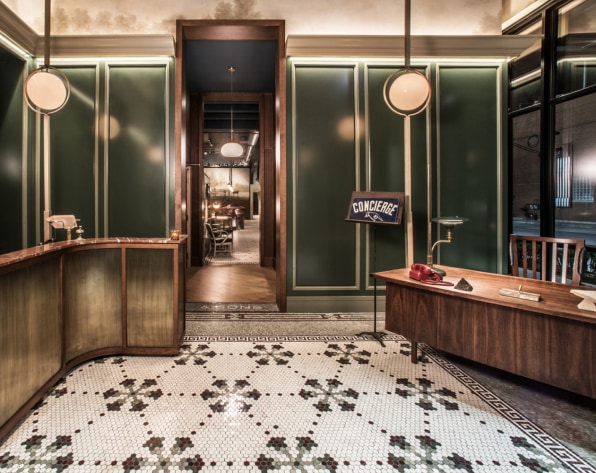 God Is In The Details
Some of the smallest details of the experience, however, are the most important. Regulars are given their own brass name plates, for instance, set at the table to signify their own identity within the restaurant. A dedicated concierge checks all reservations, to see if she can do anything to make the night more special. And in a throwback to the old days, Swift & Sons features several food carts that come around for table-side service.
The cars are perhaps, the greatest indicator of luxury at the steakhouse. While most restaurants are forcing diners elbow-to-elbow to maximize profit per square foot, Swift & Sons is designed with wide lanes that can accommodate a cart full of Beef Wellington or champagne.
"Again, it's a retro future thing," Boehm says. "We're not doing a table-side caesar, but we're doing cocktails and chocolate."
So far, Swift & Sons has been a success for Boka. The company did make one big concession to the best practices of the steakhouse industry. For the first time ever, they've bought advertisements on billboards and places like ESPN radio, to woo the critical mainstream audience willing to spend big bucks on a meal but isn't considered a foodie–but to Boehm, that was a reasonable price of admission. Because just eight months into operations, Boehm already promises that Swift & Sons will be Boka's top grossing restaurant at a year in–beating out three of their other properties that draw over $10 million in yearly revenues, including their crown jewel, Stephanie Izard's Girl & The Goat, which continues to be booked three months out.
Strategically, that internal competition means Boka is able to keep more of its customers coming back, no matter where they choose to eat. "We've got a clientele for Boka that goes to all of our restaurants," says Boehm. "[But] when they want to go to a steakhouse, they want to go to a steakhouse. They don't say, 'I want to go to a steakhouse or a Japanese restaurant.' And we'd miss out on that dollar when people would go."
All Photos: Anthony Tahlier