Walking past certain cafes and stores in Paris, you might notice a series of stickers in the window. The small icons show services like a glass of water, a toilet, or a first aid kit. Each is there as a signal to homeless people, refugees, or anyone else in need that they can come inside for help.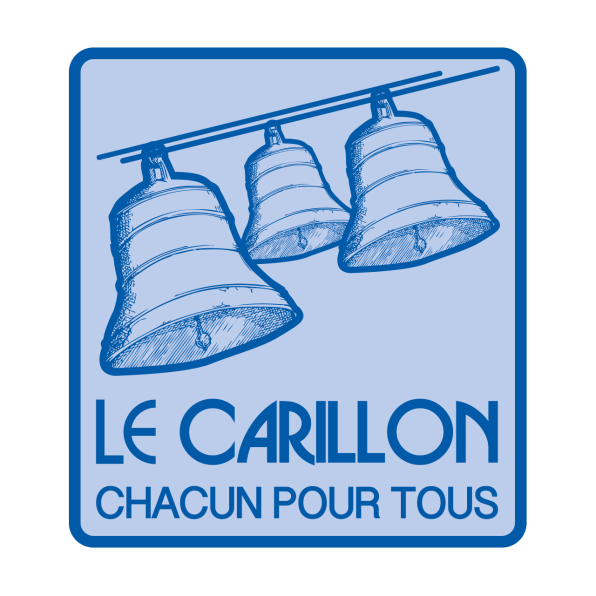 "When people who live on the street are welcomed in shops and receive free services that can be as simple as a glass of water, it can help create bonds and reintegrate those who are often socially rejected," says Mélanie Gambert from Le Carillon, the network of businesses organizing the project.
The project started last November, when Louis-Xavier Leca, a 27-year-old who has worked on socially responsible finance overseas, decided that he wanted to do something to help in his own neighborhood.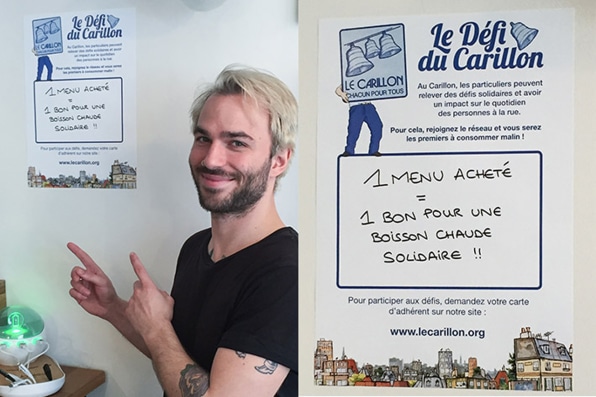 "The number of homeless people in Paris keeps going up and apart from giving one or two Euros from time to time, we often feel powerless and we do not know how to help them," says Gambert.
While some stores already welcomed homeless people in search of basic necessities–like access to a restroom–it was often hard to tell from the outside. Now, the small businesses that have joined the project can choose from around a dozen stickers to display.
Some stores let people charge cell phones, while others offer a place to heat a meal or give away food directly. Some offer showers. Barbershops offer free haircuts; the project has partnered with local nonprofits to hand out vouchers to people on the street. A few clothing stores offer free clothes. Some services, like a place to get a glass of water or charge a phone, are open to anyone, not just homeless people.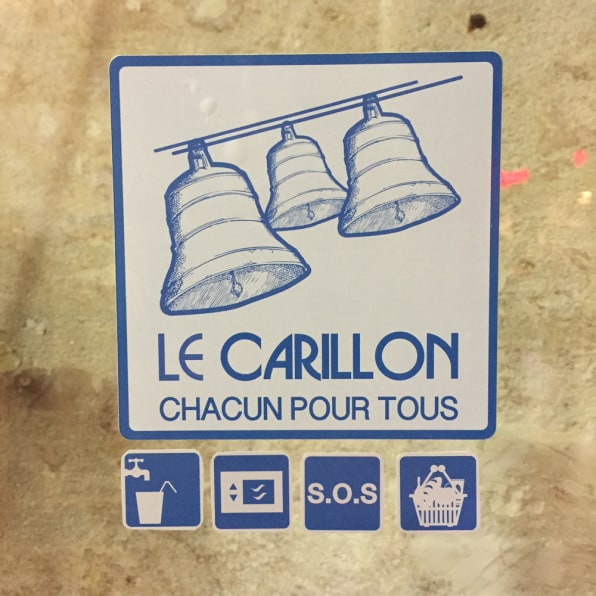 "The shopkeepers that are with us are all happy, willing to help, and some even complain that they do not get enough homeless people in their shops," she says.
Paris has around 28,000 homeless people now, and, like other cities, struggles to provide all of the social services that are needed. Le Carillon wanted to let everyone help.
"Something that is really important for us is that we want to involve all the citizens in our program," says Gambert. "Traditional social programs do a great work, of course, but they do not ask for everyone's engagement, whereas our program could not work if Parisian shops and inhabitants did not participate. When everyone gets involved and is willing to do something it can really help the homeless feel more accepted and integrated."
The project started in the city's 11th arrondissement, but could expand to five more districts in Paris this fall, along with other cities in France and soon abroad. It's something that's needed almost everywhere–particularly the very basic need of restrooms. In San Francisco, where homelessness is epidemic, the city has started offering mobile potties to deal with the problem of poop on the street in the Tenderloin neighborhood. The potties were needed partly because local store owners didn't want to let homeless people inside. But maybe stickers like Le Carillon's could help change the culture to one of acceptance.
Have something to say about this article? You can email us and let us know. If it's interesting and thoughtful, we may publish your response.