Gerald Schömbs' new office–and home–will set sail from Athens this weekend. The Coboat is a coworking and "coliving" space with the ultimate view: the ocean. On a break, you can strap on a scuba tank and go for a dive.
"We call it a coworking space on a boat, but it's not like a coworking space where you sit on your own staring at a laptop all day," says Schömbs, cofounder of Coboat. "You would miss most of the opportunity you get from the view and the environment and also from your fellow Coboaters. It's more like a coworking camp, where it's about collaboration and sharing and getting feedback and making new friends."
The boat comes equipped with Wi-Fi and ample outlets. But each day also includes yoga, diving, classes, and getting to know–intimately–everyone else on board.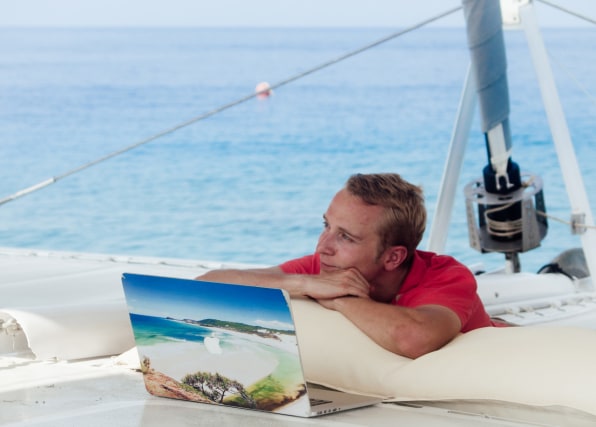 Unlike a typical coworking space, or a regular office, you obviously can't go home at the end of the day. Instead, for a week or a few weeks, you'll spend virtually all your time with your fellow coworkers on the boat. "You spend 24/7 together," he says. "So it's a bit more intense, and it can bring out more–it can be more efficient, effective, bring out more ideas and inspiration and new experiences."
On a test sail this spring in Phuket, Thailand, a small group of coworkers instantly bonded, and are still in touch now. It's an experience Coboat hopes to repeat week by week as the boat sails around the world.
Karsten Knorr, a digital nomad and sailor, first had the idea for Coboat while at a coworking space in Thailand, and later convinced Schömbs to join. It's a passion project rather than a startup trying to make money; both see it as a way for people to connect with others and reconnect with their work.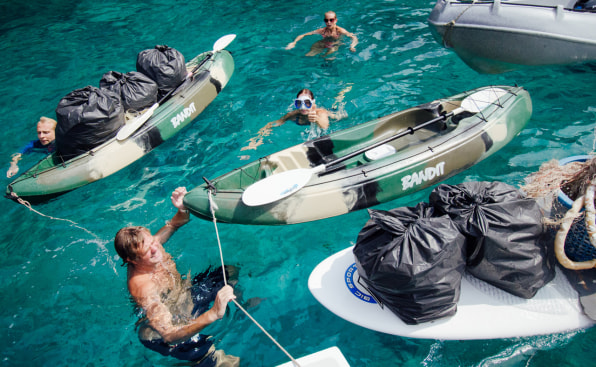 They also plan to use the boat as a way to help generate new solutions for ocean pollution–first, by giving people firsthand exposure to the issue. "We expect that most of the people will be on a sailboat for the first time, because we're not attracting sailors. We're attracting remote workers and creative people and entrepreneurs," says Schömbs. "Many of them haven't been on a sailboat before. Whenever you go on a sailboat on the ocean, you will encounter that problem–you'll see it and be aware of it."
Each sail will include a presentation about ocean pollution, connecting coworkers to organizations working on the problem, and workshop sessions where participants–from programmers to creatives–can brainstorm potential solutions. Any profits the organization makes will be donated or invested into social enterprises related to the ocean.
The boat itself is also designed to be sustainable. On the first sails this summer, Coboat will use a chartered boat, but their final boat, now being retrofitted in Thailand, will include electric motors. Like any sailboat, it will use sails most of the time. But while others run on diesel fuel when there isn't enough wind or to navigate through marinas, the Coboat will use a motor charged by solar panels and the motion of the propellers as the boat cuts through water.
On a sail across the Atlantic, a typical sailboat would run out of diesel fuel and have to wait–often for a week or more–during periods when there isn't enough wind. For Coboat, as long as there's some sun, it can always keep going. "It's actually a superior technology," says Schömbs.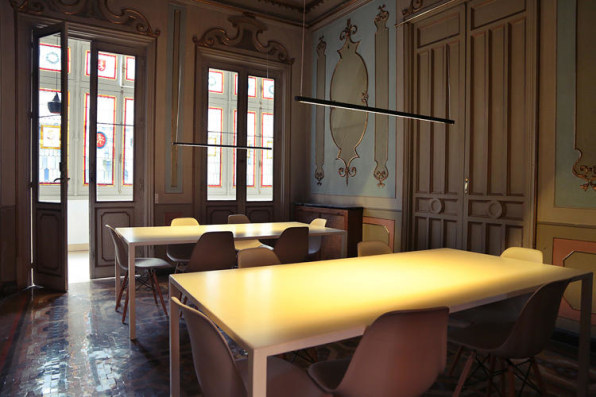 The renewable energy also powers equipment to desalinate drinking water. The 82-foot catamaran will be able to house up to 20 coworkers at a time.
It isn't cheap: A week costs around $1,340, with some specials this summer, for the launch month (they call it their "pirate beta," rather than private beta), at around $1,000. So far, they've sold out 100 weeks on the boat, to professionals who have often been digital nomads for a while and were looking for something different.
"The people that want to join us, they're already into that remote work lifestyle," Schömbs says. "We bring it one step further, to the ocean."
Have something to say about this article? You can email us and let us know. If it's interesting and thoughtful, we may publish your response.