More people than ever are reading books on their phones. While tablets and e-readers remain the most popular platforms for reading digital books, reading on phones is on the rise: Nielson reports that reading books on smartphones grew from 7.6% in 2014 to 14.3% in 2015.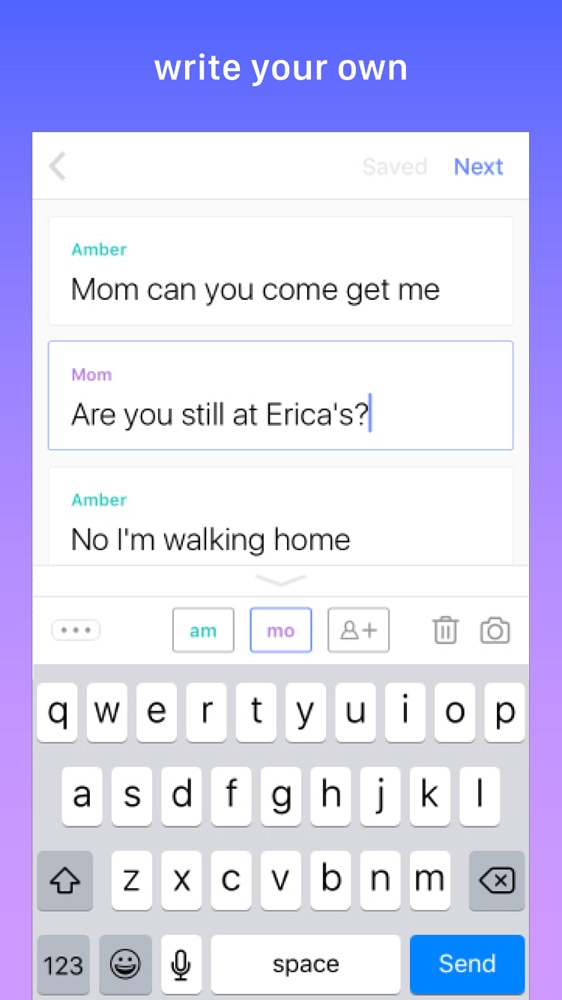 While publishers race to find ways to adapt traditional books to the mobile reading experience, a new startup is going about it a bit differently. Hooked, founded by Prerna Gupta and Parag Chordia, is using mobile UI to inform an entirely new method of storytelling. The app–which the pair is touting as "fiction for the Snapchat generation"–dishes out genre fiction in the form of a text conversation.
Gupta and Chordia, the creators of multiple mobile apps and founders of Hooked's parent company Telepathic, got the idea for the app after embarking on writing their own book–a (still upcoming) sci-fi fantasy novel set in Silicon Valley 100 years in the future. After doing some research, they found that 80% of young adult novels were being read digitally, increasingly on the phone, but they couldn't find a publishing model tailored specifically toward mobile. So they created their own.
The pair launched Hooked in September as a closed platform, meaning that all of their 200 inaugural stories were only by writers they commissioned and paid. In April, they opened the platform to user-generated content. Now the platform has 700 professionally written stories along with 9,000 UGC stories uploaded and shared by their readers, most of whom are ages 13 to 22. Since launching in the fall, the app has had 400,000 downloads.
Before landing on a format for the app, Gupta and Chordia gathered data on how people read on mobile. They drove 15,000 readers from Facebook to a website with 1,000 word excerpts (about five minutes of reading) from the top best-selling young adult novels, then analyzed reader retention. They found that 65% of readers on mobile were dropping off in the first five minutes of reading.
"We felt that you can have significant impact if you think of these things differently and essentially redesign the experience of storytelling in a way that makes sense for the phone," says Gupta. "It's not that people don't want to read, it's just that you have to present it to them in a way that made sense on that device."
In designing the format, the pair tried a few image-driven approaches inspired by Instagram and graphic novels, but nothing really moved the needle on reading retention. When they tried basing it on a texting interface–a format that, conveniently, already had built-in user behavior–and it worked: 85% of readers surveyed completed the story.
They kept the design of the app as bare bones as possible, allowing for the format to carry along the narrative. The texts are left-aligned and characters are differentiated only by their color-coded names. Every story is essentially a running dialogue between two of the characters that drives the plot. Texting is perfect for suspense; ideally, each "text" of text is enough of a cliffhanger to get the reader to keep pushing the Next button. The average user spends 30 minutes a day reading in the app, which translates to about five stories a day.
Gupta admits that this is not groundbreaking literature. The format wouldn't work for long expository writing or detailed descriptions of the landscape. It will not unearth the next David Foster Wallace or Virginia Woolf. But genre writing like young adult, sci fi, fantasy, and horror tends to be the most flexible when it comes to experimental publishing platforms, not least of all because it doesn't take itself too seriously.
Hooked's stories are interesting because they are informed by the platform, rather than the other way around. Gupta describes writing one as an exercise in constraint. "For better or worse it forces the author to cut out all the fat," she says. "You have to be pithy. You have to get your point across in the quickest way possible." In a lot of ways, that's also what an editor does.
Gupta describes Hooked's editing process as "data informed," meaning a content director looks at the reader retention data to spot the less-engaging points, then gives her own edits. For the most part, UGC stories are not edited, but Gupta says they are starting to select some reader stories to edit and feature. Hooked stories generally tap out at about 1,000 words, or are serialized if longer.
Gupta sees the texting format as an easy entry point for people who want to write but might feel intimidated by a novel, and there is something to be said for its familiarity and low-barrier entry. But a strong case can also be made for not letting literature devolve into 100-character, text-speak stories, and even Gupta seems wary that this style could co-opt longer types of writing. However, she also sees Hooked existing beside, and possibly working with, traditional publishing without taking away from the processes of publishing great books. And with mobile books on the rise, publishers would do well to start thinking more inventively if they want to create a reading experience ideal for the phone.