An emotional crisis doesn't surface only in a therapy appointment. For those suffering depression, PTSD, or other mental health challenges, a breakdown can be a slow burn, developing over days or weeks in between doctor visits. Delay in treatment can have lasting consequences.
"Very likely, every single episode of depression or mania is going to damage your brain a little more," says Thilo Deckersbach, a Harvard psychology professor who practices at Massachusetts General Hospital. The hospital's online MoodNetwork recruits patients with major depression and bipolar disorder for clinical studies, including a new one with the Boston-based artificial intelligence company Cogito. They are testing the ability of a mobile app called "Companion" to flag early signs of trouble by monitoring activities like patients' movement, calling and texting behavior, and the way they speak.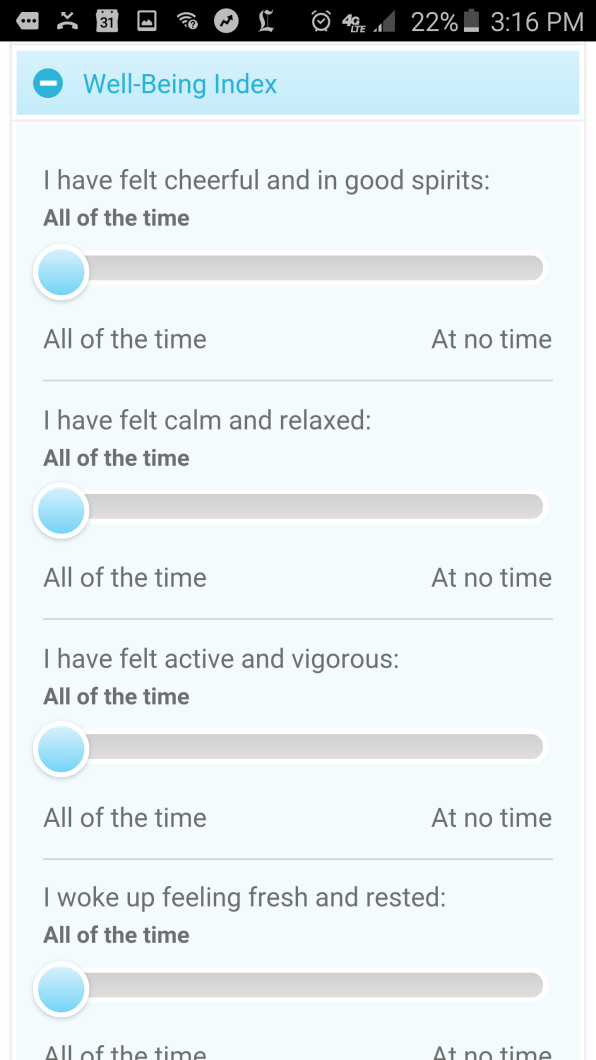 Such "passive monitoring" could be more reliable than asking patients to track their conditions by keeping a paper diary or answering questions in apps like DBSA Wellness Tracker. "By three months, many of these are not being used anymore," says David Ahern, another Harvard psychology professor, who directs the Behavioral Informatics and eHealth program at Brigham and Women's Hospital in Boston. Ahern is heading up another study of Companion focusing on whether the app can determine if people who come to the hospital's South Huntington clinic for any reason also have a mental illness that can be treated there.
It's no wonder that people fail to keep up with their ailments. Wellness Tracker, for instance, requires patients to answer six questions about their wellbeing (such as how often they feel calm and relaxed) and eight about lifestyle (i.e., levels of sleep and exercise) every day. It also recommends tracking 17 types of symptoms daily, or at least weekly, including levels of despair or aggressive behavior. "The sad part is, people are just not good at doing it," Deckersbach says. "They don't want to pay attention to their mood all the time."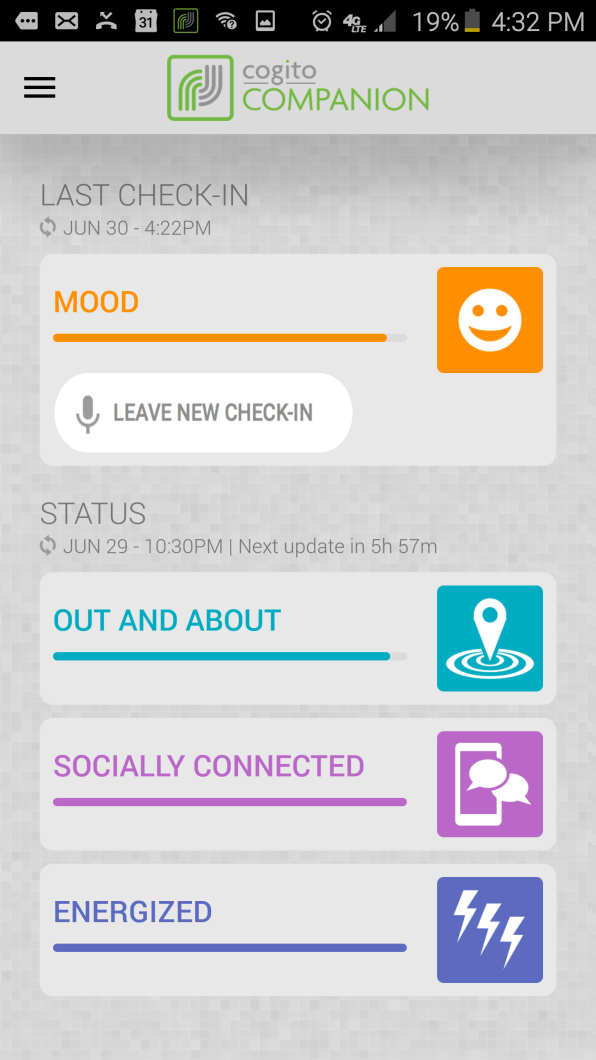 Smartphones, on the other hand, don't lose focus. And simply riding along in a pocket or purse gathers lots of information from the device's GPS, accelerometers, and call and text logs. How much people move around, a measure the Companion app calls "Out and About," is a proxy for whether the patient has interest in activity, one of the criteria for depression in the fifth edition of the Diagnostic and Statistical Manual of Mental Disorders. How energetically they move corresponds to the DSM-5's fatigue criteria. The app also tracks someone's calling and texting behavior (including the variety of people called) to get a sense of how socially connected they are, a criteria in diagnosing post-traumatic stress disorder, for instance. The only portion that requires work on the part of the subject is recording a daily audio diary ranging from 10 seconds to 10 minutes. Companion doesn't parse the wording, but rather judges a person's mood by analyzing tone, speaking rate, and what Cogito calls "vocal tenseness."
"Rather than asking somebody, 'Have you been getting out and about recently? Have you been socializing well? How's your fatigue? How's your mood over the last two weeks?', our approach is: Let's just measure it directly without asking people," says Cogito cofounder and CEO Josh Feast, who calls the app a "self-writing mood diary." Companion feeds this data into a dashboard application that doctors use to monitor all their patients. It also suggests to users if they should contact their doctor. "We're trying to figure out what is the right level that we can actually send a signal that we don't cause a false alarm," Deckersbach says.
Companion is one among dozens of mental health mobile apps like Breath2Relax, MoodKit, Pacifica, PTSD Coach, and Start. Several allow monitoring via a daily questionnaire. Some help people understand symptoms and treatment. Others walk patients through exercises like relaxation techniques. Many apps combine several tools. "A lot of the apps that have emerged may have a benefit, but we don't know that, because they haven't been studied," says Ahern.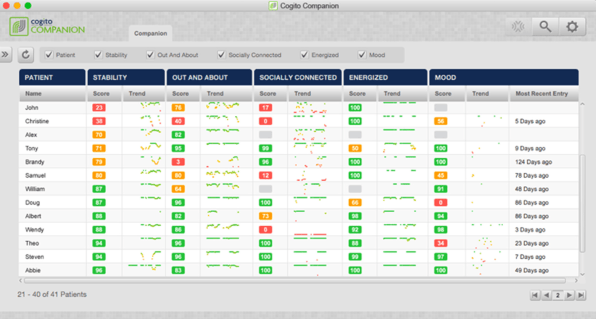 Ginger.io is another app on Ahern's short list. Like Companion, Ginger.io employs sensor data to infer a patient's condition. "They recognize the important role of doing the studies to make sure that the measures that are being collected have some relation to symptoms and measurement of an illness," says Ahern.
Ginger.io began in 2011 as a free tool that patients could set up to monitor symptoms and send alerts to their doctors as well as friends or family members if they are showing signs of crisis. In addition, over 40 health care services once used the app to help coordinate care. Ginger.io says that users have completed 1.4 million questionnaires in the app based on industry-standard mental health assessments. The company used a branch of AI called "machine learning" to correlate these results with sensor data, deriving rules to help predict how a patient is doing. Ginger.io has also participated in studies with the University of Pennsylvania, UC Davis, and Cincinnati Children's Hospital. One study with the Centerstone Research Institute focused on patients with both serious mental and physical illnesses and it reported that using the app cut emergency room visits by 20% and hospital admissions by 51%.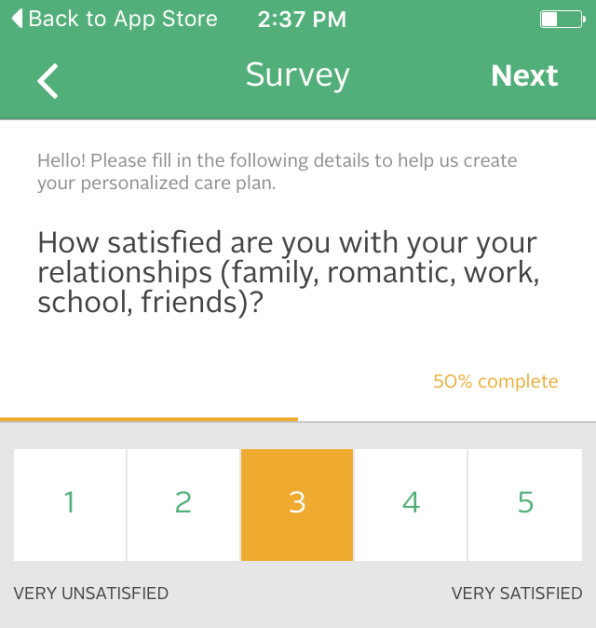 "What you do in order to make it a production-level system is you bring in machine learning," says Ginger.io cofounder and CEO Anmol Madan. "And you have to craft hundreds of features for an individual that can be captured every few minutes that go into algorithms that essentially try to predict an outcome."
The similarities between Cogito and Ginger.io are not coincidental. Both emerged from the MIT Media Lab's Human Dynamics research group under professor Sandy Pentland, who is a cofounder of Cogito and a board member of Ginger.io. The latter is firmly focused on health care; Cogito's business model for Companion may go beyond medical care, if its original software, called "Dialog," is any guide.
Developed in 2014 and funded by the U.S. military's Defense Advanced Research Projects Agency, Dialog analyzes a patient's voice for signs of distress and assesses how engaged both the patient and the clinician sound to help the caregiver build rapport. It's now used in patient call centers for health care providers, including Blue Cross/Blue Shield organizations, and the US Veterans Administration.
With funders including Salesforce Ventures and Romulus Capital, Cogito expanded to call-center software for clients outside health care, like Zurich Insurance. Analyzing how people are speaking helps the call center staff understand both how the customer feels and how they are coming across to the customers. Health care has been a springboard to raise money, says Feast, because venture capitalists typically won't fund basic R&D.
Health care provides plenty of room for Ginger.io to grow, says Madan. "Over the last few years, we realized that the opportunity was much, much bigger than we thought it was," he says. In April, Ginger.io pivoted, dropping its old health care clients, and became a provider in its own right. (Health giant Kaiser Permanente led its latest funding round.) It's beginning to offer paid subscriptions that provide unlimited chat with mental health counselors called "coaches," who monitor patients' progress.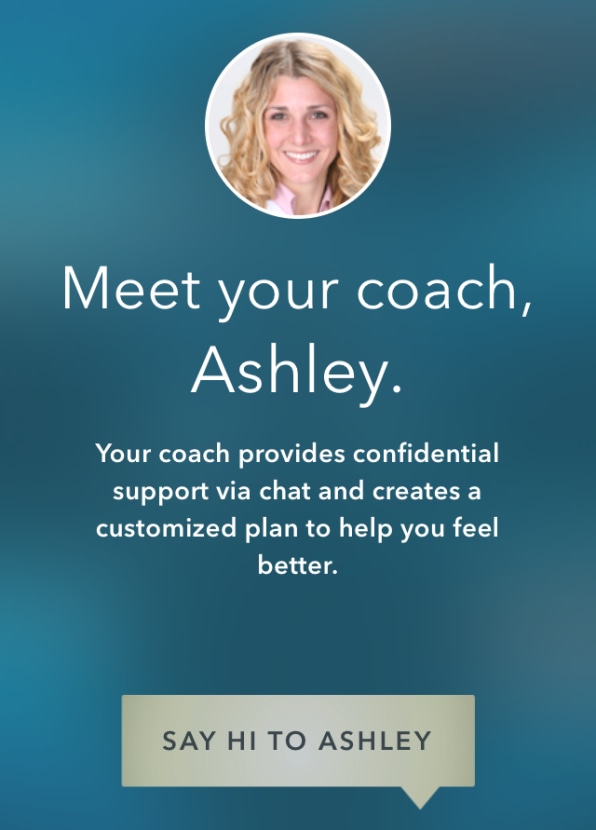 Ginger.io is also starting to offer 50-minute video appointments (currently just in California) with licensed psychiatrists and psychologists, making it something like Uber for mental health care. "This is a pretty big shift," says Madan, "to go from an app that understands you to an all-in-one full-stack solution." Subscriptions currently start at $129 per month, and doctor appointments are $99—a pretty good rate for uninsured patients. (These prices might change, however, according to Madan.) Ginger.io's docs are not currently in any health insurance provider networks.
"Part of the reason for this shift was we realized…how much of a gap there was in access," Madan says. AI still plays a role, for areas like tracking a patient's sleep patterns, but it's receded into the background as the company beefs up the human component. "Tech by itself only goes so far," Madan says. "We believe that access to high quality emotional and mental health care should be a human right. We didn't feel we could achieve that simply by being a technology vendor."
A previous version of this article misstated how many individuals have completed questionnaires for Ginger.io. We have updated the text to reflect that 1.4 million questionnaires have been filled out.