Silicon Valley is in a bit of a presidential bind.
The primaries are coming to a close, and there's no clear contender for who should trumpet the views of the technology industry. Tech companies are beginning to enter the political fray, but their issues–like immigration reform, net neutrality, and government surveillance–transcend political camps. While many tech entrepreneurs have been known to support Democrats (especially on social issues), this race has focused very little on the issues dear to the tech industry, causing some to wonder if there will be a fissure in party lines.
Some have called for a third party candidate to represent this cadre of business people. Indeed, Michael Bloomberg has toyed with the idea of running under a third party, and would likely garner many votes from the deep pockets of tech investors. Ultimately, he decided against a run in March. A new third party candidate has yet to emerge, so people are wondering if a vice presidential running mate could bridge the technology-culture divide.
Choosing the right running mate is the ultimate strategic decision. For this race specifically, says Middlebury College professor politics Matthew Dickinson, "the vice president choice is crucial." One big reason is that two contenders–Donald Trump and Bernie Sanders–portray themselves as relative political outsiders. Thus, they would likely want a running mate who exhibits some national governing experience.
When it comes to issue-based voters, like those who represent business and technology, this is doubly true. Many people in the technology industry are looking for people who represent their causes–be it immigration reform or freer markets–and are adept at getting things done. Trump, for instance, will need to pick someone who not only has the political experience he lacks, but who can rally the right-wing troops that balked at his candidacy. For the Democrats, there's an internal schism between the Clinton and Sanders camps, so a running mate would hopefully help mend that.
All this is to say that the vice presidential choice could bring on new voters and more endorsements, and some of the people with the deepest pockets are still searching for their candidate. Here are some potential contenders.
Trump's comments over his campaign have alienated the GOP establishment, leading many to say that he needs a running mate who could help smooth over the rough patches. His sweeping remarks about banning immigration, for example, have enraged many entrepreneurs hoping to bolster this issue to make it easier to give non-citizens visas to do technical labor. Trump's choice, then, could help him bridge this ideological gap.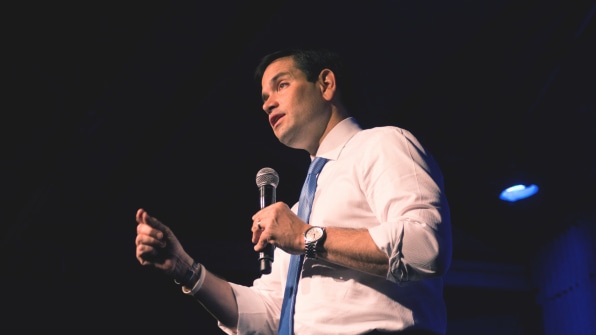 Marco Rubio
The most glaring choice for Trump is Marco Rubio. The Florida Senator, who went head to head with Trump for many months, is considered one of the most tech-friendly candidates out there. Indeed, according to data from the non-partisan political crowdfunding site Crowdpac, Oracle founder Larry Ellison made a $3 million donation to a super PAC that funneled most of the money to the Rubio campaign. Crowdpac political director Mason Harrison says that in terms of courting potential Silicon Valley votes, "Marco Rubio would be a wise pick."
In terms of money from Silicon Valley, Carly Fiorina comes in a close second. Well-known technology investor Peter Thiel donated $2 million to her campaign back when she was still in the race. But given that she joined forces with Ted Cruz to fight Trump, it's unlikely the Republican contender will pick her. Not to mention, Trump has said publicly that he wants to choose a running mate with real governing experience, which Fiorina lacks.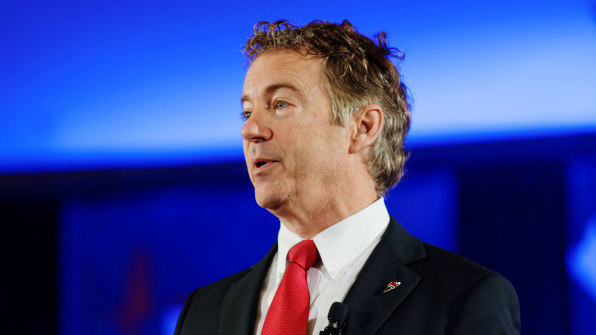 Rand Paul
With that in mind, there's another possible choice: Kentucky Senator Rand Paul. The reason why Paul could be a good choice is that he took a strong stance against government surveillance, which landed him support from companies like Google and Apple. Given that a lot of the tech vote is issue-based, having Paul on a ballot could help bring on some undecided votes. All the same, Paul has yet to support Trump, so it's unlikely the two would be matched to run together.
On the Democratic side, it's a wholly different situation. Most glaring is the fact that neither Hillary Clinton nor Bernie Sanders seem to be working to specifically court the tech vote. This, according to Harrison, is because historically people in the tech scene have supported Democratic candidates. "Most Democrats wouldn't see an immediate need to reach out to Silicon Valley," he says.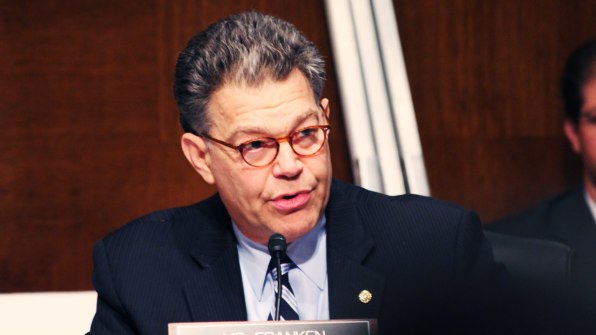 Al Franken
That being said, there are a few people who do stand out. Senator Al Franken has shown up on a few short lists picks. Franken is the chairman of the Judiciary Subcommittee on Privacy, Technology, and the Law. Though he advocates for greater consumer privacy, he is a candidate who is well versed on technology issues, meaning he could be a good strong VP candidate.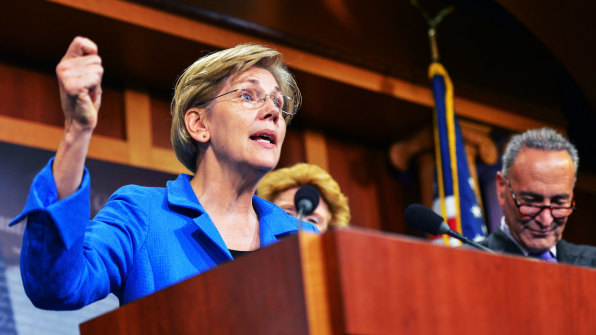 Elizabeth Warren?
As for others, it's unclear. As Harrison said, the tech vote isn't at the top of the Democrat's priorities. While it would be smart to pick someone whose policies align somewhat with the entrepreneur and Silicon Valley ethos, no candidate has emerged with exactly those views in mind. Massachusetts Senator Elizabeth Warren's name has come up as a potential running mate, as she represents a progressiveness similar to Sanders. She has worked ardently for higher education reform, which could be amenable to some executives hoping to pave the way for new talent.
Other names like Labor Secretary Thomas Perez and Virginia Senator Tim Kaine have been thrown around, but their issues have never really impacted Silicon Valley sector.
Ultimately, both parties need to pick running mates that wear many hats. Technology leaders are still reticent to make up their mind, but they are slowly falling into place. The VP pick could greatly impact that. Will the choice–or even a resounding Silicon Valley endorsement–greatly effect the outcome? That's still up for debate.
But if the candidates choose wisely, some pretty rich people could end up making some pretty hefty political contributions.