On the surface, Lifeline is pure entertainment—a tense, intriguing 30-minute thriller starring Wang Leehom, Olivia Munn, and Joan Chen that finds a Chinese man using his American girlfriend's smartphone to track her down after she goes missing in Shanghai. But the short film, written and directed by Oscar winner Armando Bo, was actually conceived by Ogilvy & Mather North America not only to entertain, but also to make consumers aware of smartphones powered by Qualcomm's Snapdragon 820 chipset.
Aimed at a mass audience in both China and the United States—the dialogue spoken in Lifeline is 70% Mandarin, 30% English—as well as the United Kingdom, India, and Brazil, the idea for the film was born last year after Qualcomm presented Ogilvy with a brief titled "The Anti-Mediocrity Brief." "The business challenge we have and that we really threw at Ogilvy was that we're in just about every smartphone that's out there, but we're not broadly known to be in there," explains Tim McDonough, Qualcomm's senior vice president of global marketing. "We wanted mass market consumers to know that when there is Qualcomm technology—a Snapdragon processor—inside, that the phone's going to be better."
Ogilvy came back to Qualcomm with the classic product demo reimagined in a unique way—a content and social play in the form of Lifeline. "What we came back with was completely unexpected," says Mark Himmelsbach, president of content and social at Ogilvy. "They expected great TV, great print, great digital, but not necessarily a whole content and social play that would encapsulate all of their media and all of their creative for the year."
McDonough and his colleagues at Qualcomm, which had previously relied on more traditional means of advertising, were game to try something new and invest in a high-caliber production. "If you look at the cost of building a chip, it can be in the hundreds of millions of dollars or more. For most companies, whether it's building out a factory or creating a new formula, those are massive, massive investments. The spend in marketing in comparison is quite small in terms of what it takes to try something new and test it," McDonough says. "Innovative product companies also ought to have marketing that's as innovative as what they build."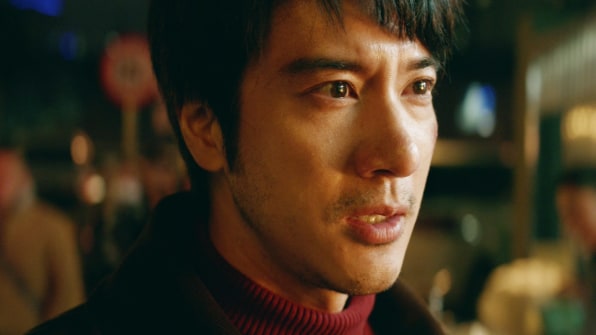 Once Ogilvy got the go-ahead to proceed, the agency sought a production partner with Hollywood chops. "Right off the bat, we knew we needed to work with a partner, a production partner who knew both worlds, who knew both the entertainment world and the advertising world," says Teddy Lynn, chief creative officer of content and social at Ogilvy. "There is traditionally lots of talk about people wanting to play in each world, but people's incentives and motivations can be a little different. I've had a long career trying to align them."
After speaking with a few production companies, the agency went with Anonymous Content, the Los Angeles-based shop behind films like the Oscar winner The Revenant, TV shows like Mr. Robot, as well as a long history in commercials and branded content, too. "We got an immediate response from [executive producer] Steve Golin, not the salesperson, not from a rep, but from Steve Golin saying, 'We have to do this. We can bring exactly what you want us to bring here, which is a sensitivity to a brand but from a world-leading entertainment creator,'" Lynn says. Anonymous Content put together a team that included Bo as writer and director, and frequent Spike Jonze collaborator Vincent Landay as producer, whose credits include Her and Where the Wild Things Are.
Bo tells Co.Create he was interested in working on the project because of the unique format as well as the desire of everyone involved to make a real thriller. "I've been saying for years, 'Why don't more brands do things like this?' People are already aware of commercials," Bo says. "This kind of project allows you to say what you need to say but in a subtle way—telling a story and doing something that is a lot more interesting."
The writer and director, who has plenty of experience directing spots and owns commercial production company Rebolucion in his native Argentina, likes to maintain a presence in both advertising and entertainment. "I think that is a great model—doing stuff that is different and keeps you busy," he says, noting good work is good work, no matter what the medium.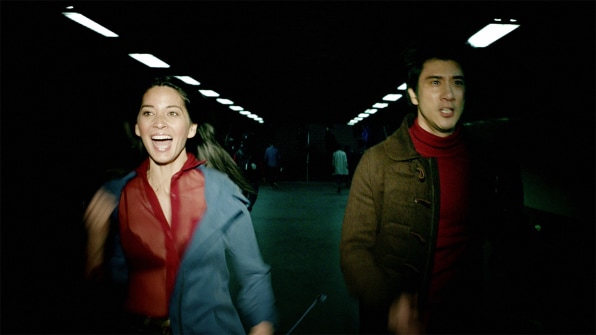 While the agency provided the premise for Lifeline, Bo was given the opportunity to take it and run. "There was a very simple story that I had originally pitched," Lynn says. "That was that a young man wakes up in his home in Shanghai and his American girlfriend has vanished, and all that's left behind is her phone. He has to use that phone to figure out what happened."
After mulling over the premise and having a few conversations with Lynn, Bo started sending treatments to the creative team. "He'd send us a treatment that was about five or six pages of prose, bits of the story, and me and my team read it and gave thoughts on it. We went back and forth on the treatments for a few weeks until we were really comfortable, and the client was really comfortable before we went to script," Lynn says. "We did not write a single line of dialogue. That was entirely Armando."
It wasn't difficult to make a smartphone credible to the story, according to Bo. "The phone solves problems, and it brings us problems. It has a lot of context in our lives," he says, noting the Qualcomm chip nestled inside the phone and enabling everything from advanced security features to quick battery charging is the real hero of the film. "The chip is the phone's brain, and that's why we wanted to do a psychological thriller. We're getting inside the head of this guy and playing with his reality."
As we see in the film, the lead character is tortured by the sudden disappearance of his girlfriend and also stunned at what he learns about her through her smartphone. "He is discovering she had a second personality or life through her phone," Bo says. "I think that everybody has a second personality in their phone."
Bo shot the action-packed Lifeline in Shanghai, where locations ranged from a boat to a modern office building to the subway. His crew was made up of long-time colleagues from Argentina as well as the U.S. and China. Shooting in China was exciting and worthwhile, Bo says, but it was complicated due to everything from language issues to rules and regulations.
Then there was the hysteria surrounding Leehom. "In America, I don't know if so many people know him, but in China, he's a huge star," Bo says. When Shangai's locals realized he was in the film, they amassed. Dozens of security people were hired to control the mobs, and fans actually fainted at the sight of the actor.
While Leehom's star power will draw the Chinese to watch Lifeline, which will be shared in China on iQIYI, a leading video entertainment platform, viewers in the rest of the world, including the U.S., will be able to watch the film on YouTube. Those involved with the project, from the cast to the partners, plan to get the word out via social media.
A mini-documentary titled Inside Lifeline follows the film, providing insight on the production from Bo and others on the creative team, as well as more information on Qualcomm technology from company experts. "These two pieces of film have to live together. Without them, it's not a campaign. Without them, it's more of a stunt or a one-off," Lynn says, "but together they actually market the product."