Despite the persistent gender wage gap that affects most women in the global workforce, women control an increasingly greater portion of the world's wealth. Sixty-two percent of women who took part in a global survey for The Center for Talent Innovation identify themselves as the primary source of household investable assets. In the U.S., 75% of these women under 40 don't have a financial adviser, which the survey found could amount to more than $5 trillion in assets "left on the table."
It's not just an enormous market opportunity for the financial industry, it's the warning bell for a potential crisis for working women, according to Sallie Krawcheck. The cofounder and CEO of Ellevest (who is also a contributor for Fast Company) says that this vast portion of underleveraged capital could be the reason more women can't start their own businesses, create opportunities for their families, or worse, retire securely.
"The gender investing gap costs women hundreds of thousands, in some cases, millions of dollars," she says. Part of the problem, according to Krawcheck, is that financial advising is a mostly male domain. According to the Certified Financial Planner Board of Standards, only 23% of financial planning professionals are women. Krawcheck says that the lopsided gender makeup of the industry has perpetuated the myths around women and money, including that women aren't good at math and need more financial education to invest. "Those are red herrings," Krawcheck argues. "Everyone needs more financial education."
Then there are the cultural differences in investing. Women tend to think about life goals that can be achieved with money, rather than amassing wealth as the end goal itself, notes Krawcheck. She also points out that investing parlance often leans toward battle analogies such as "beating the market." Women aren't interested in outperforming the market, Krawcheck maintains, and they didn't necessarily need a female financial adviser, just someone (or some instrument) they can trust. And so the idea for Ellevest was born.
Krawcheck points out that she had no interest in "shrinking and pinking" a more male-oriented investment platform, nor did she want to push content without products or investing capabilities. While they were still in testing mode, Krawcheck admits she fell prey to unconscious bias about women, too.
"I started with several really stupid ideas," she says, ruefully. She first thought that women wanted the platform to guide them through an emotional journey to discover how they felt about money. She also thought that women would want to be part of a larger network and share their investing experience. "They didn't," she says.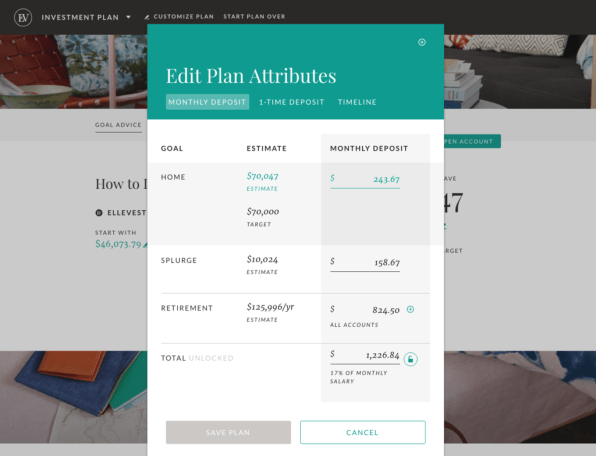 After some trial and error, the resulting platform that has been in private beta since the end of February offers women and a few men the ability to build their own interactive financial plan based on specific goals such as saving for retirement, or starting a business, or a once-in-a-lifetime splurge. Ellevest's proprietary algorithms take into account salary projections and life expectancy, among other factors, then offer guidance on how much needs to be invested to meet each goal.
The user's customized portfolio is built on investing in a diversified set of exchange-traded funds (ETFs) that trade like common stock but have higher liquidity and lower fees than mutual funds.
Krawcheck explains that because women tend to be more risk-averse than men, "We actively monitor and adjust," says Krawcheck, "and the risk gets lower as she gets older."
While such risk adjustment is pretty standard, Ellevest's customization across 21 different asset classes isn't as common. Most online advisers don't diversify across that many. However, Ellevest does the selecting, says Krawcheck, because based on her team's hundreds of hours of research with women, they found, "If [the woman] has to pick, she's not going to do it."
The cost is also lower than what a traditional financial adviser charges. It's common to see an annual fee of 1.5% of the assets under management, but Ellevest only takes 0.5% of assets under management (which includes an asset allocation fee) with no minimum investment needed. For example, Ellevest's fee for a $10,000 portfolio would be $50 per year. Krawcheck points out that anyone can go through Ellevest's planning process for free, even if they never invest a nickel.
The platform also offers guidance on existing outside investments such as 401(k)s or IRAs, but right now, there is no option to roll those over into Ellevest. Krawcheck says that is coming as Ellevest continues to grow.
Initially, Ellevest invited 800 women to participate, and have been accepting more members in batches over the past few months. When asked what the return on investment has been for the initial group of investors, Krawcheck says she doesn't know, in part because it's been such a short time. But it's also because portfolio performance versus the market simply doesn't come up for these investors.
Anyone can outperform the market and declare victory," she says, "and the individual does not reach their goal." At Ellevest, says Krawcheck, "This is a change in thinking. Let's throw out what's being done, because we know it's not working for her."
CORRECTION: The original article indicated that there was no fee for asset allocation. Ellevest's fee includes that.