The Danish-born practitioner, who turned 100 on May 8, is one of the last living icons who shaped the movement we call midcentury modernism. The son of an architect, Risom arrived in the U.S. fresh out of school in 1938. He worked at an interior design firm before casting off on his own. While freelancing, he met Hans Knoll, and the two began collaborating on furniture and interiors projects. Working alongside Knoll, Risom eventually became the company's first designer, creating 15 of the 20 pieces in Knoll's first furniture collection from 1942. One of his most famous pieces is a lounge chair featuring a frame made from wood scraps, with a seat and back woven from nylon straps rejected from a parachute producer. The chair's lean nature was borne from the scarcity of resources during World War II, and showcased Risom's inventiveness.
After Knoll, Risom founded his own company and created everything you'd need to furnish a home, including upholstered sofas, case goods, tables, chairs, and desks. A testament to his breadth, he even designed a prefab beach house for his family that was covered in Life magazine in 1967.
Risom is still working today. Last year, he released a series of case goods in collaboration with the Atlanta-based designer Chris Hardy and recently worked with Design Within Reach to reissue a piece from one of his first collections, the T.710 table (which is on sale for $100 from May 8–15 in honor of his 100th birthday).
We sent a few questions to Risom via email about adapting the design, the popularity of midcentury modernism, and of course, appearing in the design-geekiest spread in Playboy history.
On the enduring popularity of midcentury design:
"First of all, I am not sure that all midcentury designs were all that great but the ones that remain I think are elegant, clean, simple, creative, and functional. The combination of form and function was essential and each designer had their own designs, their own vision, and their tremendous passion for what they were doing."
On still designing new pieces today:
"I have been lucky to work with people like Chris Hardy and DWR to keep designing. It has been very nice."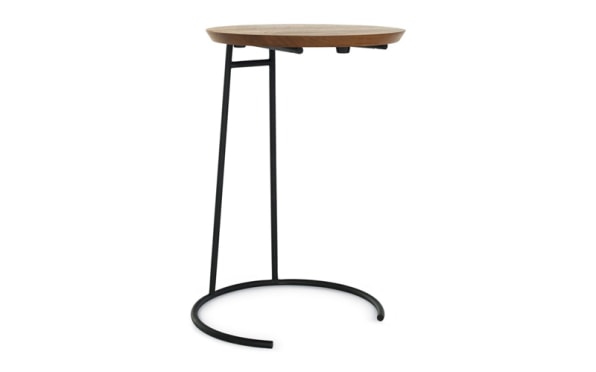 On appearing in a Playboy spread alongside George Nelson, Edward Wormley, Eero Saarinen, Harry Bertoia, and Charles Eames:
"It was a great group and a lot of fun."
On reviving the T.710, which originally was produced in 1950:
"I wanted the T.710 to be clean, striking, affordable, and elegant. It was one of the only times that I worked with metal then as I really focused on wood. We kept the design the same although we looked at some different edge treatments–all relatively small but I wanted it to feel right. While some of the production processes were updated based on the manufacturer–like bending the metal–the design is the same. We used the original tables as the model."
On what he's most proud of in his body of work:
"I am as proud of the different designs as I am about how we thought through the total process, from quality control to operations. For example, when we designed case pieces, we did it so that we could make many common pieces (bases, drawers, etc.) and be able to exchange them amongst different designs. The goal was to increase quality and reduce costs."
On the state of contemporary Scandinavian design:
"I am 100 years old–not sure."
All Images (unless otherwise noted): via Knoll