Most companies offering tuition reimbursement typically provide employees about $1,000 a calendar year to pay for college. Yet, the average four-year public college costs more than $9,000 a year.
At Starbucks and JetBlue, management decided tuition reimbursement wasn't enough to encourage their employees to earn a degree. Both companies found that many of their employees had tried college but weren't able to complete their degree because of the expense or time involved in taking and completing coursework.
The barriers to higher education are familiar to many. More than 31 million U.S. students have taken some college courses but haven't earned a degree or certificate, according to the National Student Clearinghouse Research Center. Meanwhile, 71% of those earning a bachelor's degree incur an average debt of $29,400, according to the White House.
Instead of offering a traditional reimbursement program, Starbucks and JetBlue each partnered with a different public college to create unique programs that essentially pay for their employee's college degree. Traditional tuition reimbursement is a huge expense with very little return on investment, says Bonny Simi, a JetBlue pilot and president of JetBlue Technology Ventures. In fact, Starbucks provided its employees a traditional tuition reimbursement program until June 2014 that offered up to $1,000 a year to cover tuition, books and fees, but found it didn't provide employees enough incentive, says Adrienne Gemperle, Starbucks' senior vice president of global partner resources operations.
JetBlue worked with Thomas Edison State University in Trenton, New Jersey, to create the JetBlue Scholars Program, which allows any JetBlue employee with two years of service and at least 15 prior college credits earned from an accredited two- or four-year college to earn a college degree in business, aviation, liberal studies, or IT. Employees with military service, as well as pilots or mechanics with an FAA license qualify for this program, too.
The program helps employees to convert their aviation and military training, and other professional certificates, into college credits, often reducing the time to complete a bachelor's degree in half, Simi says. Training and licenses in the fields of medicine, first response (emergency medical technician, paramedic, police and fire), human resources, information technology, and military training are also typically eligible for some college credit, she says.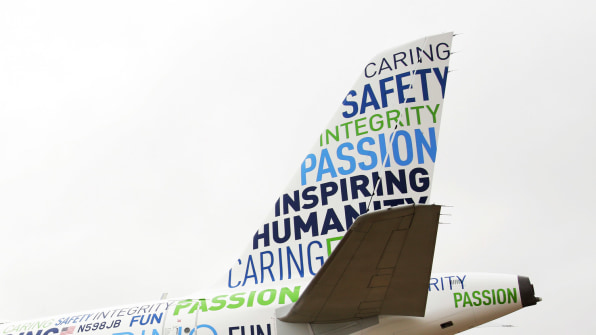 Employees complete their remaining required course work for free through three online platforms–Sophia.org, StraighterLine.com and Study.com. These courses are reviewed and recommended for college credit by the American Council on Education, Simi says. After earning 114 to 117 of the required 120 credits to graduate, employees earn their final three to six credits through TESU's online program and receive a degree from TESU.
Employees pay for their final credits at TESU, which can cost up to $3,500, Simi says. However, she adds, all U.S. employees are encouraged to apply for a Pell Grant and a JetBlue scholarship to cover this cost, if they have financial need. Currently, more than 400 employees are enrolled in JetBlue's program, which started in January. More than 50 are expected to graduate with a college degree from TESU in September.
Employees who don't have the required 15 credits are encouraged to attend a community college first or pass the College Level Examination Program (CLEP), and then apply for the JetBlue program, Simi says. "We want them to have some understanding of college," Simi says. "This program is purposely designed for self-directed adults."
Starbucks partnered with Arizona State University to create the Starbucks College Achievement Plan. All U.S.-based, benefits-eligible Starbucks employees who do not yet have a bachelor's degree, are eligible to apply. No prior college credits are required and employees can choose from more than 60 majors, Gemperle says.
ASU gives each student enrolled in the program a scholarship that covers 42% of the costs, Gemperle says. All students are encouraged to apply for a Pell Grant and other financial aid. Any remaining fees are reimbursed by Starbucks at the completion of the program, Gemperle says.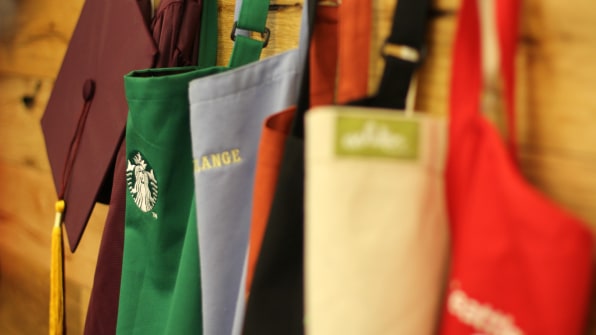 "We wanted to reduce the financial barriers to access but we also wanted employees to have financial stake in completing their education," says Gemperle. Many employees take out student loans to pay the remaining tuition, she says, but that money is reimbursed when the student completes their course. Originally when the program began in 2014, only juniors and seniors were eligible for full tuition payment but Starbucks expanded the program to all four years of college in April 2015, Gemperle says.
More than 5,000 employees are currently participating in the program and 120 are expected to graduate in May with 30 traveling to Tempe, Arizona, to receive their diploma during ASU's graduation ceremony, Gemperle says.
Since Starbucks started paying for its employees' college degrees in 2014, the company has seen an increase in employee retention and promotion for participating employees. The retention rate of employees participating in the college program is twice as high as employees who aren't in the program, Gemperle says, and the promotion rate of participating employees is four times that of nonparticipants. The program is also helping Starbucks to attract new hires, Gemperle says, as 60% of all new hires express an interest in the program.
JetBlue started its college program in January in response to employees requesting tuition reimbursement each year during its annual employee engagement survey, Simi says. The survey is conducted each October and last year, Simi says, satisfaction with career growth and development went up two points after being flat for many years. The survey, she says, coincided with JetBlue announcing a beta test of its college program. Anecdotally, many program participants have said the college program is one reason they have remained at JetBlue, Simi says.
Although these programs offer employers the benefit of a more knowledgeable and satisfied staff, experts don't expect this to become a widely available benefit at other companies. Instead, it might be offered by "a small subset of companies that have always been more progressive in treating employees well," says Christy Johnson, CEO and founder of Artemis Connection, a consulting firm that helps companies create holistic talent solutions. "The vast majority of companies will just see it as an additional cost and will not offer it unless a critical mass does."
Romy Newman, cofounder of company review site FairyGodBoss, agrees that this type of employee benefit isn't likely to become the norm for most companies. "These employers are addressing a specific need their employees had and a specific concern they had about employee churn," she says. While a handful of forward-thinking employers might offer similar programs, she says it's unlikely that every company will jump onboard.