Any architectural tour of Europe has to include a trip to Budapest's Great Boulevard–or Nagykörút–built in 1896 to celebrate Hungary's 1,000th anniversary as a country. The Great Boulevard's spectacular reputation is owed, at least in part, to the beauty of the 100-plus-year-old apartment buildings that line it on each side.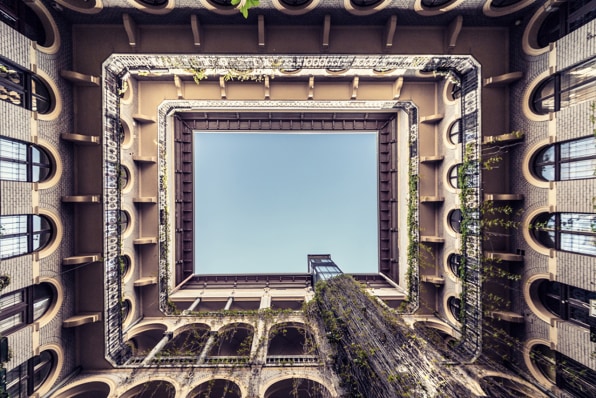 As impressive as the facades of these buildings are, some of their best details are located in their interior courtyards. These are the subjects of the work of Hungarian photographer Zsolt Hlinka, who shoots the buildings in these courtyards as tunnels leading to the sky, contrasting the "geometric, sealed networks of architectural forms and the unsubstantial, infinite space of the sky."
According to Hlinka, the photos were all taken over the course of a single weekend. He took advantage of a boulevard-wide Open Houses program to go past these buildings' normally inaccessible front doors and take his shots. He says he was attracted to this particular perspective on Budapest's architecture because of its innate geometries and symmetries–and because he wants to encourage people to take better notice of their surroundings.
"I just want to show that Budapest is beautiful," he says. "People doesn't look up in general, just hurry around all day all day. If they spent just a little time to look around, or look up, they might realize all the simple but wonderful beauty that surrounds them."