How often do you visit your doctor's office? Three, four times per year? For most of us, our health is really about what happens between these visits: It's the medications we take, our changing moods, or that decision to hit the gym more regularly.
Apple sees a huge opportunity to connect patients, doctors, and caregivers using mobile technology. Its flagship devices, such as iPhone and Apple Watch, are continuously collecting health information using sensor-based technology. But the next step is to bring this data into the hands of a care team, including doctors, nurses, health coaches, and caregivers.
Apple's CareKit service, which is available today via Github's open source community, is designed to make it easier for developers to do just that. Developers can use CareKit to help patients collect health data, manage their symptoms, and share a report with their care team–all via a mobile phone.
The iPhone maker has kept CareKit under wraps since the service was unveiled in March. But its CareKit team has been quietly working with three startups that received early access to the code: One Drop, an app for diabetes management; Glow, maker of reproductive health apps; and Iodine, a medication management app for people with depression. The Cleveland Clinic is building an app for patients with respiratory conditions such as asthma, which will be available in the coming days.
"We had about a month to play with CareKit," says Iodine founder and CEO Thomas Goetz. "It has been especially helpful for us to slot in important context in a way that makes sense to patients, like our trend data on what they can expect from an antidepressant."
Goetz says his team opted to rip and replace its existing code in cases where they preferred the CareKit user experience. One example is a particularly nifty module called Connect, which makes it easy for patients to share a PDF health report via fax, email, or SMS.
Developers using CareKit can take a pick 'n' mix approach to their development. The software framework includes four modules, which were designed by Apple's team with the following use cases in mind: administering a care plan, measuring symptoms, laying out insights via a dashboard to help judge whether treatments are working, and sharing health reports.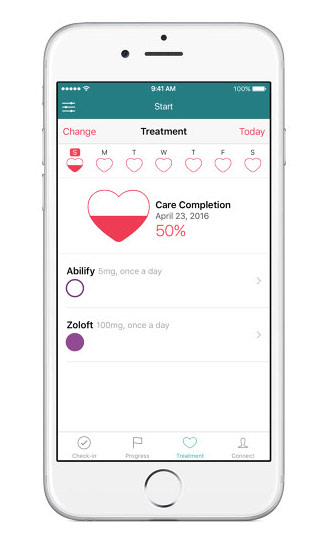 For some hospitals, the premise behind CareKit is nothing new. Tech-savvy health systems such as Ochsner in New Orleans have even hired dedicated teams to track patients' symptoms once they leave the hospital via data from blood pressure cuffs, iPhones, wireless weight scales, and smartwatches. A suspicious event like a rapid weight gain might trigger a doctor or nurse to reach out to the patient and check in. In turn, their patients are using mobile technology to gather evidence about their symptoms to share with a specialist.
A handful of developers have also been playing with mobile care plans for several years, including Glow. But they see CareKit as a new and improved user experience for iOS. "What CareKit can help us with is to facilitate a productive conversation between the consumer and the health care provider," says Jennifer Tye, the head of marketing at Glow, maker of four apps for women's health.
But not every app maker will have much experience with health care, and that might result in a whole new set of challenges.
Unlike ResearchKit, CareKit is not restricted to medical researchers with review board approvals. A teenage coder could use it to build an app to track a chronically ill parent's symptoms, such as the length of an epileptic seizure or the severity of a hand tremor.
On the one hand, it would be inspiring to see young developers hacking together these kinds of apps. But will they ensure that patient privacy is protected, especially when they share patients' sensitive data with a third party? Apple is not taking a watchdog approach to mobile health, aside from the typical review process before an app is approved for the App Store.
You might be wondering how Apple can expect hospitals to make an investment in caring for their patients remotely. Why should they care once the patient has been discharged?
More hospitals are exploring the potential of mobile health in the aftermath of a policy shift toward value-based care, meaning payment based on outcomes and not pricey procedures. Recent health care reforms have put hospitals under the gun to ensure that patients don't end up right back in the emergency room 30 days after they're discharged. Some health systems have responded by sending nurses to a patient's home, which is expensive.
So it wouldn't be surprising to see hospital development teams flocking to CareKit in the coming weeks. But it still remains to be seen whether these apps will integrate effectively with clinician workflow, which is essential to their success. Doctors are already overwhelmed with incumbent technology, and many harbor fears about medical liability if they accept more data from patients. It's easy to miss something in a weekly report.
It also will be important for Apple's CareKit to integrate with major electronic health record systems such as Epic Systems and Cerner, to make it easier for doctors to review CareKit reports within a patient's medical record, which includes medical history, prescriptions, and more.
But challenges aside, many health insiders have praised Apple's partnership-driven approach. "No company is going to solve the problems of health care tomorrow," says primary care doctor Jordan Shlain, who has advised Apple in the past. "Apple is helping facilitate rapid prototyping, so we can figure out what works and what doesn't in this broken, high-regulated system."