San Francisco's insane rents have squeezed artists and galleries out of spaces that, in some cases, they've rented for decades. But a new business found a clever way to help art stay in the city: a complex of art studios and galleries will be subsidized by on-site, high-end art storage for rich collectors.
"The Bay Area, and San Francisco specifically, was in real and serious danger of losing a large part of its cultural capital," says Deborah Rappaport, who founded the Minnesota Street Project with her husband, venture capitalist Andy Rappaport. "That was just not okay."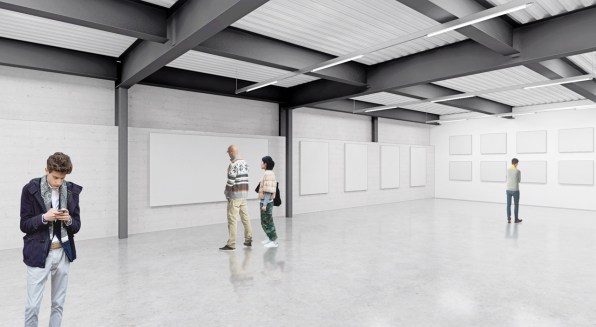 The Rappaports are philanthropists, but they wanted to solve the problem with a self-sustaining business not donations. All profits from their services for collectors will keep rents low for everyone else –32 permanent artists, dozens of visiting artists, 10 art galleries, and an arts education nonprofit.
As collectors themselves, they realized that they could offer a different kind of service for other collectors. "We can offer a smaller, more personalized program to folks, that they'll pay for, and the profits from that business can then help support the whole rest of the business," she says. "It's like a business that has several lines: This is our luxury line, and it supports the discount line."
Built in old warehouses in the city's Dogpatch neighborhood, the complex was also able to keep costs lower because it's in an area that's zoned for light industry. Art businesses qualified, but some other types of businesses, or apartments, might not.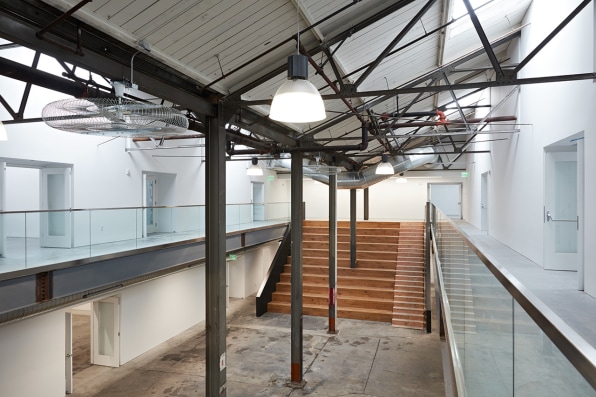 "That means that we could come in, we could identify spaces that would work for us, and we were not in most cases having to complete against people who wanted to re-entitle those spaces for residential or office use," says Rappaport. "Which doesn't mean it was inexpensive, but it does mean it wasn't as crazy as it could have been."
The design of the new studios and galleries also helps make things more affordable. When the art studios open in June, artists will share access to a wood shop, kiln, a printing lab, space to stretch canvases, and room for other things that take a lot of room but artists don't need to do all the time. That meant the studios themselves can be smaller. Galleries share kitchen space, restrooms, and a packing and shipping room for art.
"In a standalone gallery, all of those things take up space–that the gallerist has to pay for," she says.
The complex will also make money by offering a couple of art studios to companies that want to send an employee to be surrounded by working artists. The first tenant will be Adobe. "They're paying a premium to be there, because that's one of the things that we're using to help keep the studio prices as low as we can to the artists," Rappaport says.
It doesn't solve one major problem: Artists and people working in galleries still need to be able to afford a place to live, in a city where an average one-bedroom apartment goes for close to $4,000. While Rappaport is involved in other efforts to help artists get more access to live-work space, the bureaucracy involved in that process takes time.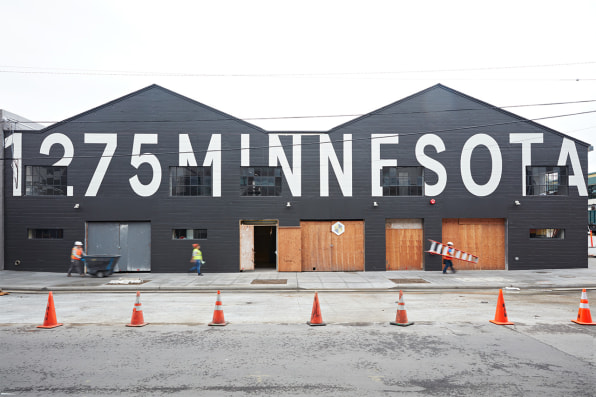 "We needed to do this fast," she says. "We were losing folks. And the thing that we could do quickly was studios, which we understand doesn't solve the housing problem, but at least possibly makes the artists' costs of doing business a little bit lower."
The first art galleries opened in March, and the rest of the spaces will open throughout 2016. It's already inspiring people in other cities, like New Haven, that are also struggling to retain artists. Others in San Francisco are also considering building similar businesses in the same neighborhood.
"We've been as transparent as possible about how we have done this, and that has led at least some other people to say 'Huh, we could take our slice of this problem, the part that we have some passion around, and we could maybe figure out a different way to solve it'–in a for-profit model and not a nonprofit model," she says. "And that's been really gratifying."
Photos: Minnesota Street Project. Renderings: Jensen Architects