Virtual reality is steadily spilling over into the design industry and is already changing how we create. The technology's potential (and its limitations) for designers is what spurred the architecture firm NBBJ to collaborate with the startup Visual Vocal. Together, the two companies are building a virtual reality platform for architects, designed to make it easier to collaborate and make decisions about projects.
In the architectural realm, one of the biggest challenges is getting feedback from clients and integrating that into a workable design. Take a project at the scale of Samsung's new Silicon Valley campus, which NBBJ designed. It involved dozens of people, all with varying fluency in architecture. Just getting everyone in a meeting to discuss one of likely hundreds of design decisions is time consuming and difficult. Plus, using visual devices like renderings, floor plans, and models isn't always an effective way to convey spaces.
Enter virtual reality, a technology that offers people the experience of being in a 3-D environment.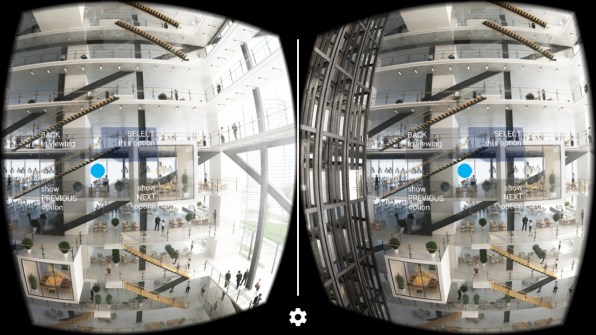 While using virtual reality as an architectural presentation tool is gaining steam, what NBBJ and Visual Vocal realized was there wasn't an effective way to integrate it with existing workflows. You could create a beautiful model, but how do you get that model to clients? How do clients interact with the model? How do you take what you learned from showing a client a VR model and incorporate that into the design? NBBJ decided to incubate its own tool to help fill those gaps.
"I'm a big believer in the transformative potential of these immersive augmented reality systems," John SanGiovanni, one of Visual Vocal's cofounders and a Microsoft Research alum, says. "What we're interested in is, how do we use this as a tool for productivity and communication? A lot of the buzz you see about VR, in my opinion, is by geeks for geeks. There's a huge opportunity to use it as a tool for communication and collaboration particularly in domains that live and breathe around 3-D data sets, like architecture, construction, aerospace, and molecular biology."
Visual Vocal is a cloud-based platform that wants to democratize VR hardware by using your phone as the computer, rather than an expensive headset with a processor. Its developers figured that smartphone technology has become so advanced that it can already support VR-quality graphics, and since they're usually outfitted with accelerometers to detect motion, users don't really need separate controllers to navigate through a 3-D space. Plus, VR viewers like Google Cardboard are cheap and easy to get. With just a phone, an app, and a viewer, anyone could easily view a virtual environment from anywhere in the world–no need to invest in an expensive Samsung Gear VR headset or Oculus Rift.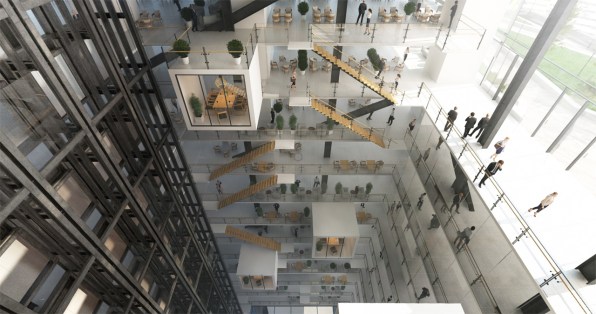 Architects are already designing in 3-D, so it's a natural transition to VR-based presentations. To use the tool, architects program their model with the options stakeholders need to address a project decision. In the scenario I tested, which was based on a real NBBJ project, it was deciding what kind of cross-bracing should be used for an open atrium.
As I viewed the 3-D model–through a pair of foldable lenses that snapped onto the side of an iPhone and cost about $15–orange points lit up across the model, indicating areas where action was needed. Once I zeroed in on a point, the corners of the touch screen turned into controllers that let me cycle through the different design options for the cross-bracing and eventually select the one I wanted. NBBJ and Visual Vocal imagine this type of scenario happening with dozens of people involved. Once stakeholders make their choices, they go into the platform and the architects can see who made what choice, which choices ended up being the most popular, and, thanks to the app's voice annotation, why.
"We're at the threshold of an opportunity to redefine, elevate, and innovate the way design is understood and how stakeholders and public approve, affect, and co-design projects," Steve McConnell, managing partner of NBBJ says. "VR opens a big door to enable new kinds of dynamic and exciting interactions."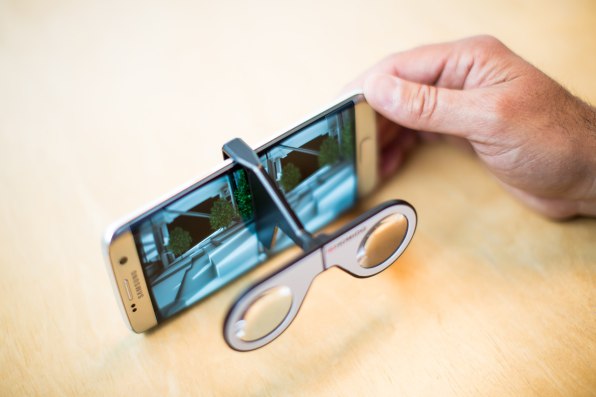 NBBJ invested resources–both money and expertise–into Visual Vocal's development, and will be the first architectural firm to use the platform, but it will be available to other companies beginning this fall. Considering that the firm's biggest clients–Samsung, Google, and Microsoft–are all major players in the VR space, developing the app was a savvy move since the firm can speak to them in technology they understand.
But to McConnell, it's not just about technology for technologists, it's about bringing more people into the design conversation. "It begins with the essential need to keep innovating what we do," McConnell says. "It's about the ease and ability for clients to understand the worlds we create."
"Clients don't want to be emailed a PDF of design options–they want to be immersed," SanGiovanni says.
In addition to communicating the environments its designers create more effectively, NBBJ hopes this will cut down on one of the biggest resource investments in projects: time. Instead of trying to wrangle multiple people who may or may not be in the same time zone, the architects can communicate with clients through the app. One of the realities of business is that they're designing more complex projects on shorter timelines. While the platform won't replace all in-person meetings, it can help with the majority of them, NBBJ believes.
"It's ultimately about better, more enlightened design that hits the mark between clients and stakeholders knowing what they're getting and being participants," McConnell says. "We're stepping into an age where there is a more collaborative, altruistic set of drivers in what design can serve–it's not just the decisions and authority of a few. This tool anticipates that."
All Photos: via NBBJ
Will virtual reality really go mainstream?